Image: Shutterstock/Avillfoto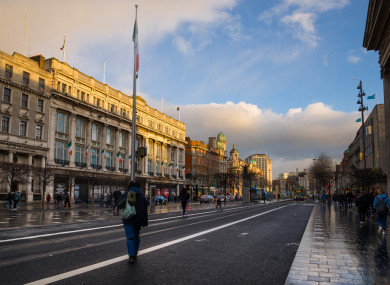 Image: Shutterstock/Avillfoto
A MAN HAS received a partially suspended sentence of 14 years for a series of knife-point robberies and an attack on a man which left him blind in one eye.
Luke Byrne (18) smashed a glass into the face of Mark Beltran (30), a magician from the Philippines who travelled the world with his act, in an altercation over a stolen amplifier.
The victim's injuries left him permanently blind in his right eye. Mr Beltran, who was in court for the hearing, has since lost his eye.
At Dublin Circuit Criminal Court, Judge Martin Nolan said that he could accept that Byrne did not intend to blind the victim but that he must have known that serious injuries would result from his actions and he intended to cause these injuries.
He imposed a sentence of nine years for the attack. He made this sentence consecutive to a sentence of five years for a series of "predatory and cold-blooded" knife-point robberies which Byrne carried out on women.
Byrne was on bail for the robbery offences when he carried out the assault and was a juvenile at the time.
Judge Nolan said by reason of his age and in order to allow hope for Byrne's reform he was suspending the last four and a half years of the sentence on condition Byrne kept the peace for the period of the sentence.
He also ordered Byrne to comply with the Probation Services for a period of two years after his release.
Byrne of Geraldine Street, Phibsboro, Dublin pleaded guilty to assault causing serious harm on O'Connell Street, on 9 September 2016.
He also pleaded guilty to carrying out nine robberies in the Phibsboro area over a seven-day period between 24 and 31 May 2016.
Byrne, armed with a knife, would come up from behind the women and threatened them with violence. In some cases Byrne did use violence, kicking and punching victims, the court heard.
Judge Nolan said Byrne's behaviour was "predatory" and the robberies were "cowardly, aggressive and hostile". He said the effects of his attacks on the women would be long-lasting.
Byrne's attack on Beltan followed a row over a stolen amplifier belonging to the street performer. The amplifier was recovered by friends of Beltan but a group of people, including Byrne, followed these friends and attacked them.
Judge Nolan said that in a seeming act of vengeance, Byrne picked up a pint glass and smashed it with force into the victim's face.
He said that Byrne had "Jekyll and Hyde" characteristics. He was well-behaved for periods of time but he had a vicious and cruel streak, which he displayed by putting a knife to the throat of his robbery victims.
He said he accepted that Byrne was genuinely remorseful and said he came from a good family. He said that it was hoped that Byrne would reform himself and not become a menace to society.
"This is a long sentence for a young man but this young man has behaved reprehensibly and cruelly and viciously. It's hope this will reform him.
"He certainly needs reform. He has done huge damage to a lot of people," Judge Nolan said.
Byrne has 16 previous convictions, including assault, criminal damage, public order and road traffic offences.