File photo
Image: John Birdsall/John Birdsall/Press Association Images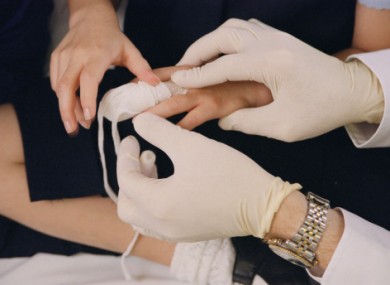 File photo
Image: John Birdsall/John Birdsall/Press Association Images
THE COST OF visiting a doctor or dentist for treatment in Ireland has dropped in the past year.
That's according to the second Avantis Global Health and Dental Price index, which shows that Irish health and dental charges dropped by between 3 and 10 per cent since spring 2011, with a small number of exceptions.
The survey also shows there is a variation of up to 70 per cent in some treatments, with some people able to save up to 50 per cent by travelling abroad to countries like Spain, Belgium and Germany for treatment.
Prices for common dental treatments in Ireland are down by 21 per cent in some cases, and cosmetic surgery procedures dropped by between 10 per cent.
Elective medical procedures also showed reductions of up to 16 per cent.
However, not all treatments are cheaper -the cost of laser eye surgery is up by 21 per cent and nose reconstruction surgery is 24 per cent more expensive.
Avantis Health Director, Orla Fahy, said that the figures show a modest reduction in health and dental prices overall, reflecting the challenging economic environment.
Irish patients can make significant savings on their health and dental care, by merely shopping around within Ireland, with substantial savings possible if they are willing to travel abroad for treatment.
For example, patients requiring a simple dental implant (with crown) can save over 75 per cent or €300 per crown by undergoing the treatment in Dublin as opposed to some other Irish cities in Connaught or Leinster. Patients requiring common but more invasive medical procedures, such as knee replacements, can make savings of 9 per cent or c.€1604 by traveling to Connaught from Leinster.  A further 30 per cent saving can be achieved by engaging the services provided by Avantis Health and having the procedure in Spain.
Fahy added that savings in cosmetic surgery are also particularly evident as a breast augmentation procedure can cost 67 per cent or  around €2000 less in Dublin than in other some other cities in Ireland.
Despite the cuts, Ireland remains one of the most expensive countries in Europe for health and dental treatments.
What is the cost of…
Tooth extraction
Ireland average cost: €84
Munster: €75
Belfast €53
London €64
Laser Eye Surgery
Ireland average cost: €1,868
Dublin: €2,025
Connacht: €1,700
Munster: €1,750
Rest of Leinster: €1,996
London: €2,260
Belfast: €1,785
Tunisia: €892
Hungary: €545
Breast augmentation
Ireland average cost €2,774
Munster: €5,000
Leinster: €4,700
Connacht: €3,050
Dublin: €3,000
Belfast: €4,875
London: €4,500
Belgium: €2,256