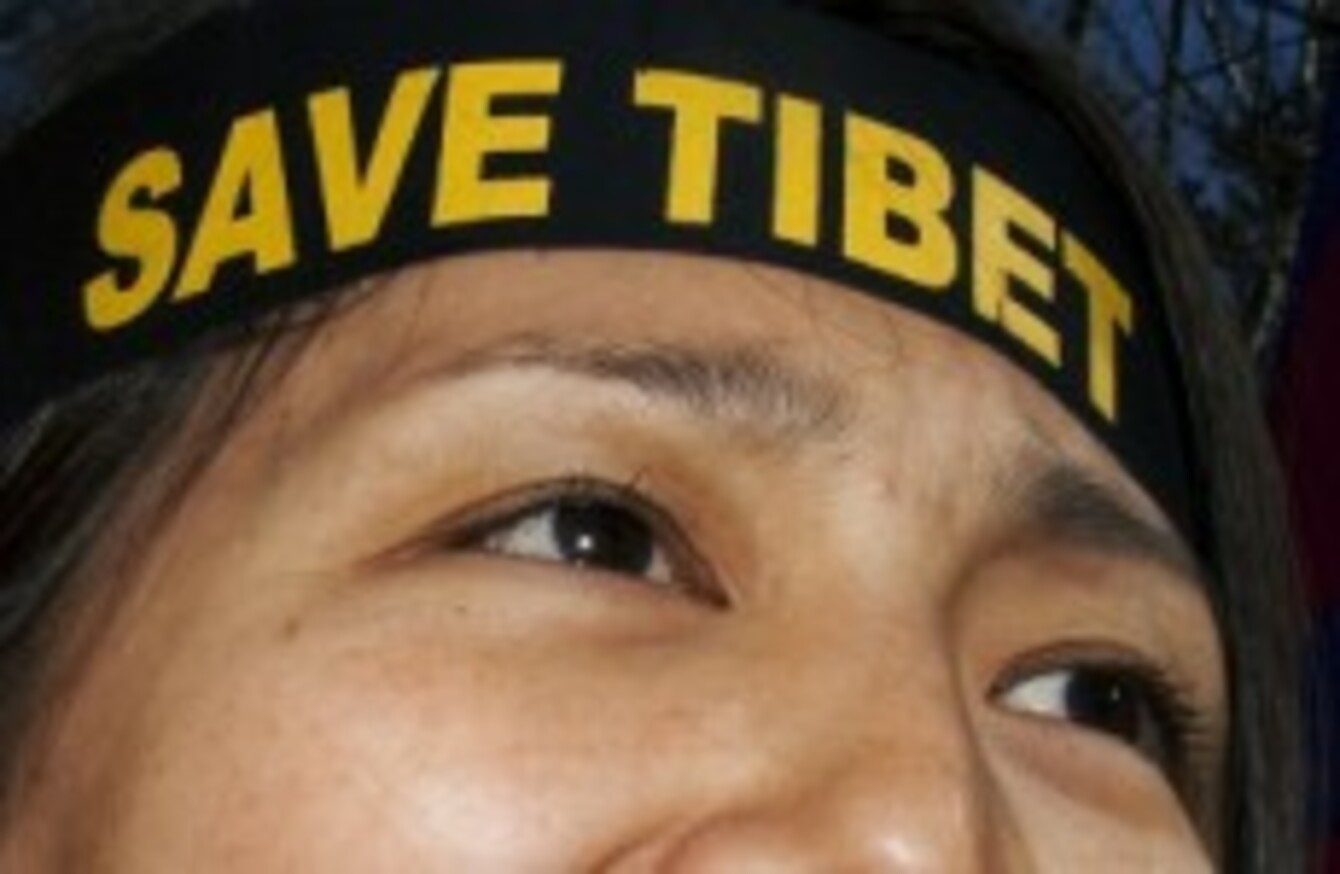 A female protester in Madrid, Spain earlier today.
Image: Andres Kudacki/AP/Press Association Images
A female protester in Madrid, Spain earlier today.
Image: Andres Kudacki/AP/Press Association Images
ABOUT 30 PEOPLE have gathered in Dublin's city centre to add their voices to a global rallying cry for help for Tibet.
The Tibetan Community of Ireland says its protest and candle light vigil are attempts "out of absolute desperation" to stop the "brutal and cruel occupation of Tibet by China".
In the past three years, at least 26 Tibetan people have set themselves on fire and died in protest at Tibet's occupation. The Irish organisation says that the self-immolations are calls for freedom and the return of Tibet's spiritual leader, the Dalai Lama.
"Tibet has resisted China's illegal occupation since it began over 50 years ago, but the past four years have been particularly turbulent," said the Tibetan Community of Ireland. "More than 26 young Tibetans have self-immolated and numerous peaceful people rallying on the streets of Tibet are being mercilessly shot by Chinese security forces."
Today marks the 53rd anniversary of the Tibetan National Uprising day and the community in Ireland said it also wanted to mark the failed revolt. It is also the fourth anniversary of deadly anti-government riots that rocked Tibet's capital Lhasa in 2008.
The group said it will remind Taoiseach Enda Kenny that China's human rights record is not improving, as he claimed in the Dáil last month.  They will be calling Kenny to speak directly to the Chinese government on behalf of Tibet. A petition to this effect will be handed to his office on 21 March.
Protests for Tibet have taken place across the world today, including at London's Trafalgar Square and downtown Manhattan in New York City. Nearly 3,000 Tibetans attended a rally in the courtyard of a Buddhist monastery in Dharmsala, India, the seat of the government-in-exile. Hundreds of Tibetans also marched through parts of New Delhi.
Taiwan

India

India

India

India

Spain

India
Speaking at the Indian rally, the head of Tibet's government-in exile has blamed China for the recent spate of self-immolations, saying they have been denied the right to hold conventional protests.
Lobsang Sangay said Tibetans were left with no choice but to take extreme action by setting themselves on fire to protest Chinese rule.
Earlier today, a London-based activist group said that police in western China shot and killed a Tibetan man amid protests against Chinese rule on Tuesday. A Chinese flag had been torn down at a police station in a Tibetan areas of the Qinghai province.
China blames the Tibetan leadership for encouraging self-immolations.
-Additional reporting by AP