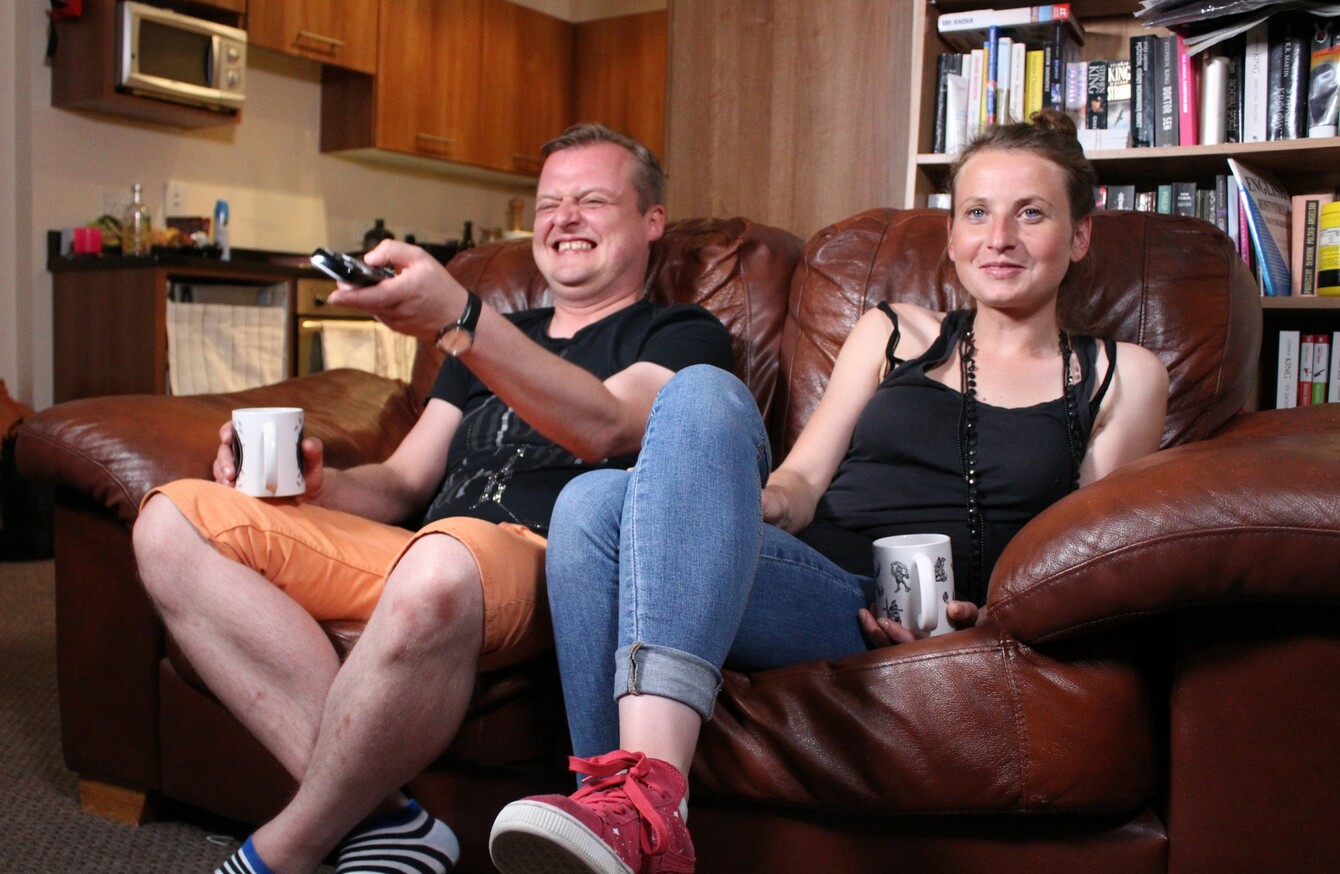 Szymon and Aga, originally from Poland but living in Tallaght, have been best friends since they met in college 16 years ago.
Szymon and Aga, originally from Poland but living in Tallaght, have been best friends since they met in college 16 years ago.
WHEN REALITY TV became a phenomenon, we probably didn't think that eventually we'd watch people watching TV – but after it appeared in 2013, Gogglebox became somewhat of a phenomenon.
Now the series is set to begin in Ireland tonight, where we will see Irish families and friends sit around to discuss and dissect the latest TV programmes in front of the cameras.
In the UK, the show averaged between three and four million viewers a series, with a number of the 'cast' becoming household names. There was even a Brexit Special where the families talked about the EU referendum.
Hopes are high within TV3 that this success can be replicated in Ireland.
The 12-week series will see a range of Irish households taking part:
Fergal and Neal Tully: "These identical twins grew up on a farm in rural Cavan along with their three other brothers. They live a stone's throw of one another and claim to chat with each other more than to their own wives. Although they rarely see eye to eye, the pair have never had an argument in their entire lives."
Angela and Eileen from Castleknock. "They met at the local retirement club in the area. Eileen spotted newcomer Angela, offered her a seat beside her and the rest is history. Dubliner Angela moved back from Wexford a few years ago and enrolled as a mature student, studying Retail in Pearse College and winning two awards for public speaking. Eileen is originally from Kilkenny and spent most of her life as a children's and psychiatric nurse."
Jamie, Lindsay, Ashley and Grainne: "These Cabra girls are are reality TV addicts and their ideal Friday night involves the sofa, the telly, a gossip session and copious amounts of white wine. Sisters Lindsay and Ashley spent childhood holidays with Jamie as their Mums were best friends and, after Grainne joined the gang aged 12, they were inseparable."
Szymon and Aga: "Originally from Poland but now living in Tallaght. The pair have been best friends since they met in college 16 years ago. Aga moved to Ireland from Poland in 2004, having completed her Masters Degree in Environmental Protection Science and went on to receive her PHD at UCD, while Simon arrived in 2007 to celebrate Halloween. He fell in love with the country and never left."
The Gruffertys from County Kildare: "Mum Laura and dad Des met 14 years ago when Des walked into Laura's hairdressers for a trim and came out with her phone number. A house, wedding and four kids later, they're happily settled in their hometown of Athy. Laura owns a hair and beauty salon in the town and won Best Salon in Ireland at the recent Irish Hair and Beauty Awards. A businesswoman with a strong work ethic, she has been able to pursue her dream while Des takes care of the kids and their two Jack Russell dogs. Laura and Des are joined on the couch by their 12-year-old daughter, Danielle."
There's no big film crew when Bafta-winning Gogglebox is filmed in the UK – instead, small remote-control cameras are used, while a small temporary production control room is also set up in the home.
As well as the UK version, there have also been Gogglebox shows based in Australia, France, South Africa, Spain, the United States and Canada.
Gogglebox Ireland, which will be narrated by Deirdre O'Kane and Rory Cowan, premieres night at 9.30pm on TV3.
Will you be watching? Tell us in the comments.