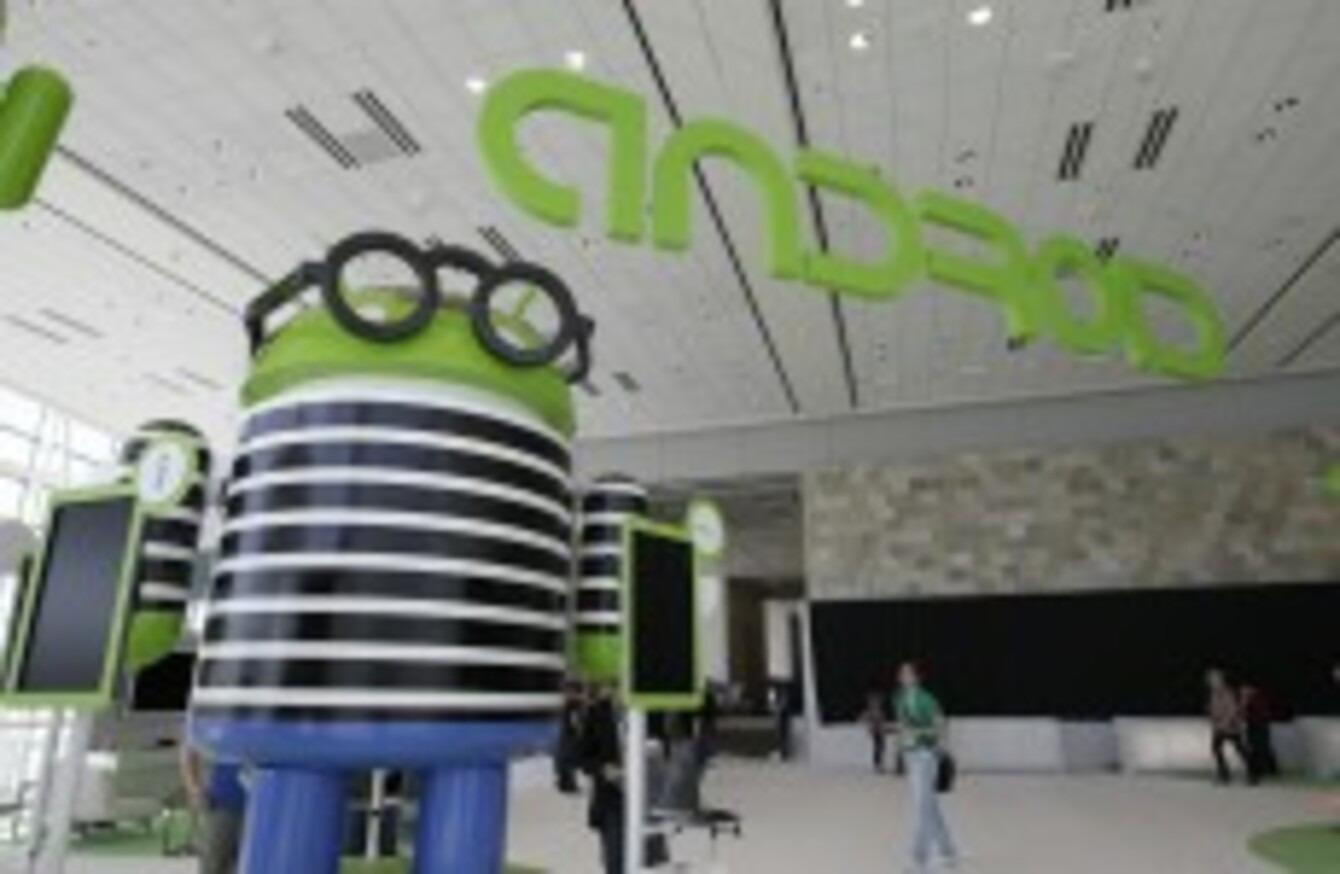 Image: Paul Sakuma/AP/Press Association Images
Image: Paul Sakuma/AP/Press Association Images
WITH GOOGLE'S BIGGEST event, Google I/O, beginning on Wednesday afternoon (5pm Irish time), the company is expected to announce a number of new developments and products at its keynote.
Unlike Apple's WWDC, which took place earlier this month, Google's event will be broader range and the chances of it covering areas like driverless cars, smartwatches, smart objects and in-car system makes it one of the most anticipated events this year.
Here is what you should look out for during the event.
What is likely to feature at Google I/O?
The biggest talking points will be Android Wear, its OS for wearable devices, and Google Glass. Considering how much attention Google has been placing on both projects, it would be unthinkable if either didn't feature.
It's likely that the release date for the first Android Wear smartwatch will be revealed, but the company may hold off announcing a release date for Google Glass.
Source: GoogleMobile/YouTube
An updated version of Android is also on the cards – a streamed talk called 'What's new in Android' happening on the first day pretty much confirms this – with its release likely to happen later this year.
Accompanying that would be the possibility of Android TV, revealed by The Verge back in April, which could also double up as a gaming platform.
Other areas that may be covered include a fitness monitoring service, Google Fit, which will rival Apple's own offering, while some light could be shed on Android@Home thanks to its purchase of Nest, and by extension, its purchase of Dropcam.
Google's dashboard for cars could end up making an appearance. Not much has been mentioned of its Open Automotive Alliance, its partnership with a number of vehicle manufacturers since it was announced back in January, but it's likely it will appear here since the first cars featuring Android are expected to arrive this year.
What about the companies it purchased this year?
In short, Google has had a busy year so far. No less than six months in and the company has purchased 17 different companies within that period.
These acquisitions all tie into Google's overarching plan, but how much of a role will they play a role in its announcements later this week? Here's how the biggest ones will likely feature.
Bitspin
Acquired: 4 January 2014
Cost: Unknown
The only service it has is a specialised alarm clock it developed for Android called Timely. Its gesture-based format was enough for Google to purchase it, and similar functionality could appear in future versions of Android
Likelihood of featuring at Google I/O?: Likely to arrive in the form of additional features and gesture-based functionality for the new version of Android.
Source: Bitspin/YouTube
Nest Labs
Acquired: 13 January 2014
Cost: $3.2 billion
The first major purchase of 2014, the smart thermostat and smoke detector company was Google's first major play in the smart home industry.
While there were concerns surrounding what Google might do with the data, both companies have said that no data will be shared between the two companies.
Likelihood of it featuring at Google I/O?: Very likely. Nest's API will be opened up to developers, but Nest is still a separate entity (for now) meaning there won't be much integration with Google products.
Source: Nest/YouTube
DeepMind
Acquired: 26 January
Cost: $500 million
Probably the most intriguing of Google's purchases this year, UK company DeepMind specialises in developing artificial intelligence and learning algorithms.
While the mention of AI suggests it could tie in with the robotics firms Google purchased last year like Boston Dynamics and Schaft, the focus on deep learning means its technology could be incorporated into other areas like search, Google Now and ecommerce.
Likelihood of featuring at Google I/O?: Very low. The company has yet to release a product so you're more likely to see an update at Google I/O 2015.
SlickLogin
Acquired: 16 February, 2014
Cost: Unknown
Designed to get rid of passwords entirely, SlickLogin creates audio passwords by using unique soundwaves to verify a person's identity. The Israeli company was only a year old before it was acquired by Google.
Likelihood of featuring at Google I/O?: Very high. A unique and simple way to log into services would certainly get developers excited, provided the API is opened up to them.
Source: Or Zelig/YouTube
Green Throttle Games
Acquired: 12 March 2014
Cost: Unknown
Specialising in developing both mobile and console games as well as controllers which can connect to both a TV and Android device, two of Green Throttle Games' founders joined the company as part of the deal.
Likelihood of featuring at Google I/O?: Higher than you would expect. The chances of a new gaming service being announced alongside Android TV isn't as far-fetched as one might think.
Titan Aerospace
Acquired: 14 April, 2014
Cost: Unknown
The drone aircraft company that Facebook was originally linked with ended up joining Google instead. The company's statement at the time of the purchase suggested that these aircrafts would bring internet access to remote parts of the world and could be used in disaster relief and assess environmental damage.
Likelihood of featuring at Google I/O?: Only if Project Loon is covered.
Quest Visual
Acquired: 16 May 2014
Cost: Unknown
The company's augmented reality translator app Word Lens was very much geared towards improving Google Glass, as its camera and data capabilities suit the format perfectly. By using a smartphone camera or Google Glass, it's able to translate text for the user and display it over the original text.
The company also made Word Lens free for iOS and Android so download them now if you haven't already.
Likelihood of featuring at Google I/O?: Google Glass is guaranteed an appearance over the two days so expect it and similar software to be shown off.
Source: QuestVisual/YouTube
Divide
Acquired: 20 May, 2014
Cost: Unknown
Specialising in enterprise, Divide's main function is to offer a bring-your-own-device (BYOD) solution for companies by separating corporate information from personal on a device. It allows employees to access their data on devices they don't own, while allowing them to use it for personal purposes.
Likelihood of featuring at Google I/O?: Unlikely considering how recent the purchase was, but considering one of Google's talks is entitled  "Framework for enterprise and device management," it could get a mention.
Skybox Imaging
Acquired: 10 June 2014
Cost: $500 million
The satellite mapping company was purchased with the sole purpose of improving the company's mapping service. Google also considered the idea of these satellites being used to bring internet access or contributing to disaster relief, but improving Google Maps is the priority.
Likelihood of featuring at Google I/O?: Google always reveals improvements to its Maps product every year so expect a mention of Skybox and the level of detail it can provide.

Source: Skybox Imaging/Vimeo
Alpental Technologies
Acquired: 19 June 2014
Cost: Unknown
Completed a few weeks ago, but only announced recently, Alpental Technologies is a small wireless startup which is working on a cheap, high-speed communications service using the 60GHz band of spectrum, meaning it's been linked with Google Fibre.
Likelihood of featuring at Google I/O?: Despite the deal being made a few weeks ago, it's unlikely Google Fibre will be mentioned at the event. Expect this to be part of a much larger announcement further down the line.
Dropcam
Acquired: 21 June 2014
Cost: $555 million
Acquired by Nest this weekend, Dropcam specialises in providing a cloud-based security service which allows you to see what's happening in and around your home while you're away.
Likelihood of featuring at Google I/O?: At best, it will be mentioned as part of the smart homes section if it's included.
Source: Dropcam/YouTube