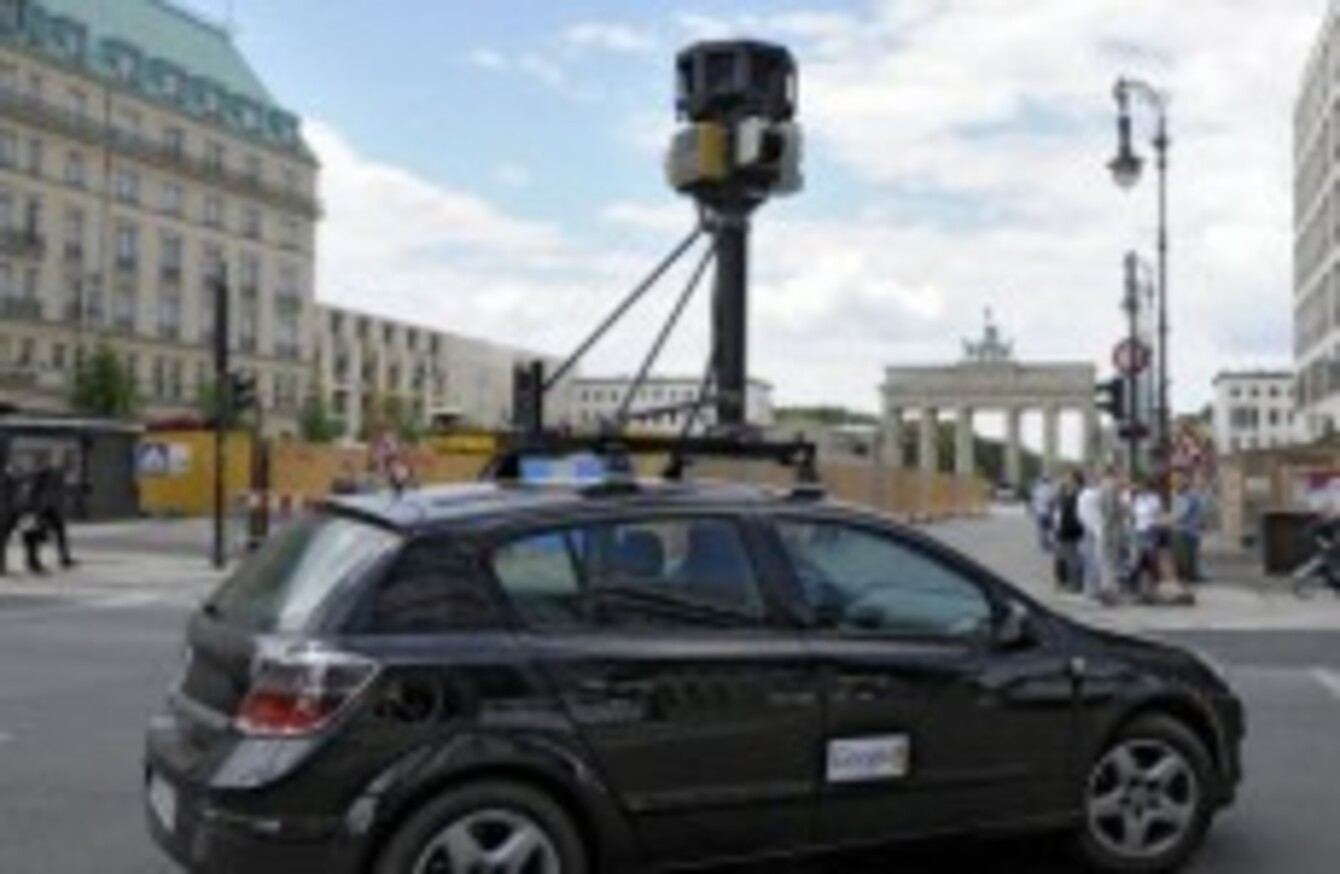 A google street view car drives near the Brandenburg Gate in Berlin, Germany
A google street view car drives near the Brandenburg Gate in Berlin, Germany
GOOGLE HAS ANNOUNCED that its Street View service will go live in Ireland today, allowing residents to virtually explore cities, towns and countryside across the country.
The Google Street View team have been collecting images since 2009 in Ireland, using specialised cameras attached to cars. Today users will be able to view panoramic images of Ireland for the first time.
Street View is a feature of Google Maps and Google Earth and was first launched by 2007 and is available in countries such as the US, New Zealand, Japan, France, Italy, Spain, the UK, Australia.
Ireland is the 25th country in the world to launch Street View.
Speaking at the launch of Street View in Ireland, Mary Hanafin, Minister for Tourism, Culture and Sport, said the service would be good for Irish business:
Its applications are many but one of the real benefits for Ireland is from a tourism perspective.  Street View will showcase the real beauty of Ireland's towns and countryside to millions of internet users around the world and has the potential to deliver a welcome boost to visitor numbers to Ireland.
Street View has come under criticism in other countries over privacy, notably in Germany – where residents were given the option to pre-emptively remove images of their properties from its Street View service after complaints were made by the public. No such option has been extended in Ireland.
However speaking at the launch today Mr John Herlihy, VP Global Ad Operations and head of Google in Ireland, said that the company had gone to great lengths to  safeguard privacy. He said that Street View features technology that automatically blurs both faces and licence plates in images.
He said:
Our technology is very effective though it may occasionally miss a face or number plate here and there.  If users spot something our technology has missed just press 'report a problem' and we'll get it fixed quickly.
All the images used in Street View are stills, not live footage.
Also speaking at the launch, Deputy Data Protection Commissioner Gary Davis said:
We worked closely with Google to ensure that any privacy concerns that people might have were addressed in advance of the launch date. Inevitably some images of people were captured as the camera-cars were driven on Irish streets.  Google has undertaken to blur the faces of such people, as well as car number-plates.
Where blurring is insufficient or where people wish to remove other information associated with them – including images of their houses – Google has provided an easy-to-use removal tool.
Organisations including Fáilte Ireland, Daft Media, Chambers Ireland and the Arts Council are the first to include Street View on their websites having partnered with Google for today's launch.