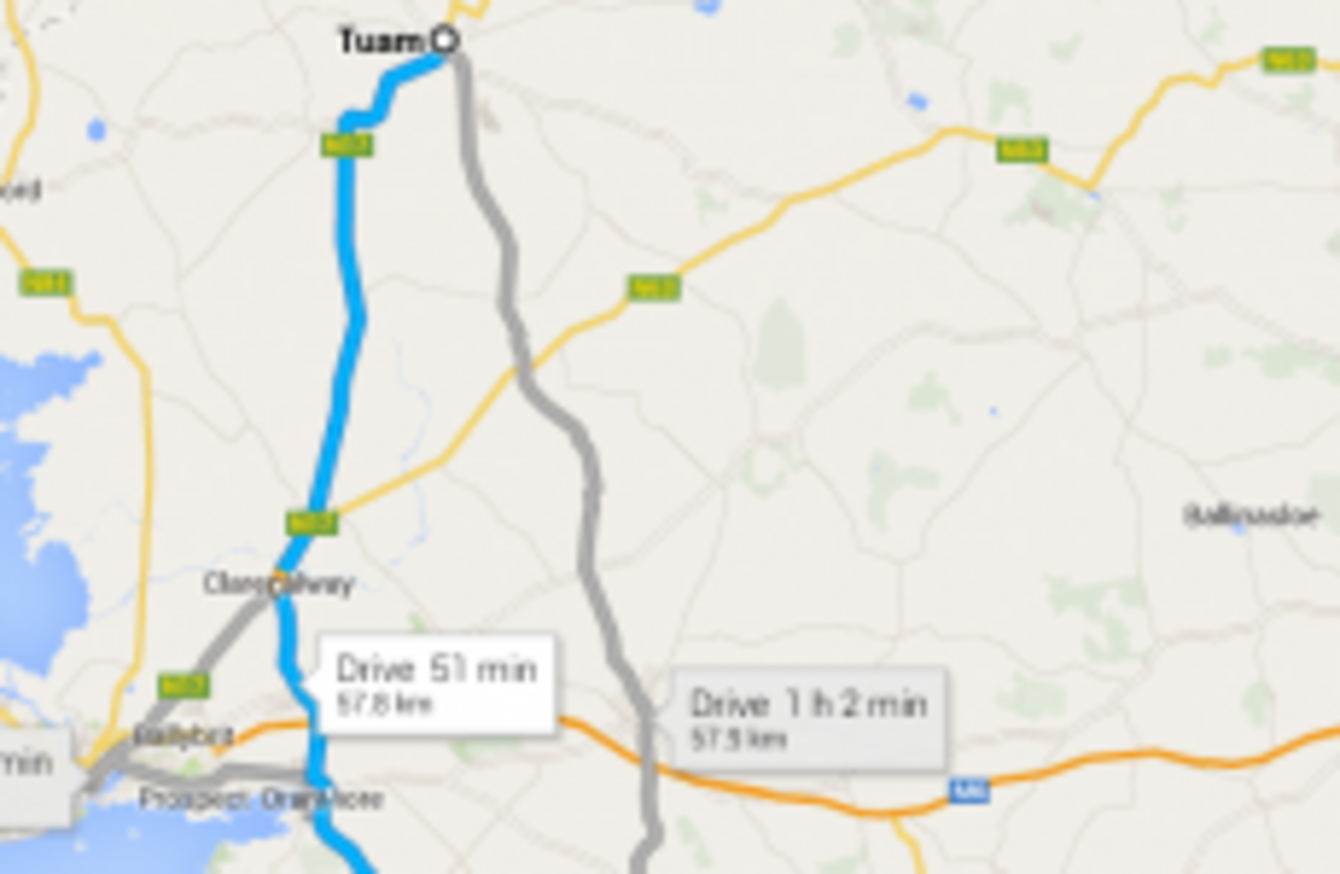 The current Gort to Tuam route along the N17 and N18
Image: Google maps
The current Gort to Tuam route along the N17 and N18
Image: Google maps
THE GALWAY TOWNS of  Tuam, Ardrahan, Claregalway, Kilcolgan, Clarinbridge and Gort are set to by bypassed by a new €550 million motorway.
The 57 km four-lane motorway will cut 20 minutes off the travel time between Tuam and Gort when it is completed by the end of 2018.
The details of the new plan were announced today by Transport Minister Leo Varadkar and Minister for Public Expenditure Brendan Howlin, with construction firm Sisk also part of the public private partnership.
Work on the toll-free motorways is to begin in May and it is estimated that it will support 450 jobs during its construction.
"This 57 km scheme will be a major boost to the Western region and I'm delighted that we have now secured financing under the PPP programme," Varadkar said at the contract signing today. "Anyone who has travelled the existing route appreciates the difference this new road will make."
"This is further evidence of the Government's commitment to improving transport infrastructure outside of the Greater Dublin Area," he added.
A consortium consisting of building firms and capital funds are to oversee the project under a contract with the National Roads Authority.
The proposed route of the new motorway. (View in PDF)
The construction of the road will be carried out by Sisk, Lagan Construction Group and Roadbridge.
The PPP deal was welcomed by Minister Howlin:
This is the second transport Public Private Partnership to be signed under this Government, following the M11/Newlands Cross project, and will create up to 450 jobs during the construction and post-construction phases. The entire PPP programme had been frozen since the economic crisis of 2008 but is now fully operational again.
The European Investment Bank is to provide a €144 million loan over 26 years for the scheme with another €150 million provided by commercial funders from both Ireland and abroad.