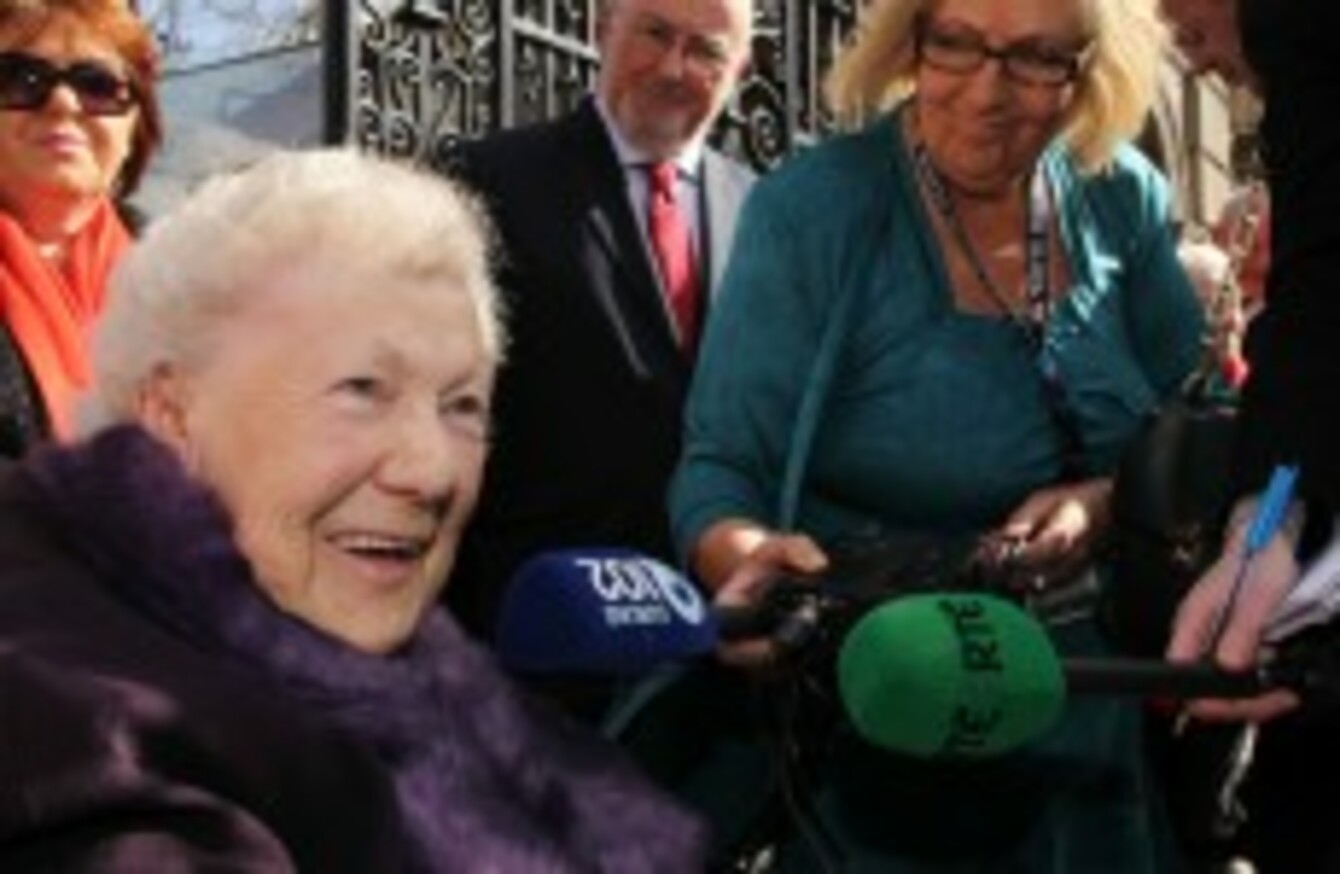 Ellen O Brien is pictured outside Leinster House in Dublin this evening.
Image: Sam Boal/Photocall Ireland
Ellen O Brien is pictured outside Leinster House in Dublin this evening.
Image: Sam Boal/Photocall Ireland
THE GOVERNMENT HAS said it will accept a cross-party Private Members Bill which could allow for the statute bar to be set aside so survivors of symphysiotomy could seek compensation in the courts.
Speaking in the Dáil this evening, Health Minister Dr James Reilly said he would not oppose the proposed legislation despite its "serious flaws".
He warned that although Caoimhghín Ó Caoláin's laws might not achieve their objectives, the coalition did not want to send out the "wrong message" by not accepting the bill.
The Fine Gael deputy said he wanted to signal his "intent to do whatever is possible to bring closure" to the women affected by symphysiotomy.
Symphysiotomy was a surgical procedure used in Irish maternity hospitals until the 1980s. It involved the unnecessary unhinging or breaking of the patient's pelvis during or after child birth. Chronic pain, mobility issues and incontinence are all problems associated with the procedure.
Performed in the place of the more commonplace Caesarean section, symphysiotomies were often carried out without prior knowledge or consent. According to the Survivors of Symphysiotomy (SOS) group, some doctors favoured the operation long after it was discontinued in other countries "mainly for religious reasons, by obstetricians who were opposed to family planning."
Reilly said that he would ensure "closure" for the approximately 200 survivors by the end of this year. He said he will brief the government further once he receives the independent Walsh Report before quickly deciding on further actions.
"Actions must bring closure for those who have been harmed, and who we cannot give back their lives," he said. "But we can ensure resources flow to them and not elsewhere."
The Minister's speech was met with a round of applause. Many of the victims, some who are in their 70s and 80s, were at Leinster House for the debate this evening.
They want to be allowed bring their fight for justice and redress to the courts. Currently, the statute of limitations on personal injury in Ireland is just two years but many of the women were unaware of the cause of their pain for decades. Most were first-time mothers who did not know what childbirth entailed.
The bill is based on the precedent of the Statute of Limitations Act 2000, which lifted the bar for sexual abuse victims of residential institutions.
More than 75 per cent of the procedures were committed at insured private hospitals that are still liable for injuries received. The country's final symphysiotomy was performed in Our Ladies of Lourdes Hospital, Drogheda in 1984.
Although many victims are willing to engage with legal processes, other survivors continue to await the final Walsh Report commissioned to examine the practice. Its publication is due shortly.