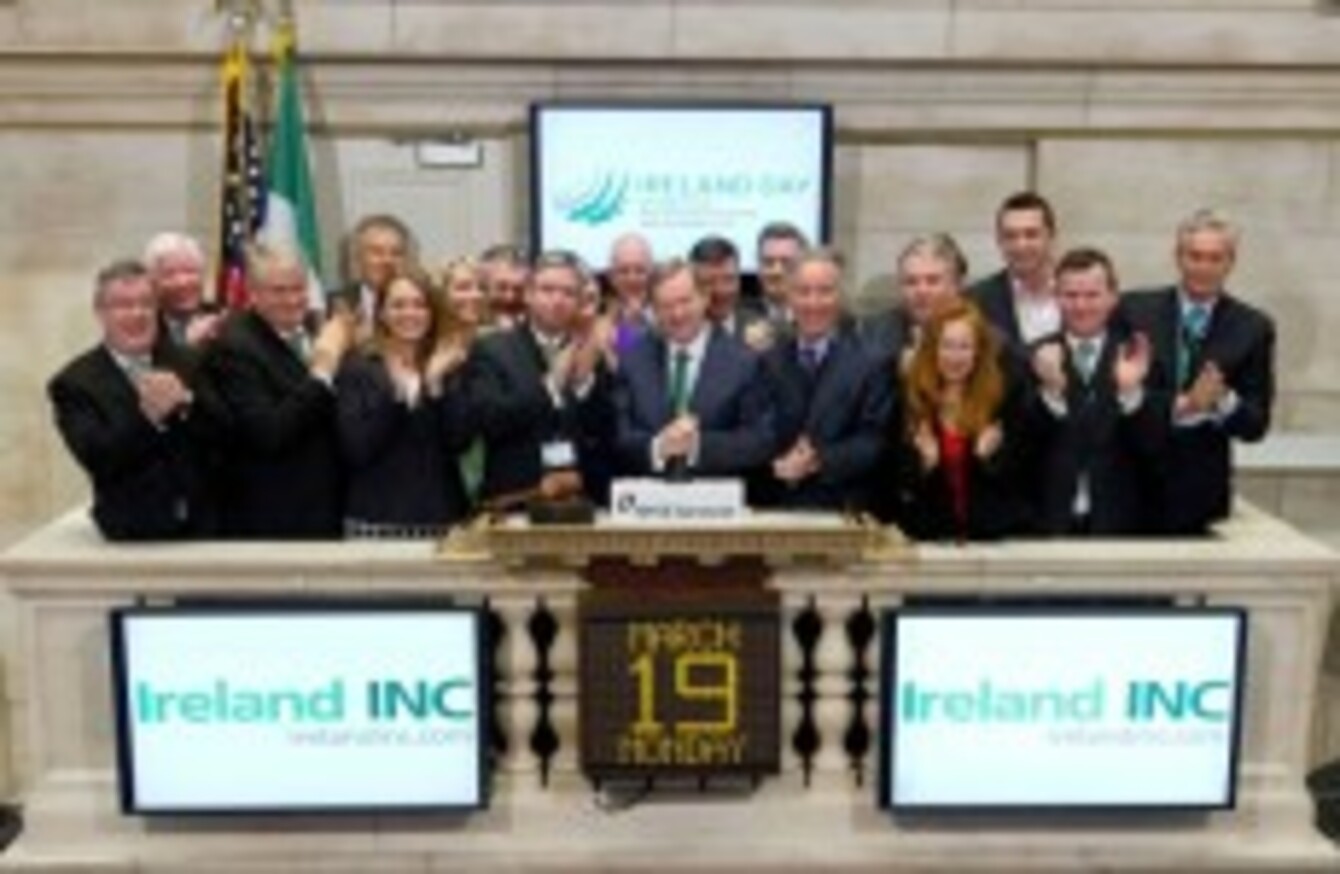 Enda Kenny ringing the opening bell at the NYSE last week. Denis O'Brien appears third from the left
Image: Photo by Ben Hider/NYSE Euronext
Enda Kenny ringing the opening bell at the NYSE last week. Denis O'Brien appears third from the left
Image: Photo by Ben Hider/NYSE Euronext
THE GOVERNMENT HAS said no decision has yet been made on whether Denis O'Brien will be invited to the next Global Economic Forum.
Earlier today a Fine Gael TD had said the businessman should not be invited to the economic forum.
Lucinda Creighton had said she was uncomfortable with the prospect of O'Brien attending the event due to the findings of the Moriarty tribunal, according to the Irish Times.
A government spokesperson said this evening that Minister Creighton had been expressing her personal view.
"The government takes the findings of the Moriarty Tribunal extremely seriously and has already responded to its key finding on breaking the link between political fund and businesses through the Electoral Political funding Bill," said the spokesperson.
When asked about O'Brien's  attendance on the platform when Taoiseach Enda Kenny rang the opening bell on the New York Stock Exchange earlier this month, the spokesperson said that the decision had been made by the event organisers and not by the Taoiseach's office.
Denis O'Brien attended the most recent Global Irish Economic Forum which took place in Dublin Castle last October.
"The issue of any future invitation list does not arise as the timing for a future forum has not been decided upon by the Government," the spokesperson added.
Fianna Fáil leader Micheál Martin said on Friday he did not think it was appropriate that Kenny had appeared on the same platform as O'Brien.
The Moriarty Tribunal had found that former Fine Gael TD and Minister for Communications Michael Lowry had an "insidious and pervasive" influence over how the second mobile phone licence was awarded to Denis O'Brien's company, Esat Digifone, in 1996.