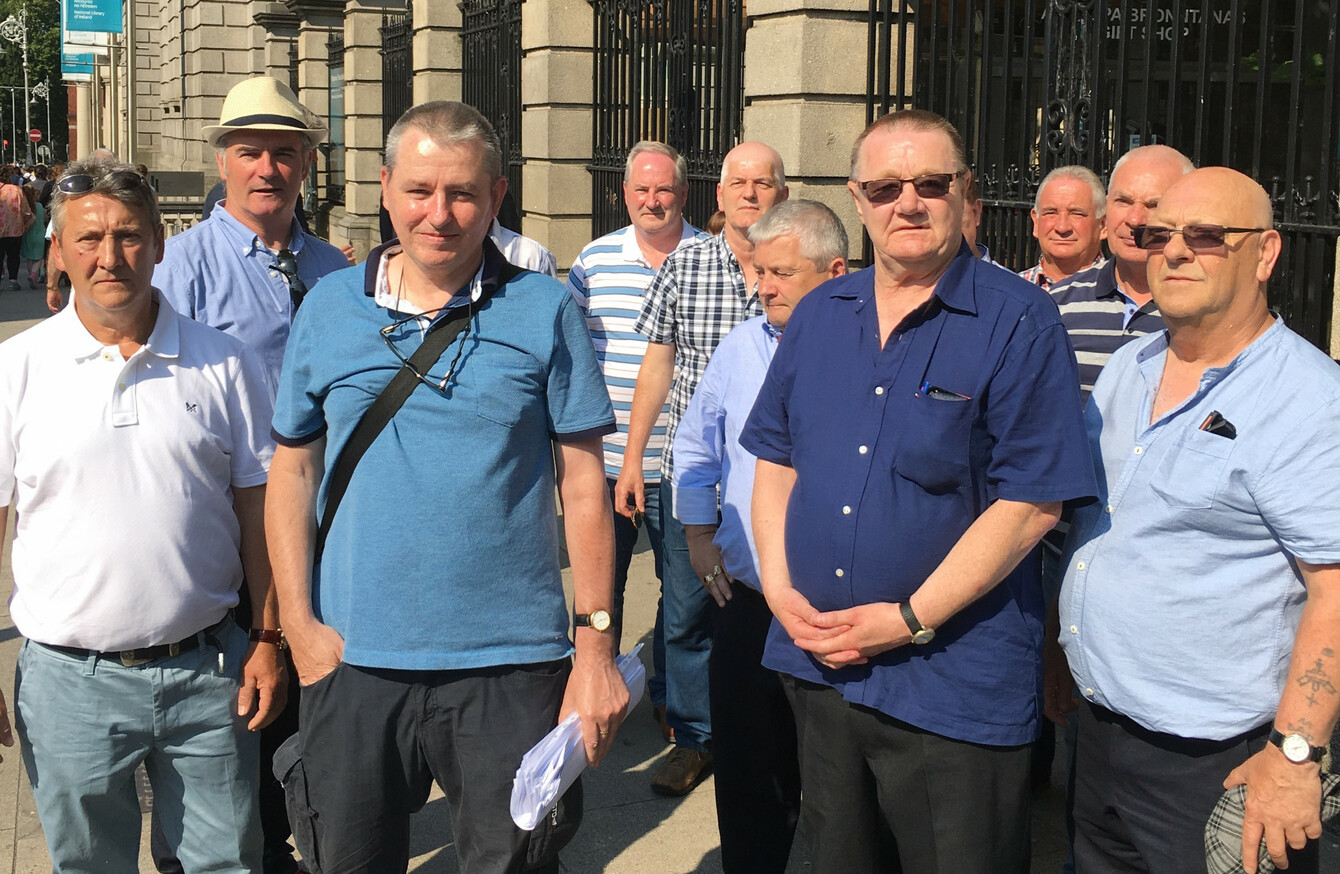 Survivors outside the Dáíl yesterday evening
Survivors outside the Dáíl yesterday evening
Updated Jul 5th 2018, 1:49 PM
THE DÁIL HAS passed a motion seeking redress for victims of child sex abuse in state-schools whose perpetrators have been convicted.
The debate on the Fianna Fáil motion was held yesterday evening with the government opposing it and putting down a counter motion.
The Education Minister said the State's responsibility can't be established through a conviction and that only allowing redress for victims who secured convictions would be seeking to treat one group differently from people in similar circumstances who don't have a conviction.
However a vote on the government's counter motion was held this afternoon and the Dáil voted 84 against it and 44 in favour.
That means the motion seeking redress for the victims has passed by a wide majority.
TheJournal.ie has spoken to a number of men who were sexually abused by their teachers as children but have never received redress – John Allen who attended North Monastery CBS in Cork and Christopher Rainbow and Thomas Hogan who went to Creagh Lane National School in Limerick.
Allen told this website, "I would have expected that the State would help to vindicate my constitutional right.
But instead of standing right beside me, it stood right in front of me and blocked me every way and it's going to fight me all the way to Europe again.
In 2014 European Court of Human Rights (ECHR) found the Irish State liable for abuse suffered by Cork woman Louise O'Keeffe during her schooldays.
Prior to that judgement, both the High Court and Supreme Court had ruled that the State was not liable for the abuse O'Keeffe suffered.
Following the ECHR ruling, the State said it would make settlement offers of up to €84,000 to people with cases similar to O'Keefe's.
However, the government argues that the ECHR decision applies only to people who were abused after an initial complaint was made against a teacher and no action was taken.
This has been widely criticised with survivors saying it essentially means that the second child abused by a teacher is entitled to a settlement but the first is not. O'Keeffe herself described it as "discrimination of the highest order".
Abuse survivor Christopher Rainbow said even with the motion passed the government is "not obliged to implement it, that's the problem".
In this country, you can expect nothing. You can't.
Allen said he is considering following O'Keefe's path to Europe but believes he shouldn't have to.
"Why should I have to go to the European Court of Human Rights? Because my State is an utter failure."
'Barrier in front of victims'
Yesterday's Dáil debate on the motion regarding redress for victims of child sexual abuse was led by Fianna Fáil's Willie O'Dea.
He noted that only 72 people have been convicted in the past 43 years.
O'Dea said, "What we're seeking here from the government in relation to those unfortunate victims, and there are only about 180 of them in all, so if every one of them got the full amount of compensation from the redress board of €84,000 that would cost the State the grand sum of €15 million.
Those people were abused while in primary school by people whose salaries were paid by the State. They deserve justice.
O'Dea added that the way in which the government is interpreting the ECHR ruling is "unjust and unfair as it puts a barrier in front of many victims seeking redress".
Reasons
Speaking in the Dáil last night, Education Minister Richard Bruton said the motion seeks "to open up a situation where the State would have a scheme that would be purely for those who were victims of convicted perpetrators".
The situation is that this would treat different victims differently – purely on the basis of if a conviction could successfully be secured.
"Now there are many reasons why a victims abuser mightn't be successfully prosecuted … but for the State to set up a scheme that would treat some victims in one way and other victims, perhaps as traumatised or more traumatised, differently simply would not be fair.
"The State has a liability because of its failing. That has to be established and applied equally. It can't be established through using a conviction in a criminal court as establishing that the State had a liability.
Convictions occur and the State is not by that proven to have been responsible. The paying of compensation is linked to the State being responsible, that's what happened in the redress institutions, the State was responsible.
"It put many of the children in these institutions, it oversaw those institutions, it regulated them, it was responsible for the safety.
However he added, "The State solely inspects in primary schools in respect of the execution of the curriculum.
The State didn't enrol the children in those schools, they were not State institutions, the State didn't employ the staff who were in those schools and the State didn't manage the schools.
Mark Vincent Healy argues that children were forced to attend these schools and the State did know about the abuse. Healy was abused while he was a student at St. Mary's College, a Dublin school run by the Congregation of Spiritans (formerly the Holy Ghost Fathers).
Speaking to this website previously, Healy said, "We know [children] had to attend these schools because of the Schools Attendance Act of 1926 so you were forcing children into an environment where you knew there was high levels of abuse being perpetrated but the State did nothing."