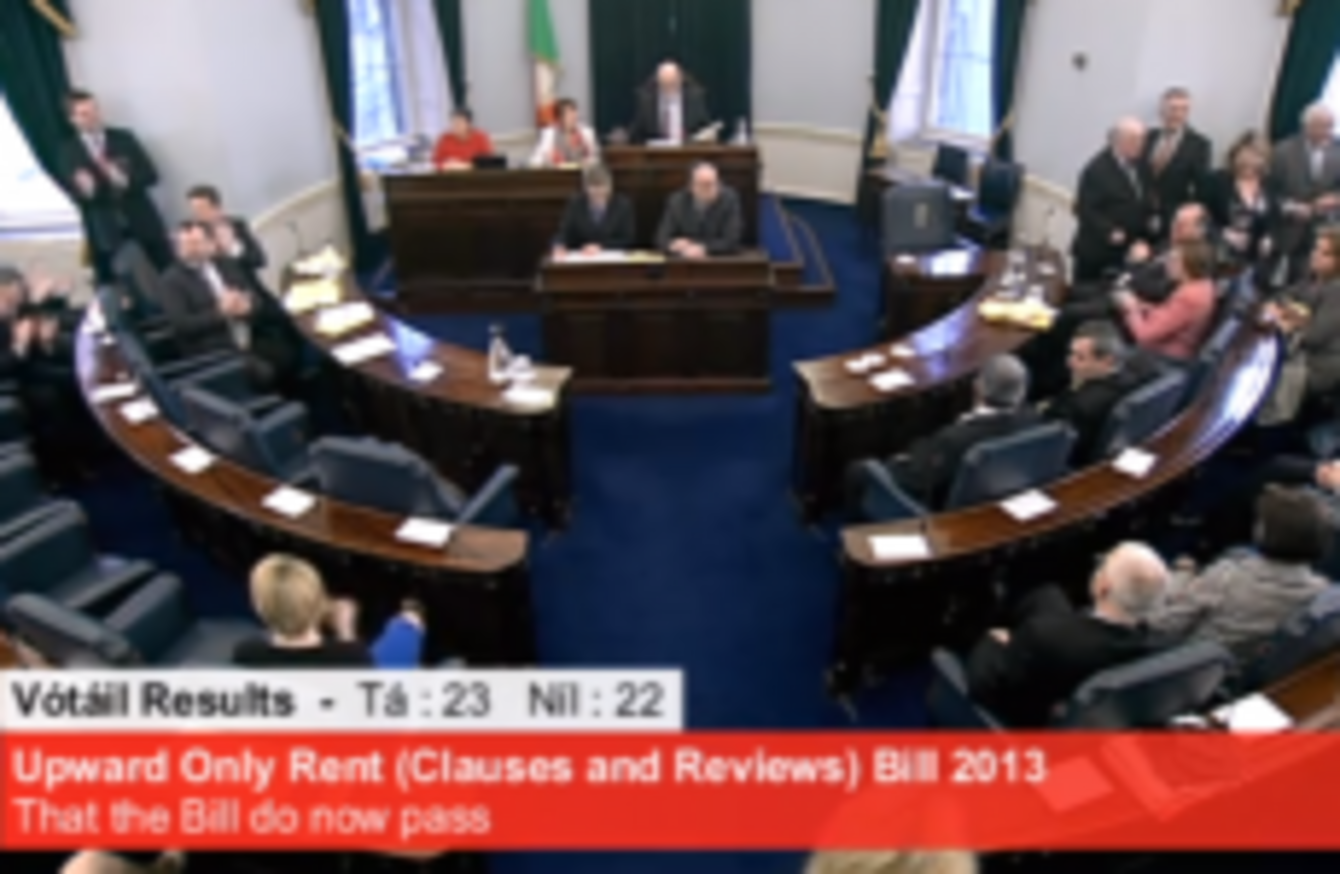 The government lost a vote on upward only rent reviews in the Seanad last February
Image: Oireachtas TV
The government lost a vote on upward only rent reviews in the Seanad last February
Image: Oireachtas TV
THE GOVERNMENT IS facing the possibility of losing more votes in the Seanad in the coming weeks and months until a replacement for the new MEP Deirdre Clune is elected to the upper house.
But this by-election of TDs and Senators can't happen without a change in legislation that the coalition committed to over a year ago.
The current numbers in the Seanad see the government with 29 votes when all Labour and Fine Gael senators are included, along with the casting vote of cathaoirleach Paddy Burke.
However Sinn Féin, Fianna Fáil, independents and three senators who have lost the government whip make up a total of 30 votes.
The government can normally rely on the support of some independents such as Jillian Van Turnhout and Marie Louise O'Donnell, but it has lost a number of votes in recent months, including on a bill to ban upward only rent reviews.
Clune's election as an MEP for Ireland South last month means there is a vacancy that can only be filled through a by-election involving members of the Oireachtas. This means the government, with its majority, effectively decides the successful candidate.
However the by-election for her vacant seat can't take place until a new permanent Clerk of the Dáil is appointed, according to Oireachtas rules.
The former clerk Kieran Coughlan retired last August and was replaced on an interim basis by the assistant secretary in the parliamentary services division, Peter Finnegan.
The process of appointing a permanent replacement has been delayed as the government seeks to change the law in order to have a more open competition for the role. Efforts have been under way for over a year to devise a system where people who work outside of the Oireachtas Commission are considered.
This involves changes to the Staff at the Houses of the Oireachtas Act which have been approved by government but not yet brought to the Dáil or Seanad by the Public Expenditure and Reform Minister Brendan Howlin.
The current rules state that someone outside of the Oireachtas would only be considered if no suitable candidate was found within.
If the Ceann Comhairle and the Oireachtas Commission disagreed on a nomination the Taoiseach would nominate a person and would seek Dáil approval.