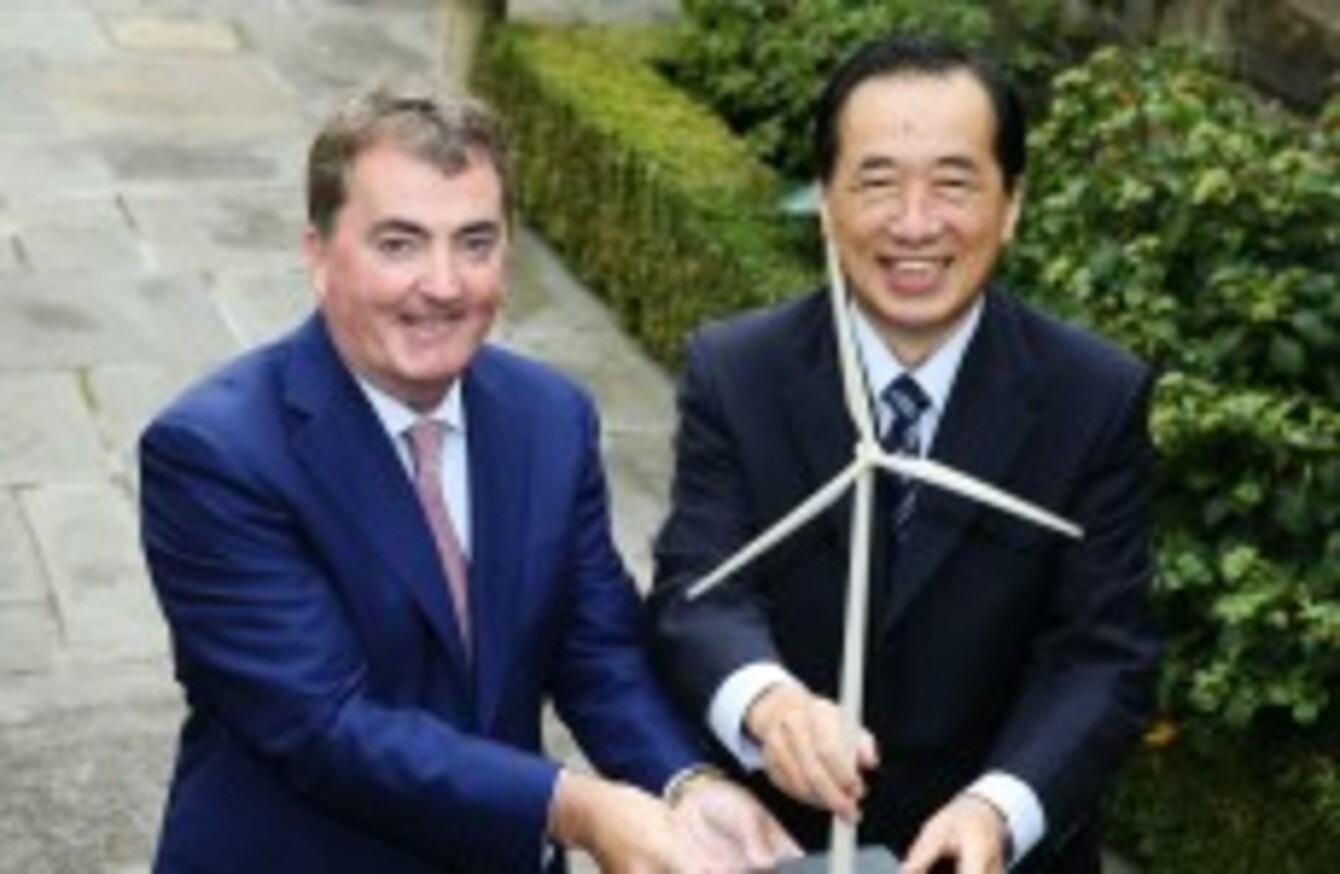 Glen Dimplex CEO Sean O'Driscoll with former Japanese prime minister Naoto Kan.
Image: Maxwell Photography
Glen Dimplex CEO Sean O'Driscoll with former Japanese prime minister Naoto Kan.
Image: Maxwell Photography
IRISH LEADERS NEED to "think bigger" on energy and get government policy up to speed with industry innovation, the boss of heating giant Dimplex says.
Glen Dimplex chairman and chief executive Sean O'Driscoll yesterday said there needed to be a "major debate" about energy in Ireland with more of a focus on efficiency and managing demand.
He said "no business" could operate profitably under the same conditions as the electricity sector and power didn't need to be as costly in Ireland as it was.
One of the reasons why our energy is so expensive is that 10% of all the investment in the electricity system in Ireland is only used 5% of the time," he said.
Put power to market
O'Driscoll said Irish power suppliers needed to get away from peak- and off-peak electricity pricing to a real-time market, based on supply and demand.
He we should look at countries which did energy well, like Denmark, which was energy self-sufficient and could now export power to build national wealth.
In contrast, he said 30% of homes in the republic and 42% in Northern Ireland were in "fuel poverty" – meaning they spend more than 10% of their household income on energy bills.
The Ireland-based Glen Dimplex Group is the world's biggest manufacturer of electric heaters with an annual turnover of about €1.5 billion.
Speaking at the same forum as former Japanese prime minister Naoto Kan, who warned Ireland against building nuclear power plants, O'Driscoll said the debate about nuclear energy for the republic was already "gone, over".
We are very dependent, energy-wise
Ireland is more dependent on energy imports than any other country in the EU, except for the tiny states of Malta, Luxembourg and Cyprus.
In 2012 it shipped in an average of 2.58 tonnes of "oil equivalent" for every person in the country.
Catch up, government
But O'Driscoll said the remained no national energy policy and the government's attempts to tackle the issue had been piecemeal, with too much focus on where power would be generated.
"We need a coherent, national whole-of-government responsibility for our energy policy," he said.
Now is the time to do it; today is a call to government: please catch up with industry, please catch up with academia, put the policies in place and let us deliver."
READ: Energy usage in Ireland dropped 12 per cent in just three years
READ: Rabbitte: No point comparing Ireland's oil prospects to Norway's