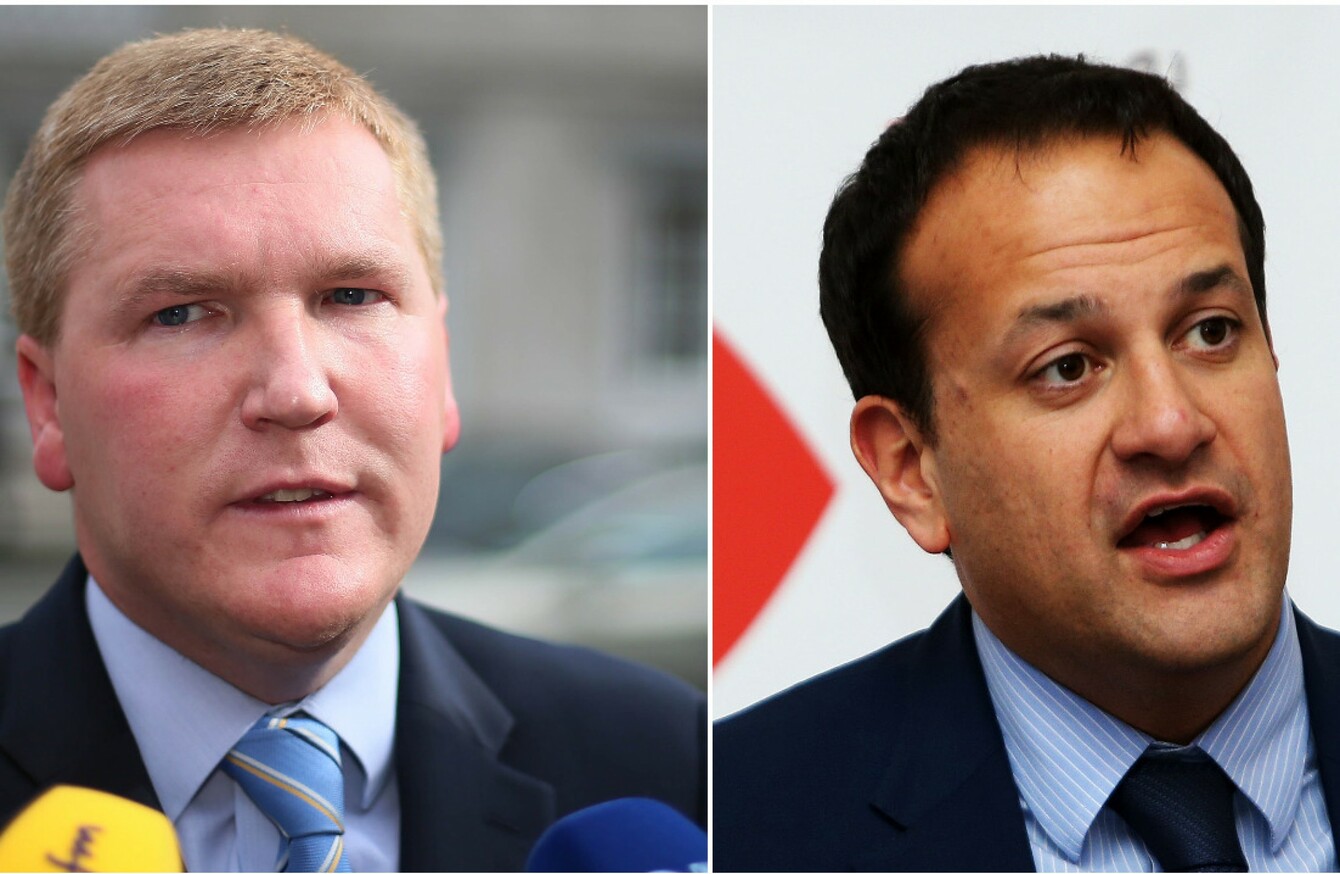 Updated 7pm
FIANNA FÁIL'S MICHAEL McGrath launched a swift response this evening to criticism of his party by Leo Varadkar.
The acting health minister said earlier that Fianna Fáil's focus on water during government formation talks was "surreal" and "ridiculous".
Speaking to RTÉ's Keelin Shanley, the Fine Gael TD insisted scrapping charges was the wrong decision and not in the national interest.
Micheál Martin's party could have concentrated on issues like the health service or the USC, he said.
Not at all – all down to water charges that cost €3 a week – it is the wrong thing to do, it is not in the national interest.
He said it would have been "insane" to go back to the people and fight an election on water charges.
'Deeply unhelpful'
Later, McGrath said Varadkar's comments were "deeply unhelpful, unnecessary and self-serving".
He told the media at Leinster House that he could not understand Varadkar's timing, and observed that the minister appeared to be positioning himself for a leadership battle within Fine Gael.
McGrath said making such comments when the two parties are so close to an overall agreement made him question Varadkar's motivation.
The timing beggars belief… those claims can only inflame the situation, I simply can't understand it.
He said it would make one wonder: "What's going on within the Fine Gael party?"
We all know there is a succession issue ongoing in Fine Gael.
McGrath said the comments are not going to stall the negotiations.
We are not going to throw the toys out of the pram over this.
Varadkar's broadside didn't go down well with some other members of Fianna Fáil today either.
Speaking later on RTÉ's Six One news Varadkar accused McGrath of making a personal attack on him. Asked whether he would serve in a Fine Gael-led government, should one be formed, he said he would – after responding first that it was presumptuous to assume there would be a government.
Talks 
Both McGrath and Varadkar could agree on one thing – they both hope a minority government will be in place by the end of next week.
McGrath said papers were being exchanged today between the two parties.
One of the main issues still to be decided once and for all is, of course, the suspension of water charges. A draft agreement between the old civil war rivals was agreed on Tuesday.
Unpaid bills
There has been some division among the parties over whether people who paid their bills should be entitled to a refund if the charges are scrapped.
Any water charge bills were issued on a valid legal basis, McGrath said today, raising the question as to whether it was legally possible to rescind the bills.
Minister for Jobs Richard Bruton said yesterday that paying customers would have to get their money back in the event that the levies are voted down by the Dáil. Fianna Fáil's position is that the over 900,000 people who have paid their bills should not be refunded.
The proposed Fine Gael-Fianna Fáil agreement is thought to involve a suspension of water charges for between nine to 18 months while a commission of experts examines alternative charging systems.
Once the water commission's report is drafted and sent to an Oireachtas committee, the findings will be debated and voted on by all TDs. Irish Water as an entity is not expected to be referred to the commission.
Minister for the Environment Alan Kelly yesterday slammed the mooted deal during a Dáil discussion on the public utility. The Labour TD said the scrapping of Irish Water would be "political, economic and environmental sabotage".
#Open journalism No news is bad news Support The Journal

Your contributions will help us continue to deliver the stories that are important to you

Support us now
He questioned whether the move would be within EU law and warned Dublin would face water shortages if the charges are abolished.
Scrapping water charges
Foreign Affairs Minister Charlie Flanagan said this morning he continued to support the principle of paying for water, but acknowledged that if it was put to a vote today, water charges would be scrapped.
Speaking on RTÉ's Morning Ireland, Flanagan denied that the party had sacrificed its principles to stay in power, stating that he hoped the talks would conclude in the next 48 hours.
Fianna Fáil's John Curran told the same programme the focus on Irish Water by his party was justified. The administration of the utility is too expensive, he said.
So what happens next? 
When a deal is signed off on by Fianna Fáil and Fine Gael, government formation talks will then revert back to the independents. Fine Gael are still short of seats and need at least six to form a minority government.
So far, Enda Kenny has the support of two independents – Katherine Zappone and Micheal Lowry.
Substantial talks have already taken place with the independents prior to Fine Gael entering talks with FF, so it is expected that discussions will not take long once they resume.
There are a number of independents in the mix – each one with a particular wish list of what they want
Independent TD Michael Collins said non-party deputies would be taking time to look at what is on the table, and that he expected the process to take two to three days.
Independent Alliance TD Michael Fitzmaurice told RTÉ's Morning Ireland that he was not going to be "bullied into something… sign up to this and away we go".
"We are either very close to government formation or very close to an election," Fitzmaurice said.
I wouldn't count the chickens before they're hatched.
Additional reporting by Catherine Healy