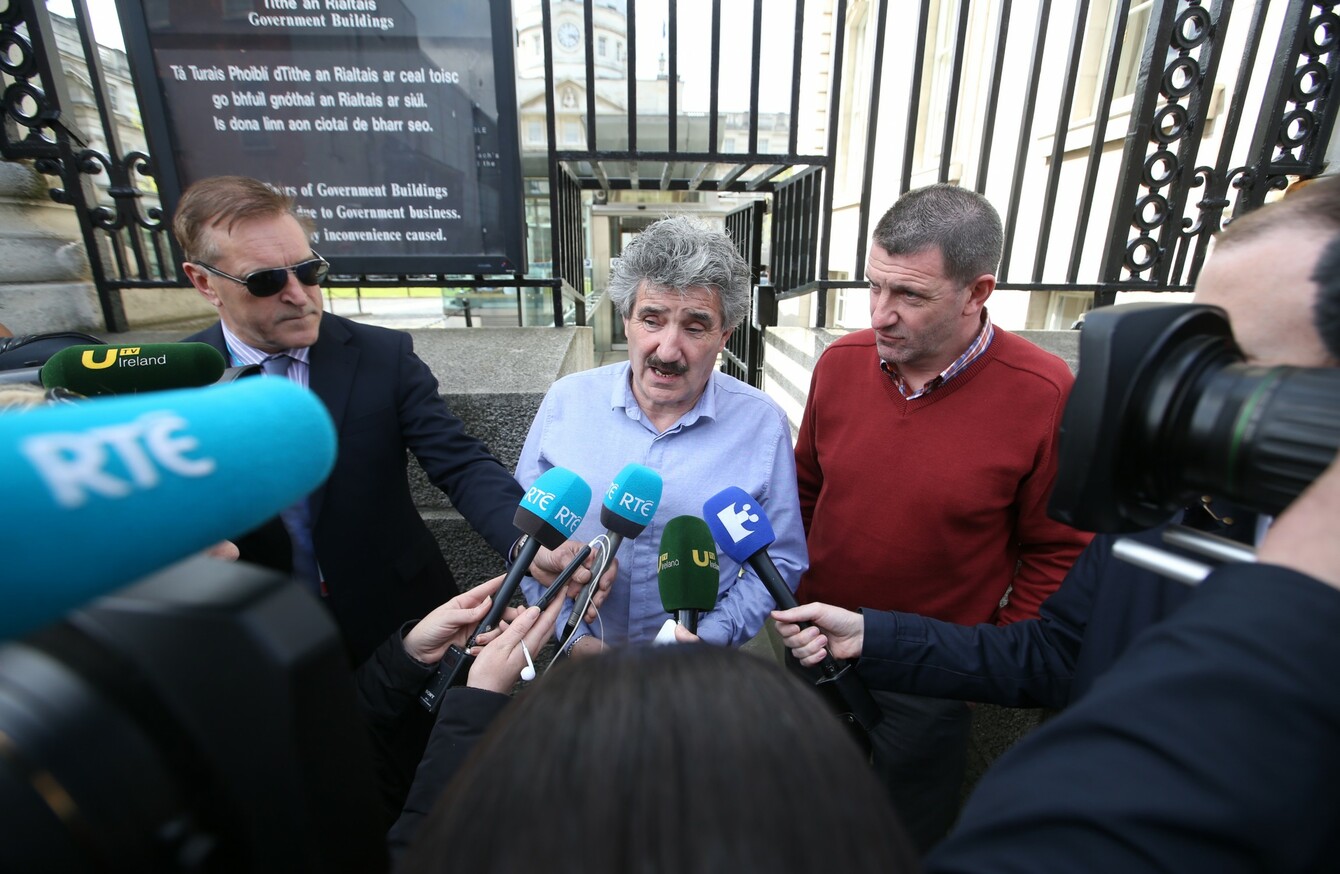 John Halligan earlier today
Image: Sam Boal/RollingNews.ie
John Halligan earlier today
Image: Sam Boal/RollingNews.ie
A 160-PAGE DRAFT document has been presented to independent TDs today aimed at persuading them to lend their support to Fine Gael in government.
The wide-ranging document deals with issues which the independent TDs had brought up in the long-running talks, including justice, education, health and rural affairs.
However, there are no costings included in the document – instead, there are a large number of soft commitments.
The move brings a Fine Gael-led minority government one step closer to a reality, with the Dáil set to hold a new vote for Taoiseach tomorrow at 12 noon.
What is being promised? 
The programme appears to deliver on some of the requests from the independent TDs, such as Finian McGrath and John Halligan.
McGrath had asked for a dedicated cystic fibrosis unit at Dublin's Beaumont Hospital, which the document says will immediately enter the design and planning stage.
The document also commits to a second cardiac facility in Waterford University Hospital, which John Halligan had called for.  However, it states this is subject to favourable medical expert assessment.
The new government commits in the document to reopening at least six garda stations which were closed down in recent years – something independent TD Shane Ross campaigned on.
The draft document also promises a new housing minister, which the current Environment Minister Alan Kelly was critical of this week.
There will be a special court established to deal with mortgage arrears, while help-to-buy scheme for first-time buyers and a VAT cut on new affordable homes is also included.
The document has a special section about "evolving political relationships" which promises that "good faith and no surprises" will be central to the new government.
Education and a citizens assembly 
The draft programme has a proposal for the establishment of a citizens assembly which will look at issues including the repeal of the controversial 8th amendment of the constitution and fixed term parliaments.
Public services will get a windfall in investment, with the incoming government committing to spending €6.75 billion by 2021.
There are also proposals to increase various payments for those with disabilities and a proposal to increase the minimum wage to €10.50 per hour over the next five years.
In terms of education, the use of prefabs in schools will end and there is a commitment to invest an extra €500 million by 2021. The document also states the pupil-teacher ratio will be reduced at primary level.
The proposal reflects the calls for an increase in multi-denominational schools, with a plan to increase non-denominational and multi-denominational schools to 400 by 2030.
The issue of judiciary appointments was said to be a sticking point for some independents during negotiations and is also dealt with.
The document commits to introduce reforms to the judiciary appointments advisory board, which appoints judges.
There are strong commitments to strengthen legislation in relation to sexual offences.
It promises to update legislation to effectively deal with sexual offences including sanctions aimed at protecting children from sexual exploitation, child abuse material and online grooming. The document says:
We will provide, in legislation, for disclosure, by gardaí of details on sex offenders where they believe public safety concerns exist, including disclosure in relevant circumstance to individual parents.
New regulations in the sale and purchase of precious metals is another thing listed.
The Dáil is due to resume tomorrow where a fourth vote for an Taoiseach is be held.