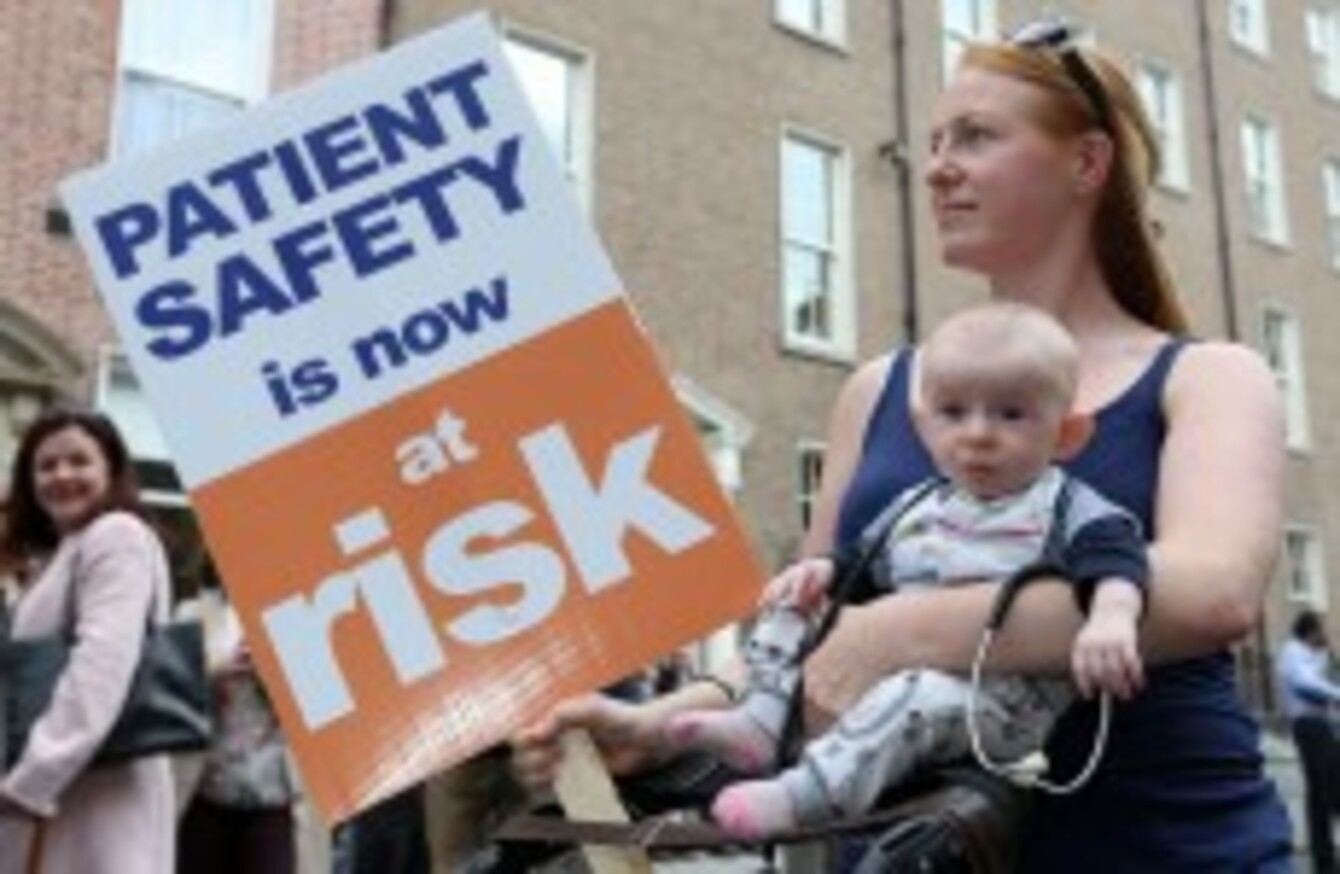 Today's protest
Image: Sam Boal/Photocall Ireland
Today's protest
Image: Sam Boal/Photocall Ireland
DOCTORS HAVE WARNED that general practice in Ireland is "on the brink of collapse".
About 300 GPs attended a protest organised by the Natioanl Association of General Practitioners, in Dublin city centre this afternoon to voice their concerns about the current state of general practice funding and resources.
A number of those present said that the sector has been disproportionately hit by a 40% reduction in funding, compared to 14% for other health services.
Speaking at the protest, Dr Ruairi Hanley, a GP based in Drogehda Co Louth, told TheJournal.ie: "General Practice in Ireland is on the brink of collapse due to severe funding cutbacks over the last five years, which have resulted in devastating consequences particularly for younger GPs in smaller practcies who now find themselves financially unviable and are being forced to emigrate."
He said that the closure of practices would led to patients "ending up on trolleys in A & E Departments".
GPs have called for 2% of the overall health health budget to be diverted from secondary care to general practice. They denied this would result in other health services suffering, instead saying it would lead to a more efficient system in the long run as it is cheaper to treat patients at primary care level.
Dr Ciara Kelly, a GP based in Greystones Co Wicklow, said that general practice is "vital for poor, vulnerable sick people".
"If it is gone, it is gone. It will not be easy to replace."
Ahead of the protest Health Minister Leo Varadkar said he fully acknowledged "GPs are under pressure, both financially and in terms of workload".
"The same problems are facing everyone in the health service. Nevertheless, more GPs are taking up contracts with the HSE. Latest figures show there were 2,416 GPs contracted to the HSE in April 2014 compared to 2,258 at the end of 2010."
"The Government wants to increase resources to Primary Care as part of the transition to Universal Health.
"I strongly encourage GPs to seize the opportunity presented by the new contract negotiations and the proposal to extend GP care without fees to the under sixes and over 70s as the best way to get more resources into General Practice. It's an opportunity that shouldn't be lost," Varadkar stated.
Hanley said that it was "very disingenuous of the minister to suggest that because of the opening up of the system to allow more GPs to get contract this somehow says everything is hunky dory, it's quite the opposite".
"On a contract you might have only 10 patients, you might have 1000 patients. So young GPs with those contracts are often sitting in practices that are financially unviable and in many cases they're shutting them down and leaving the State," Hanley noted.
He added that there is "a perfect storm developing of a manpower crisis and increased patient demand". As well as young doctors emigrating, many of Ireland's 3,000 GPs are nearing retirement age.
#Open journalism No news is bad news Support The Journal

Your contributions will help us continue to deliver the stories that are important to you

Support us now
Hanley said that he was hopeful Varadkar's appointment to the health department would signal a new era, adding it "wouldn't be hard" for the new minister to do better than his predecessor James Reilly.
Leo Varadkar is clearly a very bright, able guy. He's a GP himself although he more or less jacked it in at an early stage. I can't blame him, to be honest about that one.
'Laughing stock of Europe'
Hanley noted that in Ireland 2% of the overall health budget is spent on primary care, while the NHS spends 10% on the same services in Britain. He added that we would need about 1,000 more GPs to meet the European average.
Dr Andy Jordan, a GP in Tallaght, said that the lack of funding and resources available to doctors here had made Ireland "the laughing stock of Europe".
"You cannot introduce a 40% reduction in funding and expect the services to remain the same," Jordan commented.
Doctors at the protest were also opposed to free GP for under 6s and over 70s, saying it will remove vital private revenue and result in longer consultation times.
"GP care cannot be free and never will be be free," Hanley said.