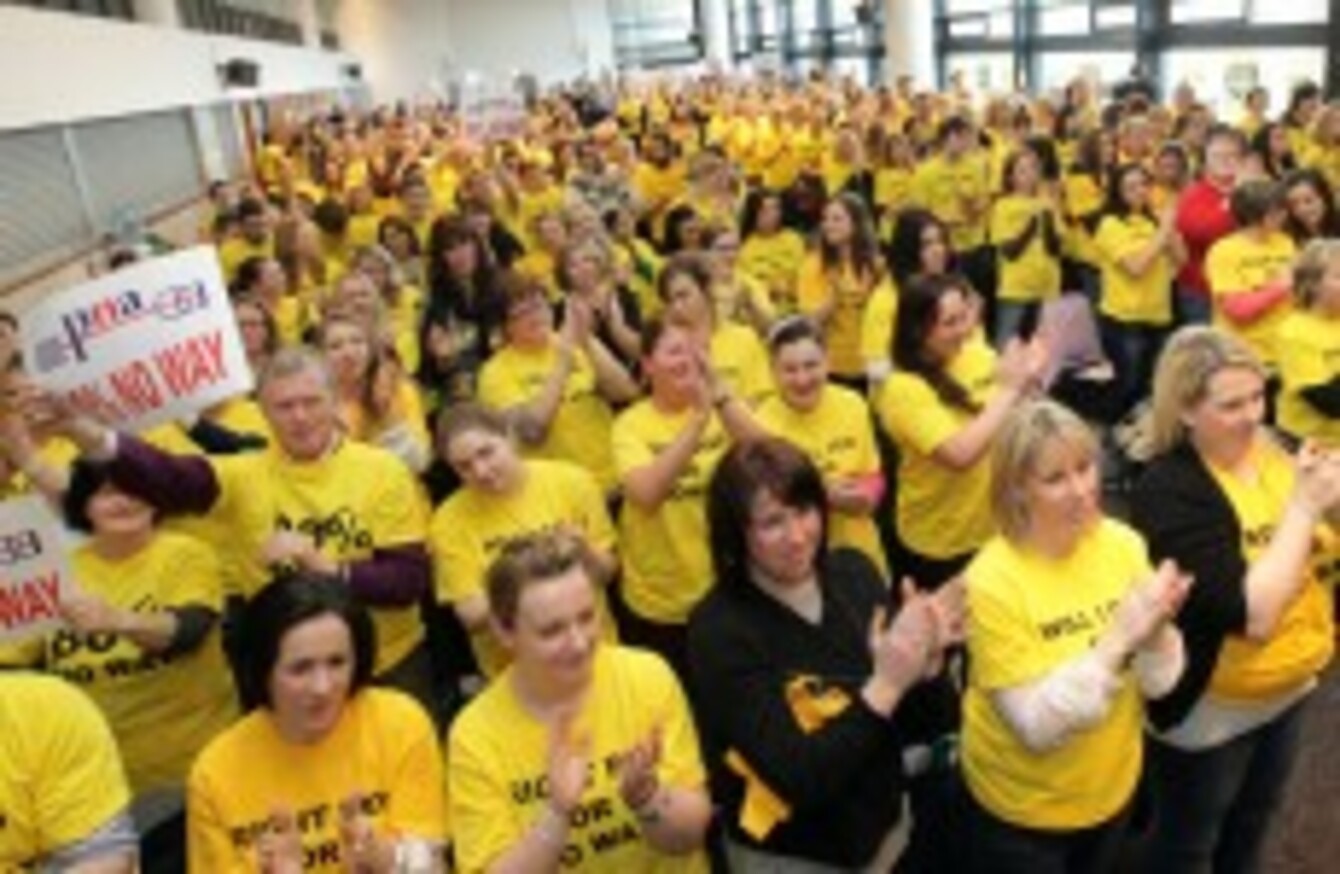 Saturday's nurses protest at Croke Park.
Image: Mark Stedman/Photocall Ireland
Saturday's nurses protest at Croke Park.
Image: Mark Stedman/Photocall Ireland
THE GENERAL SECRETARY of the Irish Nurses and Midwives Organisation (INMO), Liam Doran, has described the salary being offered to nursing graduates by the HSE as 'insulting'.
Following on from Saturday's nurses protest at which attendees agreed to boycott the HSE's plan to start advertising graduate nursing jobs from this Friday, Doran questioned why anyone would "take up 100 percent of the responsibility with 80 percent of the salary."
"The proper salary has been cut by 24 per cent since 2009, which is a greater cut than any TD has taken," he said. "This 80 per cent proposal [for graduates] is just insulting."
These are not additional jobs. For every job that is filled, it is replacing an agency job. They [the HSE] want to get rid of the staff which are on the proper pay scale and replace them with staff which they can exploit by introducing cheap labour.
"Employing nurses through agencies is 26.5 per cent more expensive, when VAT and agency rates are taken into account," Doran said. Despite this additional outlay, he said that employers have had no choice but to essentially take on agency staff for "continuous work, because it's a way of getting past the public service embargo".
Doran said that attempting to replace agency workers with lower paid graduates was 'flawed' and that money could still be saved even if they were to be employed at the same rate as non-graduates, as opposed to the starting salary of €22,000 that they are currently set to earn.
He hopes that the boycott, in addition to lobbying of politicians on the issue, will help "government to acknowledge that their system is flawed."
"We want to force the HSE back to the table on this issue," he said.