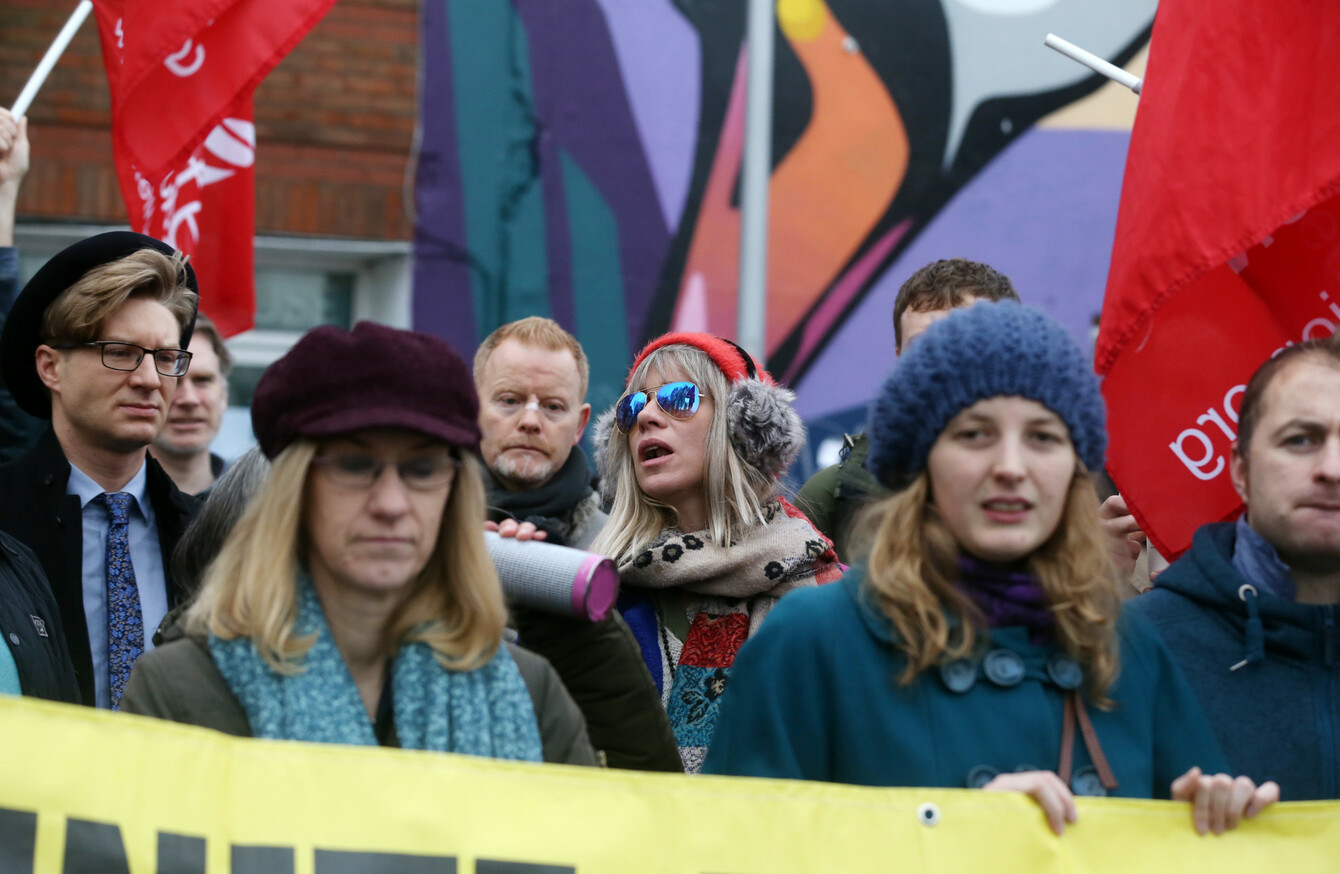 The Unite union protested outside the school earlier this week
Image: Sam Boal/Rollingnews.ie
The Unite union protested outside the school earlier this week
Image: Sam Boal/Rollingnews.ie
THE GOVERNMENT PLANS to introduce measures to protect the rights of English language teachers from closures in the sector.
It comes after around 20 staff members at Grafton College Dublin did not receive their wages on Friday and were told on Monday that the school will close and they no longer have jobs.
Speaking in the Seanad today, Minister for Higher Education Mary Mitchell O'Connor said that no-one wants to see such a situation and what has happened in the past week at Grafton College is "completely unacceptable". 
"I am committing today to appoint an experienced mediator who would meet with bodies representing employers and employees in the English language education sector to explore the potential for a Registered Employment Agreement to be developed for workers in the English language sector," she said.
I will be looking to commence this process as soon as possible.
Mitchell O'Connor says new legislation passing through the Seanad would help to secure safeguards in place. 
With some of these teachers affected present in Leinster House this evening, Minister for Education Joe McHugh was also pressed on the matter in the Dáil this evening. 
Richard Boyd Barrett said: "Today or in the next day or two, the Minister should meet them and talk to them.  I know one of the teachers personally.  This is the third time this has happened in his career teaching English as a foreign language.  He was just left high and dry by one rogue employer after another."
McHugh said he'd be happy to rejig his schedule to meet the teachers this evening. 
Speaking about the Qualifications and Quality Assurance Bill in the Seanad, the minister said: "Upon enactment, the Bill will also empower QQI to establish a learner protection fund which will be resourced by an annual charge from those providers covered by it. 
The fund will be used to "teach out" a programme in the event that a provider fails to provide a programme.  Should this not be possible, the fund will be used to reimburse students for the most recent fees that have been paid.