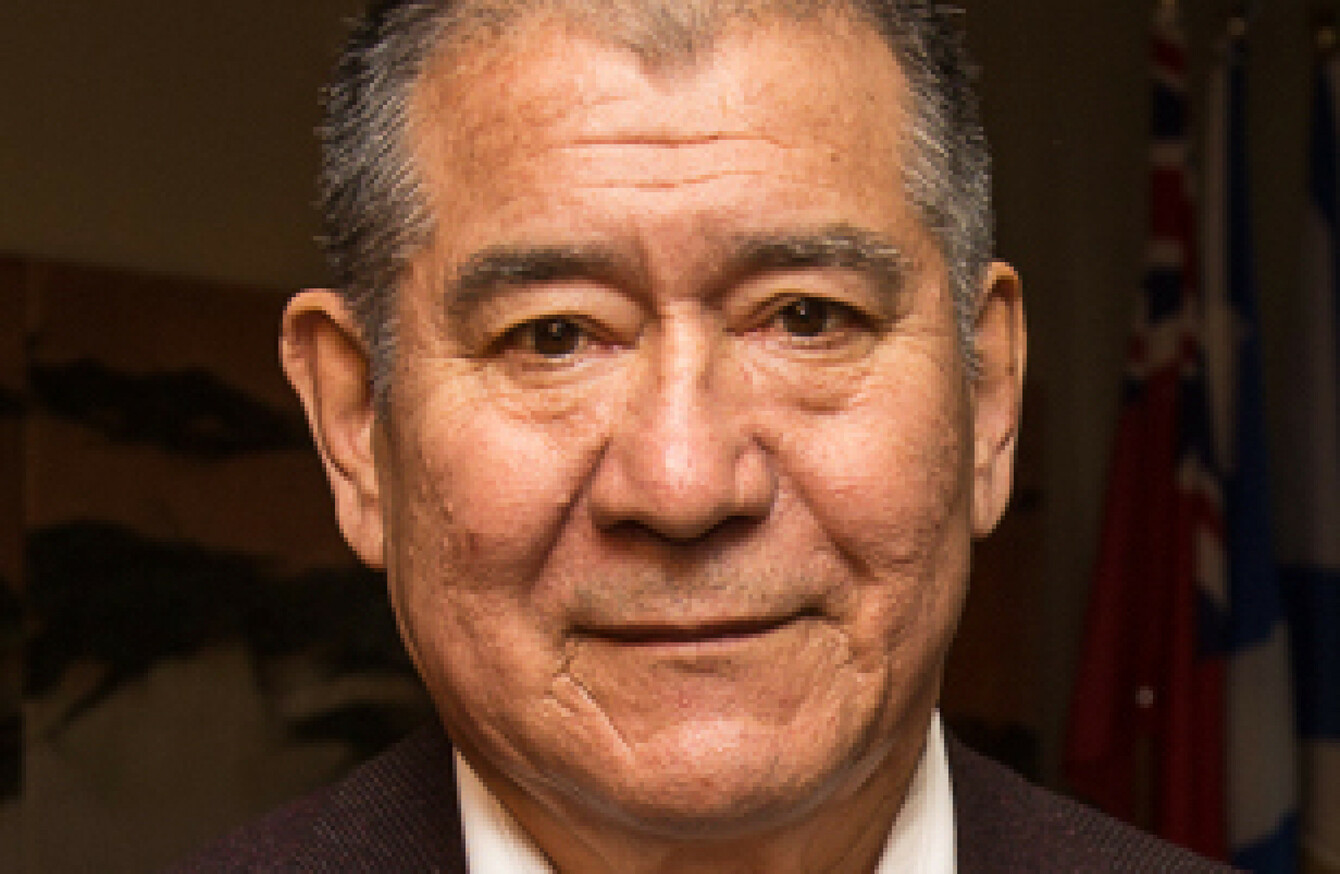 THE GRAND CHIEF of a Mohawk tribe is to visit Ireland next week to talk about what the First Nations struggle in Canada can teach Irish people.
Joseph Norton is the Grand Chief of the Mohawk Council of Kahnawake, and is also a businessman who founded Mohawk Internet Technologies and Tewatohnhi'saktha Economic Development Commission.
The Kahnawake Mohawk Territory (pronounced [ɡahnaˈwaːɡe] in Mohawk, Kahnawáˀkye in Tuscarora) is a First Nations reserve of the Mohawks of Kahnawá:ke on the south shore of the St Lawrence River in Quebec, Canada.
There are 634 First Nations in Canada – distinct from people who are Inuit or Métis – and over a million people who describe themselves as being of First Nations heritage.
Grand Chief Norton has been invited to Ireland to take part in the D'Arcy McGee International Forum, which this year has chosen the theme 'Canada and Ireland – exploring new beginnings in uncertain times' for its event.
The forum, organised by the Ireland Canada University Foundation, is bringing together
academics, artists, political and industry leaders from across Ireland and Canada, with a focus on shared values and Thomas D'Arcy McGee's vision for an inclusive and tolerant society.
Welcoming Prime Minister Trudeau to Dublin in 2017, Taoiseach Leo Varadkar spoke of how:
Ireland and Canada share the same outlook… we believe in multi-lateralism, free trade, respect for personal liberty, the value of diversity, the benefits of migration, the need for climate action and openness to the world.
Joseph Norton has had the title of Grand Chief of the Mohawk Council of Kahnawà:ke in Quebec for over 30 years. The council is located about 15 minutes from downtown Montreal.
There are 12  chiefs altogether who are responsible for all the daily activities that take place on the territory. They talk regularly with the federal government and local government in the region. Their role is "to oversee and to govern and to play a tremendous part, be a tremendous part of the indigenous movement in Canada" says Norton.
Once he became a representative back in 1978, he says he "knew what the future held for me".
But holding the role for this long means that he has seen many different governments over the decades, and so realises that though change can come, things can also get stagnant. The current Prime Minister in Canada is Justin Trudeau, and he has positioned himself as someone who is aware of issues around the treatment of indigenous people, and wants to do something about it. Case in point, his racially mixed and gender-balanced cabinet.
Earlier this year, Canadian press said that First Nations leaders reacted "with caution" to Trudeau's indigenous rights plan, which would see such rights recognised in the Canadian constitution.
What does he make of Justin Trudeau? "I hate to be sceptical," says Norton. "But the leadership, the Prime Minister the country is making all these grand statements. There is a Cabinet of ministers who are mandated to do these things in terms of restructuring and relationship between indigenous people and Canada but you have bureaucracy that goes back 10 years to the previous regime, the Conservatives were no friend of ours."
He says that if this can be overcome, them true progress can be made. "We can't wait for them to give us handouts, we have to take what's ours and go forward with it."
Norton is realistic about what Canadian government can and will do. "You can imagine in the 40 years I have seen Prime Ministers, leaders come and go over that time," he says.
And the more things change the more they stay the same. Every time a new government comes in, a Canadian government comes in, we have to sit down and orient them and educate them. And very often they have very different opinions about what the relationship between Canadian and indigenous people should be. So we have to set our mark and start [from there].
Norton says he doesn't want to sound critical about Canadians in general in leadership, "but a lot of it surrounds the, I guess, the relationship between ourselves and Canada and historically the crown in England because Canada was a colony of England – it only got its constitution in 1982″.
Norton explains that prior to that, Canada was a colony and there was an understanding between the native people in the country and the British crown – though "that wasn't a very good relationship either".
He says that once the colonial government was established, it "said 'this is our country now and you native people aren't citizens of the crown and so on and so forth – and the kinds of laws that were passed reflected that".
Dark days
He says that First Nations people were categorised as being under the federal authorities in Canada, and that their rights were taken away. Norton says that their lands were diminished substantially and the resources they once enjoyed were put under someone else's authority.
"In some instances they made it illegal to fish, trap, hunt, or practice our cultural beliefs or language," he explains.
The Indian Act was first passed in Canada in 1876 – and is still in force, though some amendments have taken place.
It governs Indian reserves, determines who is or isn't an 'Indian', and basically dictates the terms through which the Canadian government interacts with First Nations people.
Under this law, there was at one point a number of ways that people could lose Indian status – until 1960, for example, if a person wanted to vote in federal elections, they could only do so by renouncing their Indian status.
Though 1982 marked a turning point for Canada in terms of governing itself, things did not radically change for indigenous people. The government is still "responsible" for Indian people, says Norton.
There were "dark days" in history, when children were taken from their families, put in residential schools and attempts were made "to try and make them as white as possible", says Norton. In some cases their language was taken from them, and they were not allowed to see their family. This is something that has also played out in countries like Australia, with the government only apologising in recent years for what happened to the 'stolen generation'.
There is a lot of baggage that we still carry to this day.
Norton is aware of Ireland's history of colonialism. Though he doesn't see it as his role to make pronouncements on what should and shouldn't happen, he says "it's not my place to talk about that but we see ourselves in a similar type of relationship with the Canadian government".
He became aware of the situation with Northern Ireland later in life, and says that finding out the details "made me scratch my head and wonder".
In 1990, his community was surrounded by 6,000 soldiers and Norton found himself facing the military. He says: "It was no different from what happened in Northern Ireland. Fortunately nobody got killed. There was a 78-day standoff."
He says that major things he has been emphasising with the Canadian government include "that we are allies to Canada, we are not subjects to Canada, not subject of the crown – we are allies to the British crown. That is how the relationship began and that is the way we still see it. Canada doesn't see it that way."
First Nations people have their own courts and justice system, which they want to see get more powers. There is also much discussion around the use of their resources – like water, timber, mines and minerals.
"If we acquiesce to those things then what happens is we have no say over our curriculum, no say over how things will function or form," says Norton.
In our society, culture and language are inseparable, they are one and the same. We have a heavy emphasis in our educational system and in our cultural system to establish those benchmarks. There has to be adequate financing to be able to do that. Canada in its infinite wisdom has transferred most of that responsibility to provincial governments. They are looking after their citizens, not us.
He understands that you have to be conscious of the effects your decisions have on the future.
"Sometimes you have to make sacrifices now to make sure the future your children, grandchildren seven generations in advance will have an existence, one that is based on beliefs, culture and language," he says. "So if you can continue to preserve those languages, the culture, that is the basis of your existence."
Norton says that young indigenous people are getting more and more educated, both about the indigenous world and outside it. He says that their culture is precious to them, but they are then going into the modern world and seeing all the things out there.
He sees it as wanting the best of two worlds:
To live in ours, feel secure safe and almost having your mother wrap in blanket hold you. Live in the other world and go on in a daily basis and we rub shoulders with our non native brothers and sisters and learn from them.
Despite all the challenges, he remains sanguine about progress. "I wouldn't be doing this 40 years after if I didn't think it was possible. Because of the way things are, the wide gap in terms of understanding of the relationship between indigenous people and Canada, I see it as an ongoing process that is going on forever. I am passing on to my children and my grandchildren.
"Hopefully they will pass it on to theirs, the need to understand who you are and the need to protect and defend [who you are]."
The D'Arcy McGee International Forum will place in the medieval town of Carlingford from 15 to 17 August.