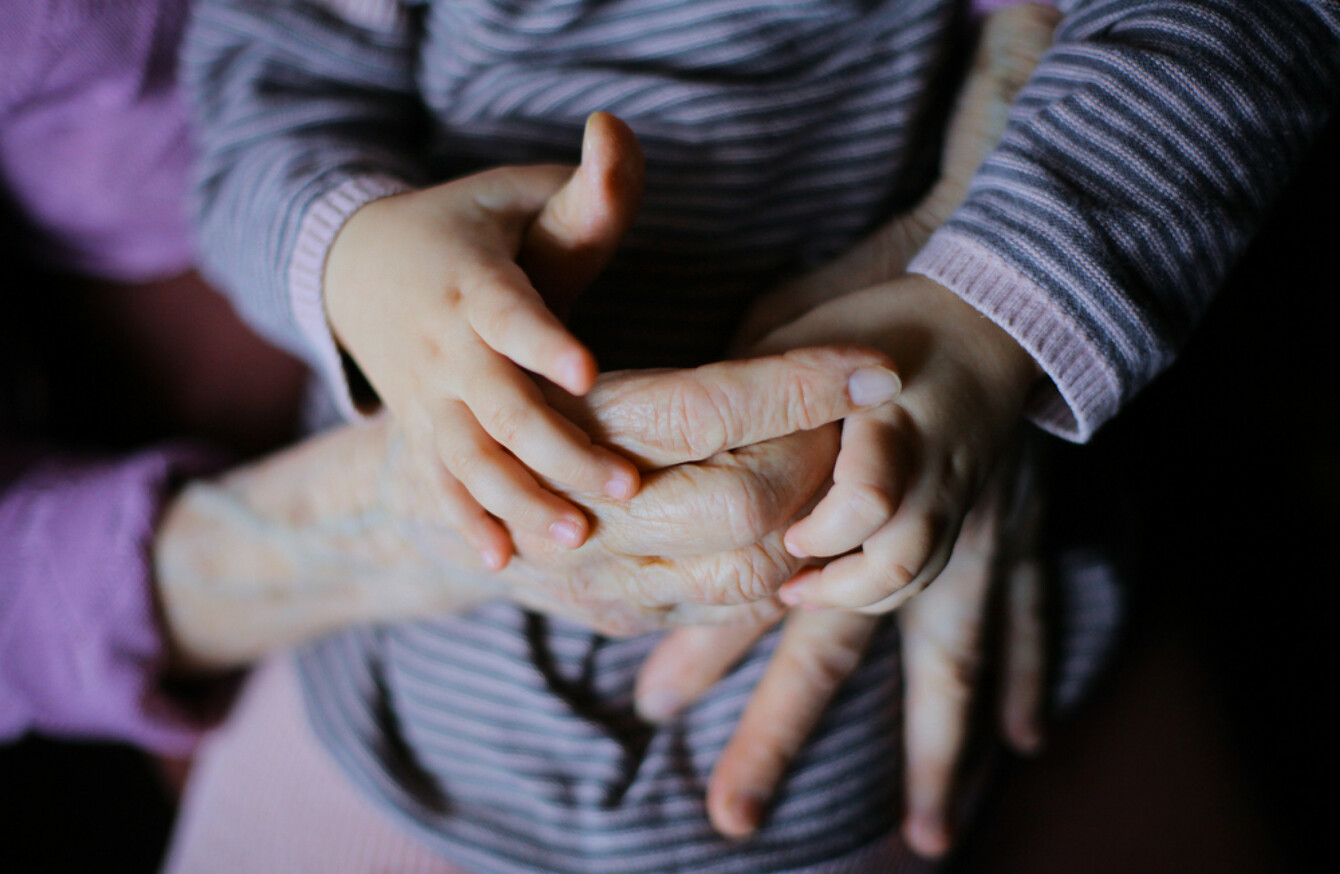 Image: Shutterstock/Olga Savina
Image: Shutterstock/Olga Savina
ANGELA* IS IN in her 70s.
Two of her grandchildren have been living with her for the past nine years. Angela's daughter has had issues with her mental health and lived at the home sporadically during this time.
Since assuming the responsibility of care for the children, Angela stopped working and has witnessed her pension fund being sapped with the cost of caring for her two grandchildren.
She has repeatedly petitioned Tusla to pay her the same allowance given to foster carers, and even took the case to court on numerous occasions, to no avail.
She told TheJournal.ie that there are many more in her position, and that grandparents who assume the responsibility of care for children deserve greater supports.
Foster carers 
Each week, the basic allowance paid to foster families is €325 for children under 12 and €352 per week over 12, per child. This payment is designed to cover food, clothing, basic travel, household bills, education costs and everyday living.
Previously, foster carers were required to submit receipts for monies spent on children in their care and were subsequently reimbursed. This proved costly to administrate so an allowance is now provided instead.
In practice it means that, each week, the State spends over €2 million a week to provide for children in foster homes.
Of the approximately 6,000 children in foster care in Ireland, around a third of them are cared for by a relative, including grandparents.
In Angela's case, however, it was deemed that she didn't qualify to receive a foster care allowance.
"I get a guardian allowance, which is less than half of what foster carers get," she said.
Why are children cared for by guardians only half as important as children in foster care?
The guardian's payment is paid at a standard of €176 per week.
Last year, research from Trinity College and the National Family Support Network noted that, among grandparents caring for their grandchildren, no issue was "more contentious" than access to State financial support.
Angela's daughter moved out some years ago and since then, she has been the sole carer for the children. Prior to this, the children lived with Angela and she was the primary care giver for the children, aided sporadically by her daughter.
"They've had a lot of upheaval in their lives, but the past few years with them have been great," she said. "When I stopped working, I said I was going to put everything into these kids."
For someone to be designated a foster carer, they need to fulfill a number of criteria, including undergoing specific training, allowing access between the child and their parents and being subject to ongoing supervision by a social worker.
Angela said that she is fully committed to fulfilling all these criteria, and has provided a high standard of care to the children for almost a decade.
From one of her previous jobs, she has garda vetting up to the beginning of the decade, so that would require updating. She even completed a course provided by the Irish Foster Care Association in May 2016.
Political action
She has petitioned the help of politicians to her cause, with Fianna Fáil's Jim O'Callaghan expressing support.
He said: "Although both grandparents and foster parents provide the same invaluable service to the State in looking after children, the grandparent receives only one-third of what the State pays to a foster parent.
Also, a foster parent will automatically get a medical card for a foster child,whereas a grandparent will not… The State needs to recognise the important role that many grandparents play in bringing up their grandchildren.
Angela also sent queries in to the Department of Children and Youth Affairs.
In a letter – seen by TheJournal.ie – the office of Minister Zappone wrote: "The children in respect of whom Guardian's Payment is made are not in State care, nor are they the subject of particular safety or welfare concerns."
Angela said that the only reason there are currently no safety or welfare concerns about the children is exactly because she is taking care of them.
The letter went on: "It can be seen that the requirements on foster carers and the obligations held by the State (through Tusla) in respect of these children is quite different legally and practically to any private arrangements which families may make for the upbringing of children."
She said that, in her correspondence with Zappone, the Minister was "saddened at the obfuscation" in her case that meant she couldn't access this payment.
These calls to achieve parity in payments made to foster carers, and grandparents taking care of children, are not new.
As far back as 2005, a HSE-commissioned report recommended addressing this issue.
It said: "Financial support for grandparents caring for their grandchildren full-time should be equivalent to the Fostering Allowance."
Fast forward over a decade, and a range of challenges that older carers face were also highlighted in the 2016 report from the Trinity College and National Family Support Network researchers. Five of out 10 families said they had to give up work to look after their grandchildren.
In some cases, their own children were "emotionally abusive" and "physically aggressive".
Several of those surveyed said that they could not be granted foster status if they had already stepped in to care for their grandchildren.
The report said: "In the main, it appeared that if grandparents stepped in to care for their grandchildren before these children were legally taken into the care, the child protection system would refuse to act retrospectively and seek a care order for the children.
The argument put to grandparents was that (a) there was no necessity to take children into care if they were already being adequately cared for by their grandparents; (b) this necessity would only arise should their grandparents abandon them to the care of the state; and (c) grandparents who abandoned their children in this way would automatically be deemed unfit to be approved as official foster carers.
The report refers to these cases "a Catch-22″.
Author co-report, and community development worker, Megan O'Leary said: "Grandparent carers are fulfilling a vital role for their grandchildren under extremely difficult circumstances.
The stresses associated with this caring role are further compounded by support services that are often ambiguous, unclear and inconsistent in their approach to this group. As a result of these factors the mental health of grandparent carers is frequently compromised.
Speaking to TheJournal.ie, a spokesperson for Age Action said that "more needs to be done to acknowledge the contribution grandparents make to the economy".
Age gap
Last year, TheJournal.ie highlighted a case where a young child was taken from grandparents and put into foster care because of the couple's age.
In a letter, Tusla told the couple they were too old to be the foster carers of their grandchild.
The letter from Tusla to the grandparents said:
Without doubt your love of [child's name] has not and is not in question. I know that you want the best for [this child]… as [child's name] grandparents you should and will play a significant role in [the child's] life – we recognise the importance of this relationship for both you and [child's name] and that relationship should be preserved and promoted as a grandparent relationship.
However, you will not be approved as foster carers for [the child].
This guideline, which Tusla said was only used on a case by case basis, is no longer enforced.
Responding to a Dáil question from Mattie McGrath last November, Minister for Children Katherine Zappone said: "I have raised this matter with Tusla, and it has been confirmed that a formal review of the Foster Care Committee Policy and guidelines is underway.
In the revised Policy the reference to the 40 year age gap will be removed and it is anticipated that this will be completed for implementation before the end of the year.
For Angela, however, she said she was told in the past that it was her age, and health problems, that were the reasons she couldn't foster.
British cases
Angela cited precedence in British courts as an example of how things could be done here.
In 2010, Kent County Council was ordered to pay a 64-year-old who was looking after her granddaughter a foster care rate, the Telegraph reported.
And, in 2013, it was ruled that the London borough of Tower Hamlets should give a full foster care allowance to a woman caring for two nephews and a niece, the Guardian reported.
Angela said that she took her case to court here on numerous occasions, but failed to win similar financial support than the UK cases.
"It needs to be the same here," she said. "There are so many more like me out there. There are grandmothers out there who are worse off.
I turned 72 earlier this year. I've had some hip problems, some back problems, some stomach problems. I've been trying for years now to get what I feel I deserve. I feel like giving up but I think it's important to keep fighting.
*Angela's name has been changed