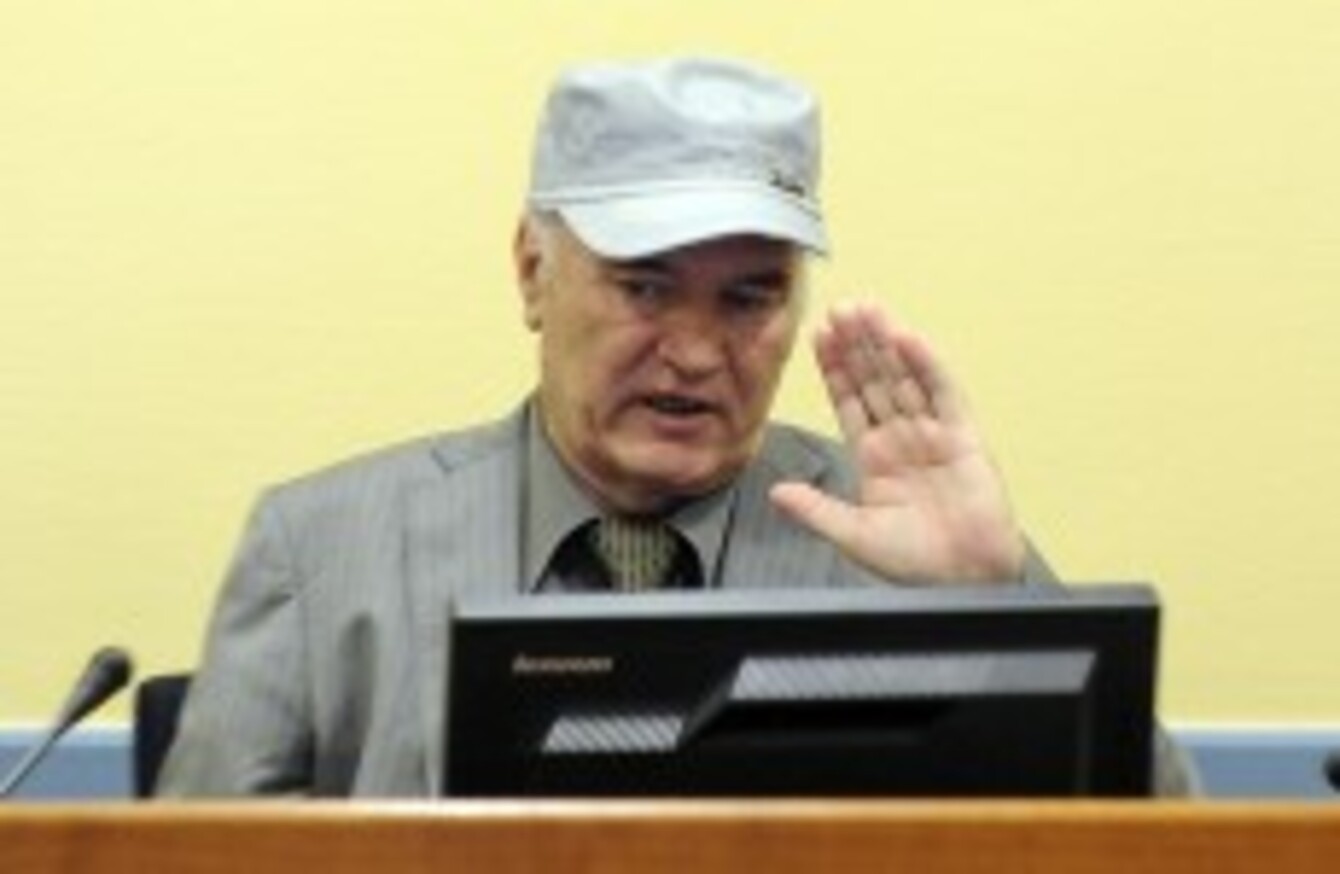 Ratko Mladic at The Hague today
Image: Martin Meissner/AP/Press Association Images
Ratko Mladic at The Hague today
Image: Martin Meissner/AP/Press Association Images
THE FORMER BOSNIAN Serb military commander Ratko Mladic has appeared at the UN war crimes tribunal in The Hague where he faces charges of genocide.
He was arrested last week in Serbia after 16 years on the run and accused of committing atrocities during the 1992-95 Bosnian war including the Srebrenica massacre of nearly 8,000 people in 1995.
He told the court that "I am a gravely ill man" and that he did not want "one sentence or letter" of the indictment against him read out in the court. When the charges were read out he shunned them as "obnoxious" and "monstrous".
In between a series of adjournments the former general robustly defended his position and insisted that he defended his country and said:
I did not kill Croats as Croats.
The charges read out, as reported by Reuters, included genocide, crimes against humanity and the violations of the laws and customs of war.
He was accused of genocide and complicity in genocide for leading the Bosnian Serb forces to massacre 8,000 Muslim men and boys in Srebrenica in 1995 and ethnically cleanse towns and villages in Bosnia of non-Serbs throughout the war.
He was accused of persecution for the killing, torturing raping, deportation, and illegal imprisonment of Muslims and Croats.
He was accused of extermination, murder and cruel treatment for the widespread killing of non-Serbs in towns and villages targetted by Bosnian Serb forces and for the deadly campaign of sniping and shelling during the 44-month siege of Sarajevo, the Bosnian capital.
He was also accused of taking hostage United Nations military observers and peacekeepers.
The full indictment can be read here.
After the charges were read, Mladic described them as "obnoxious" and "monstrous" and said they were words he had "never heard before", asking the court for a copy of the indictment.
He was told he would be remanded in custody to appear again before the court on 4 July when he will have to enter his plea to the charges.
After a short adjournment the court resumed and Mladic requested a private session with the judges "to say a few words about my health". The judges agreed to this and Mladic applauded as the judge read out the details of how such private sessions are conducted.
The court then resumed to hear further comments from Mladic in which his ramblings were interrupted a number of times by the judge. Mladic stated:
I am General Mladic and the whole world knows who I am.
He said he did not fear any journalists, nations or any ethnicity and added:
I want to live to see that I am a free man.
The court was then adjourned until 4 July, giving Mladic just over 30 days to decide on his plea.
If he chooses not to recognise the court and therefore not enter a plea, a "not guilty" plea will automatically be entered by the court for him.
Watch Mladic appear at The Hague: