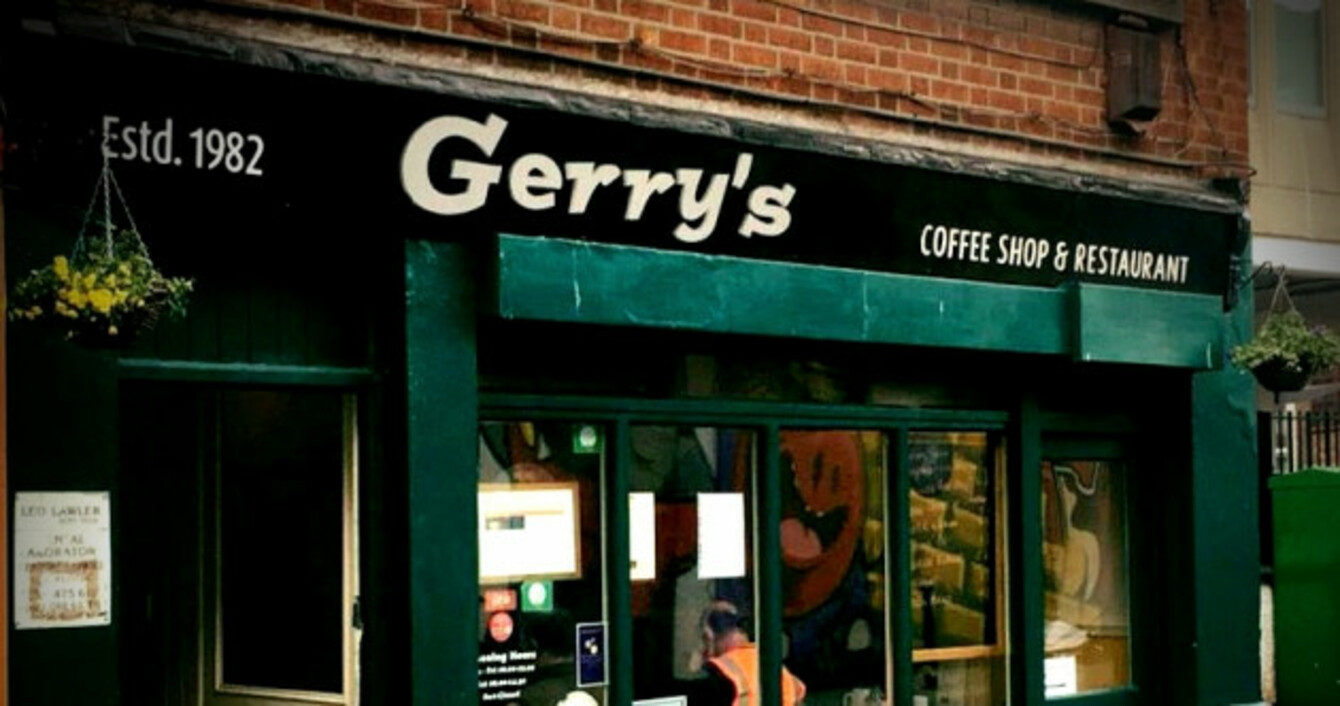 HERE'S ONE thing Irish people love, it's a good fry. Ask any Irish person and chances are they probably have a favourite fry-up joint.
You know the types: local cafés with no airs or graces about them and certainly no avocados in sight. Greasy spoons, you might call them.
With that in mind, we decided to speak to the people and get the stories behind three of the country's most enduring greasy spoon cafés.
Gerry's, Montague Street, Dublin 2
Arguably one of the most beloved traditional cafés in the city centre, Gerry's on Montague Street has been going strong since 1982. Its owner Gerry Horgan had worked in the hospitality industry in Ireland and across Europe for many years.
While living in Germany, he noticed the proliferation of neighbourhood cafés and bars that offered good food and value for money. Upon his return in Dublin, he saw a gap in the market for a similar café and Gerry's was born.
These days, the café continues to be run by Gerry with the help of his children, Olwyn and Daire.
Most days start with Gerry arriving to the café at 6.45am. The café is open from 8am – 7pm from Monday to Friday and 8am – 2.30pm on Saturday.
What are the most popular menu items? It depends on who you speak to, says Daire Horgan, but the breakfast seems like the best place to start.
"We would be extremely well known and proud of having one of the best breakfasts in Dublin's city centre," says Horgan. "The most popular one is the Full Irish, which is two bacon, one egg, three sausages, one black pudding, one white pudding, tomatoes and beans with tea or coffee and toast for €7.50."
"We really don't like that ['greasy spoon'] tag. Everything on the breakfast is grilled except for the egg, which can be changed if you like. So compared to some breakfasts you can get, it is not the most unhealthy. And customers can always have a large bowl of porridge or poached eggs as a healthy option."
Elsewhere, Gerry's also serves a popular lunch menu, which consists of a rotating number of hearty dishes. Think chicken kiev, stew, and cordon bleu. Some menu items have a designated day. Bacon and cabbage is served on Wednesdays, while customers can choose from a half roast chicken, sirloin steak or pork chops for €7 on Fridays.
"We offer this menu right through to closing at 7pm to accommodate people who like to have their main meal at lunch time and those who have their dinner at 'tea' time," explains Horgan.
Having been in business for over thirty-six years, Gerry's has built up a loyal customer base, many of whom come in day after day.
"During the day the café is busy and we ask for customers to share tables. This means that you could be sitting next to a builder who is in the café for the first time, a judge who has been here a few times or an office worker who is in for their daily lunch."
"The evening customer base changes and this sees a lot of the same faces who have become friends often with the entire café involved in the same conversation. There are many people who have come to rely on Gerry's as a social outlet each day after work."
Over the years, the café has witnessed customers evolve from solo diners to people who now bring their families in for a bite.
"We've seen a number of people who came to the café alone now bring their partners, mother, father and eventually kids. It's become a tradition for some families."
Daire says one of the main draws to the café is his father.
"People love to come in and chat with him. Customers getting a warm welcome by the owner himself is something that you don't get in many places. It creates a homely feel with a no-frills and no-pretence atmosphere."
A local café with good food at a reasonable price? Sounds like Gerry accomplished his mission.
Tony's Bistro, Cork
Should you find yourself craving a fry in Cork, there's always one café name that pops up: Tony's Bistro.
The café has been open on Cork's North Main Street since 1996. It was founded by the O'Connor family and continues to be family-run.
"It's very, very family-orientated," says Jonathan O'Connor, who runs the café with the help of three sisters and two brothers.
That hands-on approach has engendered a loyalty among customers in recent years.
"Eighty per cent of our customers would be repeat customers. It's a good compliment. We try to offer value for money, traditional home cooking and keep it consistent. It's easier when you're a family business as there's always one of us there."
Tony's Bistro is a traditional greasy spoon insofar as it's a daytime café serving breakfast items. But it also comes with its own unique charms. For instance, the walls are decorated with photos from mafia movies like The Godfather.
Additionally, the menu items are named after iconic characters like Tony Montana, Paulie Walnuts and even The Simpsons' Fat Tony.
The café is best known for its Godfather Breakfast, the mother of all fry-ups.
O'Connor got the idea for the breakfast around Christmas a few years ago. He wanted to create an eating challenge that would generate money for charity.
And so he came up with The Godfather Breakfast. Those brave enough to try it get two and a half hours to eat the whole thing. Should they complete it, Tony's will donate 500e to a charity of their choice. If they don't complete it, the café will still donate 100e.
How many people have successfully completed it to date?
We're stuck on eight. I think 330-something have tried it, but only eight have succeeded. The bread is the killer. There's three slices of soda bread. That seems to get most fellas.
While The Godfather Breakfast may be the definition of gluttony, O'Connor says Tony's Bistro has gone to great lengths to incorporate healthier options on its menu in recent years. With people growing more and more health-conscious, it was a necessity.
"We've adapted our menu to offer more healthier options. That's the way the world is going. We introducd more healthier options alongside our usual staples so at least people have more of a choice."
One option has proved especially popular, much to O'Connor's surprise.
We introduced the gluten free option two years ago because there were people starting to ask. I couldn't believe the take up on it.
That said, O'Connor believes there's still room in Irish people's hearts for a fry every once in a while.
With the traditional Irish breakfast, it's more of a treat. Everyone loves a fry up. It's not something you're going to be eating it seven days a week, but it's okay to eat once in a while.
TJ's Coffee Bar, Parnell Street
TJ'S Coffee Bar wasn't always a café. When it first opened in 1988, it was a newsagent and coffee shop. After a few years, owners John and Theresa Daly decided to reopen it as a café. The couple continue to manage and work in the café.
"I do the cooking and John does the floor," explains Theresa.
Like most cafés of its ilk, TJ's specialises in accessible, tasty home cooking served with a personal touch.
"We open at 8am and usually do a steady breakfast trade. Our customers are very diverse –  from locals to builders to tourists."
Indeed, a quick browse of its TripAdvisor reviews yields dozens of glowing notices from tourists quick to point out how friendly and helpful the couple are.
Here's a sample review.
The owners were kind, welcoming and really took us under their wing, telling us about all the fun things there were to do in and around the city. We ended up going back almost every day and our daily stop ins at TJ's really made our trip what it was.
Its city centre location means they have lots of visitors stopping in for a bite.
"From April on we get busier with tourists looking for a traditional Irish breakfast which we are very happy to see," says Theresa.
Over the years, they have welcomed many famous faces into the café.
"Sinead O'Connor used to have breakfast when she was taking her boy to creche nearby. Jennifer Saunders said she found the place an oasis of calm. Mind you, it was quiet the time she came in."
The best celebrity encounter, though?
"I seriously unintentionally asked Pat Shortt would he like a breakfast roll when he was undecided about what to order."
Theresa says TJ's Coffee Shop suffered during the recession, but "held on thanks to our loyal customers". Still, she expresses concern about small businesses like her own being run out of the city by larger competitors.
"It is difficult competing with the convenience stores and all the multinational companies that are now taking over the city. We continue as they don't do what we offer, but I sadly see the day when small local shops will disappear."
In the meantime, they'll push on and continue doing what they do best.
"We're proud of the service and the food we serve, and to see returning customers is always a pleasure."