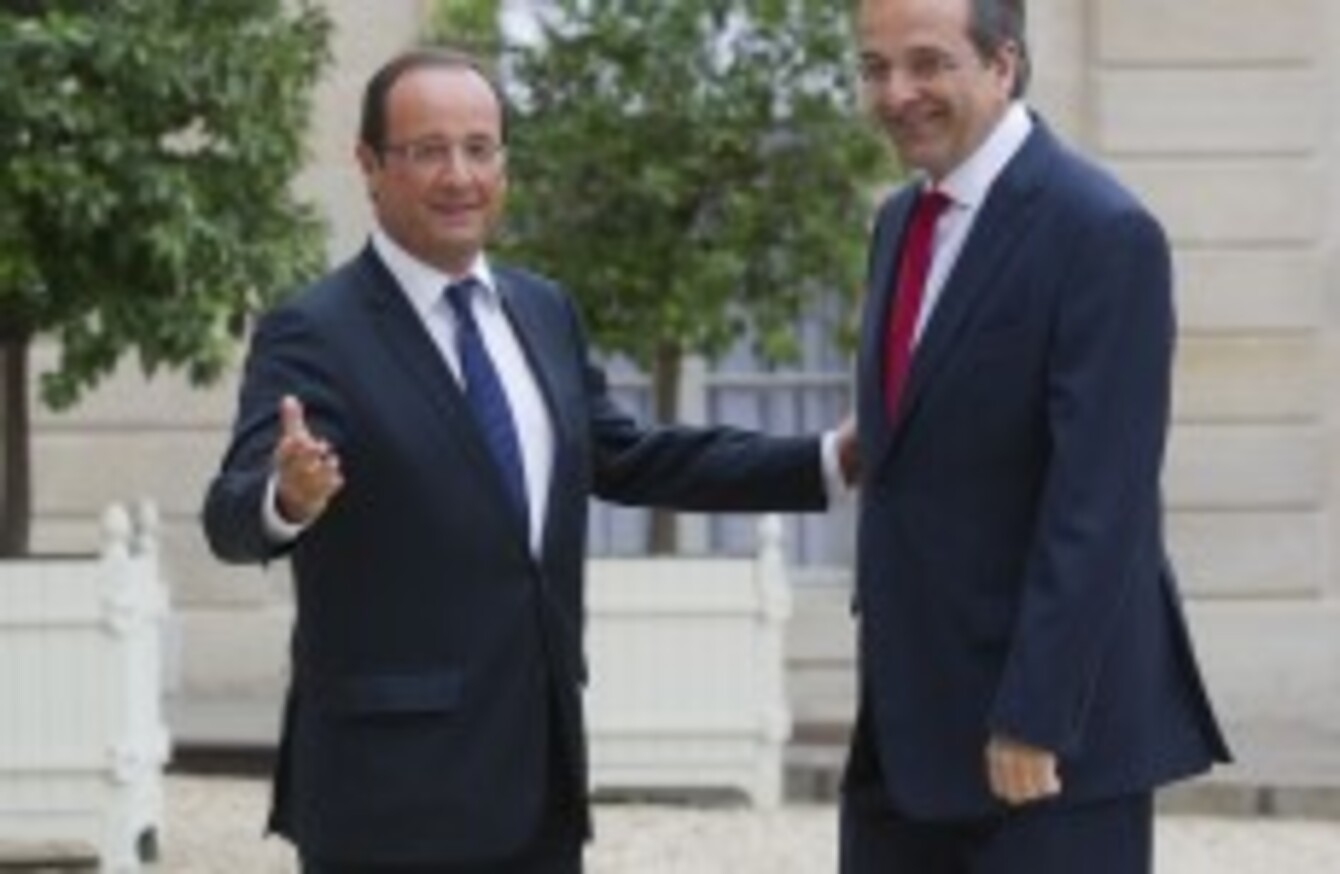 Francois Hollande (left) welcomes Antonis Samaras to Paris.
Image: Michel Euler/AP/Press Association Images
Francois Hollande (left) welcomes Antonis Samaras to Paris.
Image: Michel Euler/AP/Press Association Images
FRENCH PRESIDENT FRANCOIS Hollande says he will wait to see the outcome of the latest Troika review of the Greek bailout programme before deciding on any additional aid for the troubled country.
He was speaking after a meeting with the Greek premier Antonis Samaras in Paris today, the second in two-day trip by the newly-elected prime minister which has included a meeting with German chancellor Angela Merkel yesterday.
In a joint press conference at the Elyseé Palace, Holland reaffirmed that Greece must remain in the singe currency but said that it still had much to do.
"Greece is in the eurozone and Greece must stay in the eurozone," he said. "But it still has to demonstrate the credibility of its programme and the willingness of its leaders to go the whole way, while doing it in a way that is bearable for the population."
Samaras wants to extend the timetable of Greece's bailout to lessen its considerable burden which involves slashing some €11.5 billion of spending over two years from 2013 in exchange for €130bn of funding.
But Germany and France, the eurozone's two biggest countries, are presently opposed to Samaras' idea to implement a two-year extension to make the necessary cuts.
At today's press conference, Hollande echoed the German leader by saying that the European Union would wait for a report due in October before deciding on any additional help for Greece.
That report will come from an audit from the Troika of the European Central Bank, European Commission and International Monetary Fund.
Samaras said that he was confident of his country's position in the eurozone and pledged to stick to all of his country's obligations to international creditors.
"I also think that we can achieve our goals and our commitments, reduce deficits, our debt, complete the structural change we have begun," he said. "I am sure our plan will soon bear fruit. We will hit our targets."
In the run-up to his trip to Berlin and Paris, Samaras engaged on a media charm offensive, telling papers in Germany and France that a "Grexit", or Greek exit from the euro, would be catastrophic for Europe.
- with reporting from AFP