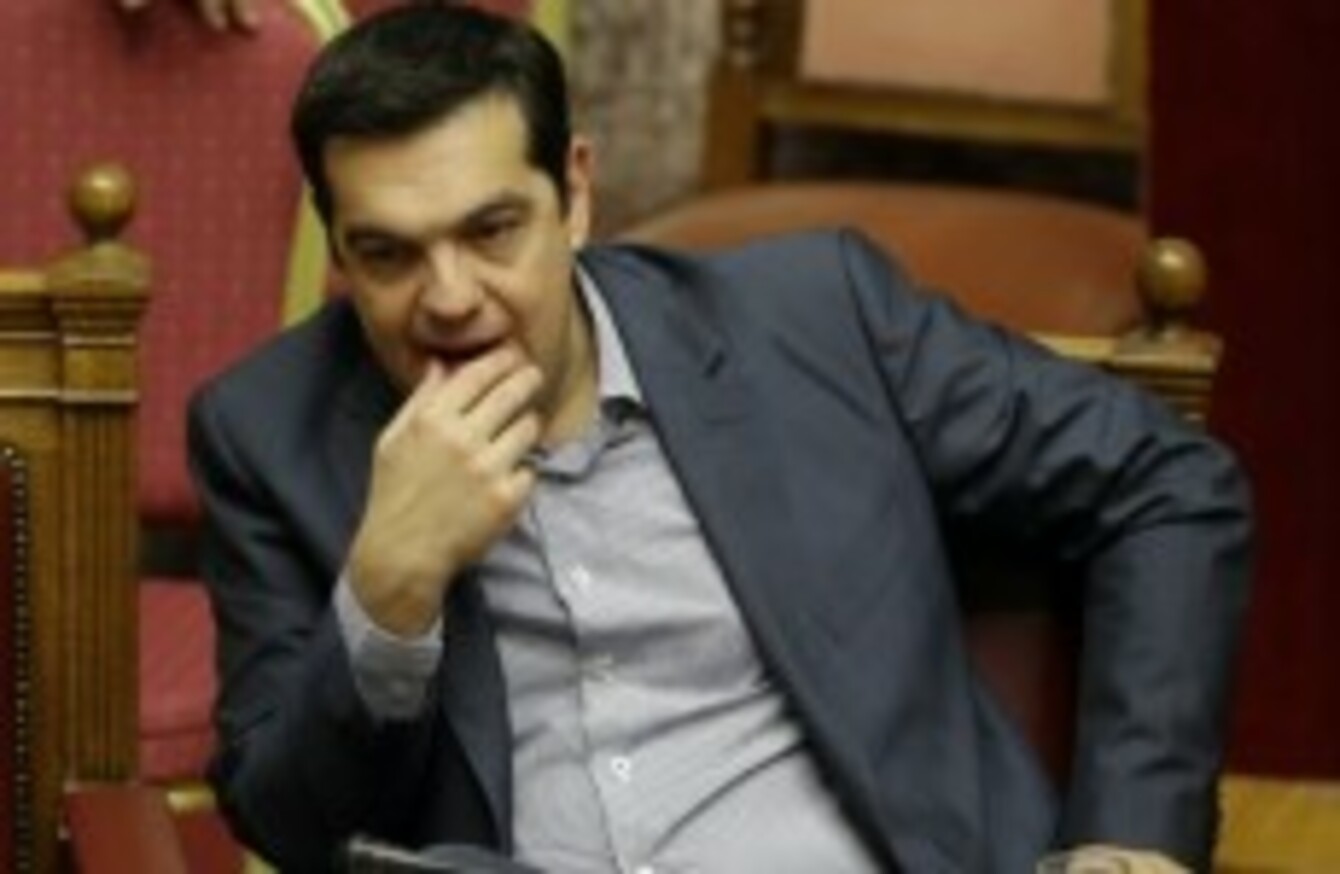 Image: Thanassis Stavrakis
Image: Thanassis Stavrakis
Updated 22:30
GREEK PRIME MINISTER Alexis Tsipras said he will not step down, despite the open dissent within his own Cabinet and party, "I will not run away from my responsibilities."
In his first interview since Monday's plan for a third Greek bailout, Tsipras admitted that he had signed a deal that he did not believe in but that he would implement, adding it was the best Greece could get.
"I am fully assuming my responsibilities, for mistakes and for oversights, and for the responsibility of signing a text that I do not believe in, but that I am obliged to implement."
Speaking on state TV, Tsipras said that the country's banks may not reopen until a hard-won bailout deal with the eurozone is finalised, a process that could take at least a month.
"The reopening of the banks depends on the sanctioning of the deal, which will take place in a month."
He added that he hoped in the meantime that the European Central Bank would raise the level of emergency liquidity assistance for the banks.
Putting up the cash
The proposals put forward to fund Greece's third bailout – worth €86 billion – all have "political, legal and financial complications",  according to one EU leader.
The UK has tried to block any move for its taxpayers money to go towards the Mediterranean nation's latest rescue programme, while eurozone countries are also worried about putting up more cash.
EU vice-president for the euro Valdis Dombrovskis said "several non-euro member states" had raised concerns about funding a bailout deal at a meeting of finance ministers today.
"Pretty much all options are quite difficult and have political, legal and financial complications," he said.
Ahead of the meeting, UK Chancellor George Osborne said the "eurozone needs to foot its own bill" as plans were flagged for a pool of money from all EU members to be used to back the bailout deal.
Britain is not in the euro, so the idea that British taxpayers will be on the line for this Greek deal is a complete non-starter," he said.
His government has been fighting one plan for the European Financial Stabilisation Mechanism (EFSM) – which is made up of money from all EU members – to be used to prop up Greece.
The Financial Times reported the UK state had made contributions to the fund thought to be worth about €1 billion.
A revival
In 2010 UK Prime Minister David Cameron announced an agreement that the fund wouldn't be used to underwrite eurozone bailouts after it went towards supporting both Ireland and Portugal.
For the future, only members of the currency bloc were supposed to be responsible for backing bailouts in cases like the current Greek crisis.
But yesterday it was reported European Commission President Jean-Claude Juncker was looking at reviving the fund as collateral for short-term loans.
A spokesman for Cameron's office said the prime minister believed that the original agreement stood and that the EFSM would not be used again.
If things go wrong
Finance Minister Michael Noonan said there would be no immediate budgetary implications for Ireland in a third Greek bailout, although that could change if "things were to go wrong down the road".
The Republic has already sunk significant public money into the European Stability Mechanism (ESM) – a separate fund to the EFSM – which will be tapped to bankroll the latest rescue package.
Bilateral loans are another option that have been raised to raise some money, but like the others that would pose difficulties, EU ministers said.
Finnish Finance Minister Alexander Stubb said it would be "difficult for any member states putting fresh money without conditionality."
In one controversial suggestion, German Finance Minister Wolfgang Schaueble proposed Greece issue IOU's to pay pensions and other bills to save much-needed euro for debt repayments.
However that could be seen as the first step towards a return to the drachma and rekindle talk of a Grexit.
Clock ticking 
Meanwhile, Greek Prime Minister Alexis Tsipras has until tomorrow to convince his country's parliament to accept harsh terms from its creditors to secure another round of funding.
But the bailout deal also faces hurdles among German and Finnish politicians, whose parliaments are among those in eurozone countries that will vote on the latest arrangement.
Creditors estimate the country needs €12 billion to get through to mid-August after becoming the first developed nation to fall into arrears on its payments to the IMF.
It also has debts worth €4.2 billion falling due to the European Central Bank on Monday.
- With AFP
First published 12.49