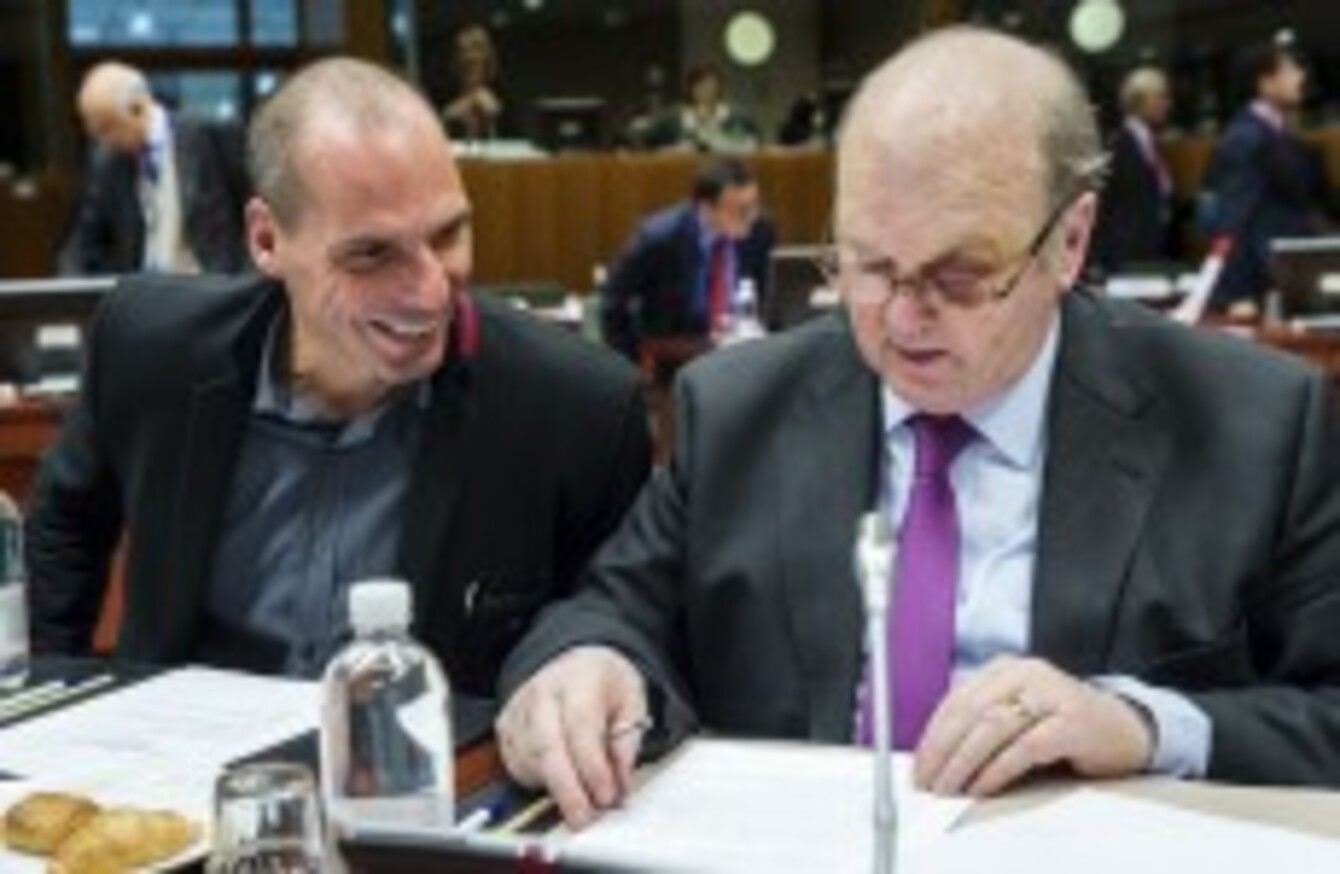 Greece's Finance Minister Yanis Varoufakis speaks with Michael Noonan yesterday in Brussels.
Image: Geert Vanden Wijngaert
Greece's Finance Minister Yanis Varoufakis speaks with Michael Noonan yesterday in Brussels.
Image: Geert Vanden Wijngaert
GREECE WILL ASK to extend its European loan agreement without signing up to the loathed duties of a full-blown bailout, its finance minister said yesterday, as Brussels continued to pressure Athens for a deal.
Greek public television reported Athens will  today send a letter to Jeroen Dijsselbloem, the head of the Eurogroup, requesting a six-month extension.
"We should extend the credit programme by a few months to have enough stability so that we can negotiate a new agreement between Greece and Europe," Greek Finance Minister Yanis Varoufakis told German public broadcaster ZDF.
Europe and Greece are racing to reach a deal to avoid a catastrophic Greek exit from the eurozone, after talks in Brussels ended in acrimony on Monday with both sides digging into their positions.
In an apparent bid to move the goalposts, Athens signalled it wants to extend its loan agreement — but one with no elements of the "memorandum" deal signed between the EU and Greece's former centre-right government.
Greece has become increasingly isolated and is facing an apparently united front of its eurozone partners, with influential German Finance Minister Wolfgang Schaeuble saying earlier yesterday that Athens was trying to get something for nothing.
"They settle for saying 'we need more money now and we won't do anything anymore' and insult the others," he said, referring to countries like Ireland and Portugal that completed bailout programmes despite the severe austerity measures involved.
"And that's not on. The Greek government must tell us how it wants to resolve Greece's problems," he told Germany's ARD television.
Deadline
At the end of Monday's fruitless meeting, Dijsselbloem — who is also the Dutch finance minister — said Greece had until Friday to request an extension to the bailout.
Prime Minister Alexis Tsipras's radical left government has bitterly rejected any suggestion of prolonging a bailout programme which it says comes with fiscal obligations that have crippled the Greek economy.
But with the European portion of the 240-billion-euro ($270-billion) bailout expiring at the end of February, Greece's creditors insist it needs extra financing to stave off the risk of a default and exit from the euro.
Tsipras told lawmakers that Greece "will not accept psychological blackmail" and fanned the debt crisis flames by announcing parliament would vote on a series of social reform bills on Friday, when the deadline falls.
His "social salvation" government has pledged to spend two billion euros over the next year to provide free food, electricity, accommodation and medical support to thousands of poor families.
"This is the debt we must repay first. We will not betray the Greek people's confidence," Tsipras said.
Greece's parliament will also elect a new president today with Tsipras's candidate, former conservative minister Prokopis Pavlopoulos, needing 180 votes to secure this round.
It was parliament's failure to agree on a candidate at the presidential election in December which sparked early elections and ushered in the radical left Syriza party in January.
The meeting Monday was the second time in a week that talks among eurozone ministers ended in acrimony amid accusations by Greece that Dijsselbloem, backed by paymaster Germany, had torpedoed deliberations.
Despite the wall of opposition, Varoufakis predicted the different sides would reach an agreement in time to set up a new meeting for Friday.
#Open journalism No news is bad news Support The Journal

Your contributions will help us continue to deliver the stories that are important to you

Support us now
"We know in Europe how to deliberate in such a way to create a very good solution, an honourable solution, out of initial disagreements," Varoufakis said on Tuesday.
But the chaos surrounding the debt talks alarmed analysts, with economists at Commerzbank now predicting that a Greek exit from the euro was 50 percent likely, up from 25 percent.
Grexit?
Growing fears of a so-called "Grexit" hammered Greek stocks on Tuesday, with the benchmark Athex Composite index plunging more than four percent at one point.
IHS Economics and Country Risk warned that an inability to get concessions from Brussels would "increase government instability and the likelihood of protests and strikes".
"The rapid decrease in popular support could result in an early election," it said.
Tsipras is demanding that the eurozone agree to short-term funding to buy the time needed to hammer out a new deal, with lighter austerity conditions attached.
Greece has proposed to stick to 70 percent of the existing bailout programme but would demand an overhaul of the remaining 30 percent, which it sees as damaging to growth and toxic for ordinary Greeks.
Varoufakis told reporters Monday that the European Commission had made a proposal along those lines, but instead Dijsselbloem offered a different draft statement tying Greece to its current agreement.