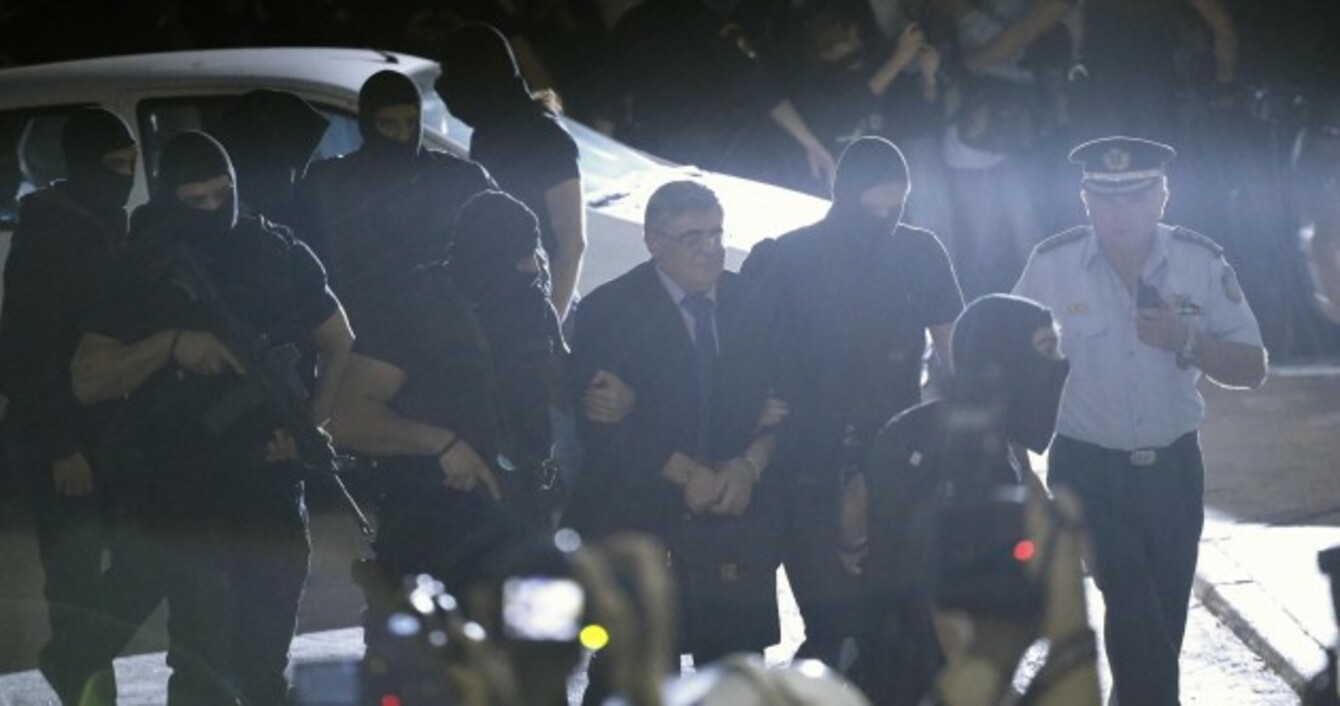 Nikos Michaloliakos, cente, escorted by anti-terror police as he arrives for a preliminary hearing last night
Image: Petros Giannakouris/AP/Press Association Images
Nikos Michaloliakos, cente, escorted by anti-terror police as he arrives for a preliminary hearing last night
Image: Petros Giannakouris/AP/Press Association Images
THE LEADER OF Greece's Golden Dawn party was to be taken to a high-security prison this morning following his indictment on criminal charges as the government cracks down on the neo-Nazi group.
Nikos Michaloliakos, the first Greek party leader to be jailed in three decades, will be taken to Korydallos prison in west Athens alongside one of his lawmakers and two more defendants after magistrates accused him of running a criminal organisation.
They will be held there until their trial, a date for which has yet to be set.
Four Golden Dawn lawmakers were charged yesterday with membership of a criminal group and the party's deputy leader Christos Pappas is due to appear in court later today on the same charges.
Greek authorities are moving to dismantle Golden Dawn — which has 18 members in the 300-seat parliament — after the shock murder of an anti-fascist musician on 18 September.
Magistrates also ordered that a local Golden Dawn leader allegedly involved in the murder of the hip-hop artist Pavlos Fyssas should also be held in custody, as well as a female police officer accused of aiding the group.
About 100 of the group's supporters had gathered outside the court, carrying Greek flags and chanting "Blood, honour, Golden Dawn," when Michaloliakos arrived to deliver his testimony on Wednesday.
Applause
They applauded as the 56-year-old mathematician and former disciple of Greek dictator George Papadopoulos entered the court building.
On Wednesday, four Golden Dawn lawmakers including party spokesman Ilias Kassidiaris were charged with belonging to a criminal organisation, in the first ever indictment against neo-Nazi MPs in Greece.
If convicted they face up to 10 years in prison.
Three were conditionally released while the fourth, Yiannis Lagos, was placed in pre-trial detention, as police reportedly found he had spoken to members of a gang that ambushed Fyssas on the night of his murder.
Their release was seen as surprising given the gravity of the charges, but justice officials later stressed that it did not mean acquittal.
"My recommendation to everyone is not to rush. We do not have any conclusive judicial ruling (yet)," said Deputy Prime Minister Evangelos Venizelos.
The three freed lawmakers left the court in a combative mood, insulting and threatening reporters.
Golden Dawn was the country's third most popular party until Fyssas' murder sparked nationwide protests and a government crackdown on the group long accused of attacking immigrants, charges that it denies.
Dossier
Overall, some two dozen people including six of the organisation's lawmakers, lower-ranking party members and three police officers, face charges ranging from attempted homicide and murder to illegal arms possession and belonging to a criminal organisation.
Magistrates have compiled a large dossier on the group, whose leading lights the conservative-led government of Prime Minister Antonis Samaras wants to put behind bars.
Golden Dawn denies all the accusations and says it is the victim of political persecution designed to stem its rise ahead of local elections next year.
Once a fringe party, Golden Dawn capitalised on growing public discontent in a country hard hit by the economic crisis and was first elected to parliament last year with nearly seven percent of the vote.
Greece's intelligence service EYP in 2012 compiled a dossier on one of the detained MPs, Yiannis Lagos, with alleged activities including extortion and the trafficking of women for prostitution, Ta Nea daily reported this week.
The investigation launched after Fyssas's murder uncovered close ties between Golden Dawn and Greek police, something rights and migrant groups had warned about for years.
Party spokesman Kassidiaris is also due to stand trial for hitting a female lawmaker on television.