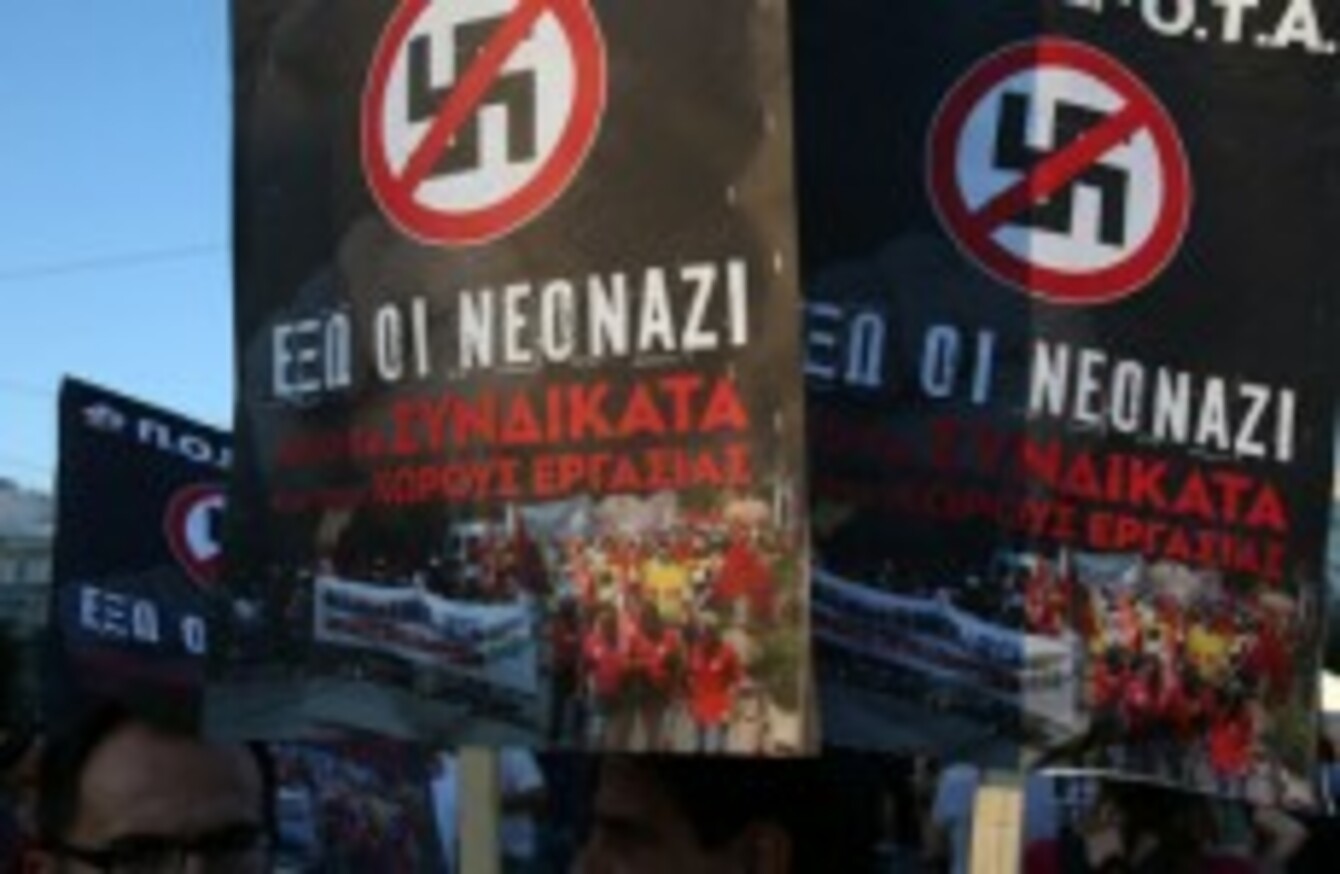 Protesters hold placards that read ''Neo-Nazis out from the unions and workplaces".
Image: AP Photo/Thanassis Stavrakis
Protesters hold placards that read ''Neo-Nazis out from the unions and workplaces".
Image: AP Photo/Thanassis Stavrakis
THE LEADER OF Greek neo-Nazi party Golden Dawn has been arrested by police who have also hunting for dozens of its members as part of a crackdown launched after the murder of a leftist musician.
Nikos Michaloliakos was arrested early on Saturday along with party spokesman and MP Ilias Kassidiairis, and two other group members, on charges of belonging to a "criminal organisation," a police source said on condition of anonymity.
Arrest warrants were also issued for at least five other Golden Dawn MPs and dozens of members, the source said.
The arrests came a day after Golden Dawn threatened to pull its 18 lawmakers out of parliament in the recession-hit country, where the government is struggling to implement painful public sector reforms in return for international bailout funds.
Golden Dawn, which had MPs elected to parliament for the first time in 2012 on the back of widespread anger over austerity measures, is facing a crackdown after the fatal stabbing of a popular hip-hop musician on 18 September.
The death of anti-fascist Pavlos Fyssas, 34, allegedly by a self-confessed neo-Nazi, sparked nationwide protests and led the government to launch a crackdown on the group whose members are suspected of attacking immigrants and political rivals.
(A protester throws a petrol bomb towards riot police during a protests in Athens. Pic: AP Photo/Kostas Tsironis)
"This government is determined not to allow the descendants of the Nazis to poison our social life, to commit crimes, terrorise and undermine the foundations of the country that gave birth to democracy," Prime Minister Antonis Samaras warned in a televised address a day after the killing.
Faced with the crackdown, which included wiretaps of party members, Golden Dawn leader Michaloliakos on Friday threatened to pull the group's deputies out of parliament, a move that would prompt by-elections in 15 regions around the country.
"We will exhaust any means within our legal constitutional rights to defend our political honour," Michaloliakos told reporters late on Thursday.
"Everything is open. If the country enters a cycle of instability, it is those who demonise Golden Dawn who will be responsible, not (us)," he said.
By-elections could hurt Samaras's coalition government, which has a slim majority of 155 MPs in the 300-seat parliament, and cast into doubt Greece's ability to fulfil its obligations to creditors on multi-billion-euro bailouts.
Samaras's conservative party is neck-and-neck in the polls with the radical leftist Syriza party that opposes Greece's EU-IMF austerity bailout, and a strong showing by Syriza in by-elections could lead to the government's fall.
Golden Dawn saw its popularity rise as Greece became further mired in recession and unemployment figures hit record highs.
The party has sent black-clad squads to smash market stalls owned by migrants, held torch-lit rallies lambasting political opponents as 'traitors' and 'thieves', and organised food donations exclusively for ethnic Greeks.
It has also been blamed for a series of brutal attacks on migrants and political opponents, though the neo-Nazi group strenuously denies any responsibility and claims to be the victim of slander.