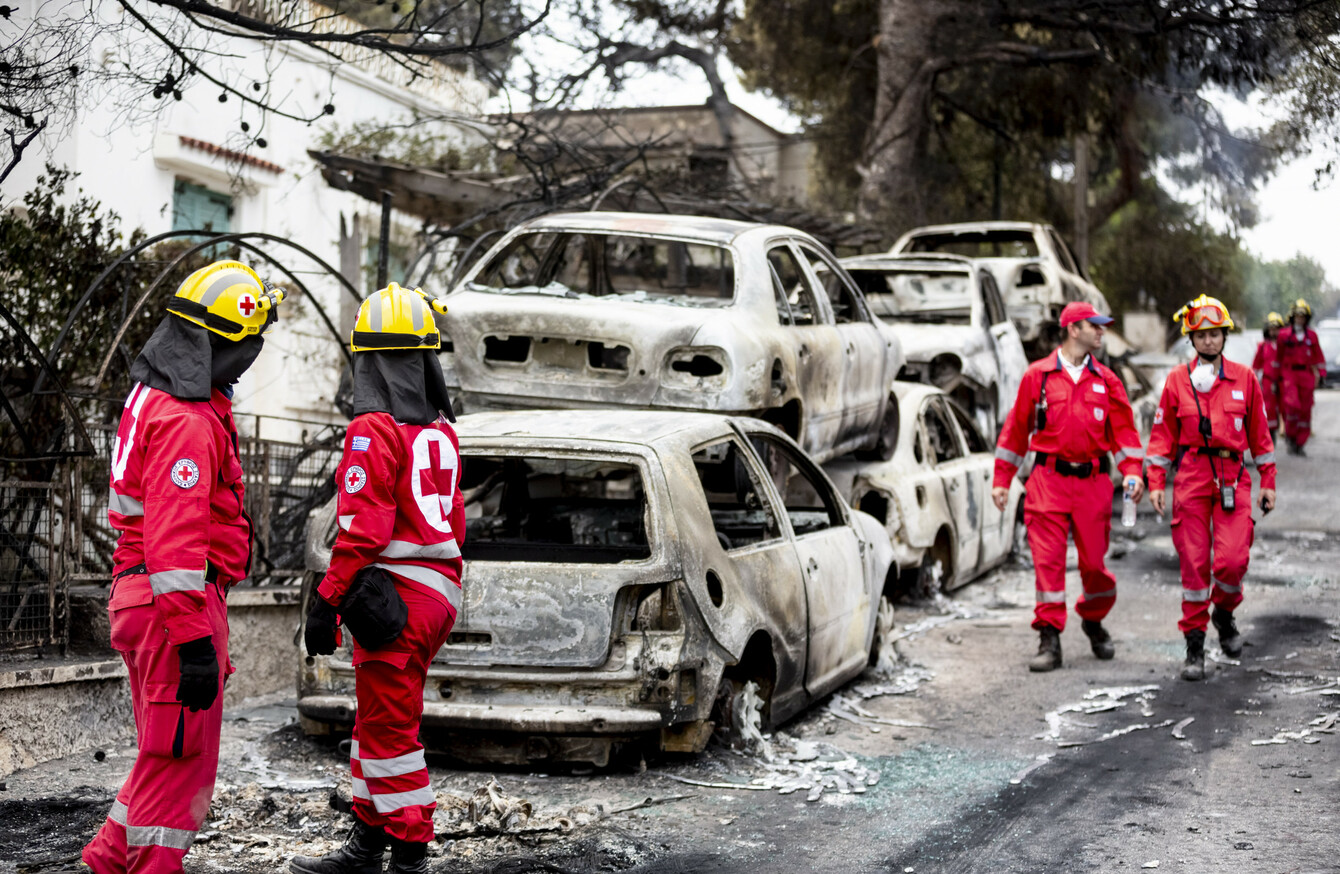 Rescuers in the town of Mati
Image: Christoph Soeder DPA/PA Images
Rescuers in the town of Mati
Image: Christoph Soeder DPA/PA Images
A NEWLYWED IRISH couple have been caught up in the Greece wildfires, with one currently receiving treatment in hospital and the other's whereabouts not accounted for.
Brian O'Callaghan-Westropp married Zoe Holohan last Thursday and had chosen Greece as the location for their honeymoon. They became separated as they tried to escape the fires in the coastal town of Mati.
While Holohan is receiving treatment in a nearby hospital, her husband is currently missing.
At least 79 people have died in the fires around Athens, Greek authorities confirmed today, as rescuers scrambled to search for survivors in scorched homes and burnt out cars.
Mati has been among the worst hit by the blazes, with mayor of nearby town Rafina, Evangelos Bournous, saying "Mati no longer exists" and adding that more than a thousand buildings and 300 cars had been damaged.
O'Callaghan-Westropp has an active involvement with the charity Blood Bikes East and his fellow committee member Franco De Bonis told RTÉ's Today with Miriam O'Callaghan that he's an "incredibly selfless individual".
De Bonis: "We are really hopeful he is one of those undocumented injured people who will surface.
We are not surprised that it would be Brian… he'd be the type of person to ensure Zoe was safe and he'd go back to help others. He's selfless.
He's happy to think of others in a situation like that. We are desperately hoping he surfaces basically and is found and is reunited with Zoe.
The Irish Independent reported this morning that Zoe Holohan is an employee with the Sunday World in its advertising department.
The Department of Foreign Affairs has said it was providing consular assistance to a number of Irish people affected in the region, but has not commented on specific incidents.
The Department also updated its travel advice for Irish citizens travelling to Greece, and said that those affected by the fires can contact the Irish Embassy in Athens on 0030 210 723 2771.