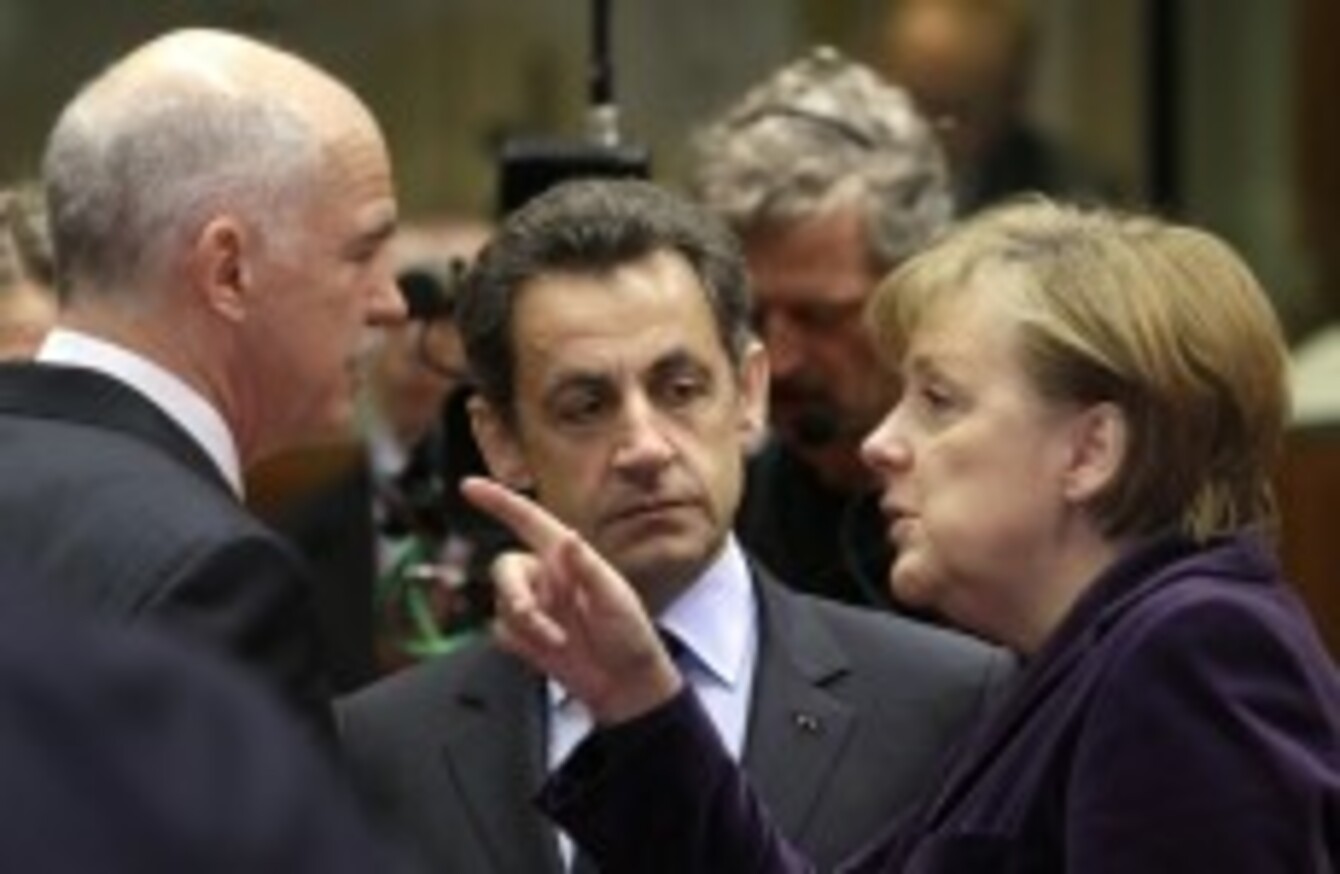 Papandreou with Sarkozy and Merkel in Brussels earlier this year
Image: Yves Logghe/AP/Press Association Images
Papandreou with Sarkozy and Merkel in Brussels earlier this year
Image: Yves Logghe/AP/Press Association Images
THE LEADERS OF France and Germany have warned Greek prime minister George Papandreou that a controversial referendum on an EU bailout will determine whether his country can stay in the Euro.
The surprise move came last night after Papandreou was summoned to Cannes for talks with the French president and German chancellor, following his announcement that Greece's second bailout would be put to a referendum.
It is the first time that Nicolas Sarkozy and Angela Merkel have raised the prospect that the Eurozone could split under the pressure of the growing debt crisis.
Speaking after the talks, Angela Merkel told reporters: "The referendum will revolve around nothing less than the question: does Greece want to stay in the euro, yes or no?" the Telegraph reports.
Sarkozy also said Greece had to decide whether it was in or out. "Our Greek friends must decide whether they want to continue the journey with us," he said."
However, there were signs of a dramatic split within the Greek government as  finance minister Evangelos Venizelos publicly broke ranks, issuing a strongly worded statement this morning saying that euro membership should not depend on a referendum.
"Greece's position within the euro area is a historic conquest of the country that cannot be put in doubt," Venizelos said in the statement, adding that it "cannot depend on a referendum."
Papandreou would not say last night how the referendum would be worded, but acknowledged that "the question is not just about a program, but do we want to be in the Eurozone", Business Week reports.
The BBC reports that Eurozone leaders have also said that the next €8billion tranche of funding for Greece will not be released until after any referendum, which Papandreou has suggested could be in early December. The country needs the money to avoid bankruptcy.