George Papandreou on Saturday
Image: KOSTAS TSIRONIS/AP/Press Association Images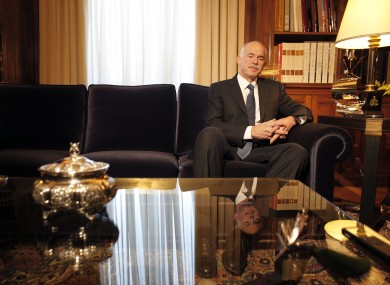 George Papandreou on Saturday
Image: KOSTAS TSIRONIS/AP/Press Association Images
Updated, 14.22
FORMER EUROPEAN CENTRAL Bank official Lukas Papademos has been announced as the new prime minister of Greece, according to reports.
Papademos, the former vice-president of the ECB, was the favourite to take up the post after political parties spent two days locked in talks over the formation of a coalition government.
Earlier today, cabinet ministers offered their resignations to outgoing prime minister George Papandreou in an attempt to break the stalemate.
Embattled leader Papandreou agreed to step down with Greece on the brink of bankruptcy, after the EU said its next tranche of bailout money – some €8billion – would not be paid until the political situation is resolved.
Jean-Claude Juncker, the chairman of the eurozone's finance ministers, said Monday that the leaders of the two main parties must co-sign a letter reaffirming their commitment to Greece's bailouts and economic reforms before the next batch of cash is handed over.
The crisis was sparked when Papandreou proposed a referendum on the country's second bailout package.
According to AFP, two other candidates – European ombudsman Nikiforos Diamantouros and IMF delegate Panagiotis Roumeliotis – were also discussed for the leadership.
EU leaders have urged Greek politicians to put their differences aside as the country's crisis threatens to spark wider uncertainty among eurozone economies.
"It is essential that the entire political class is now restoring the confidence that had been lost in the Greek commitment to the EU/IMF program," EU commissioner Olli Rehn told Reuters.
- Additional reporting from AP