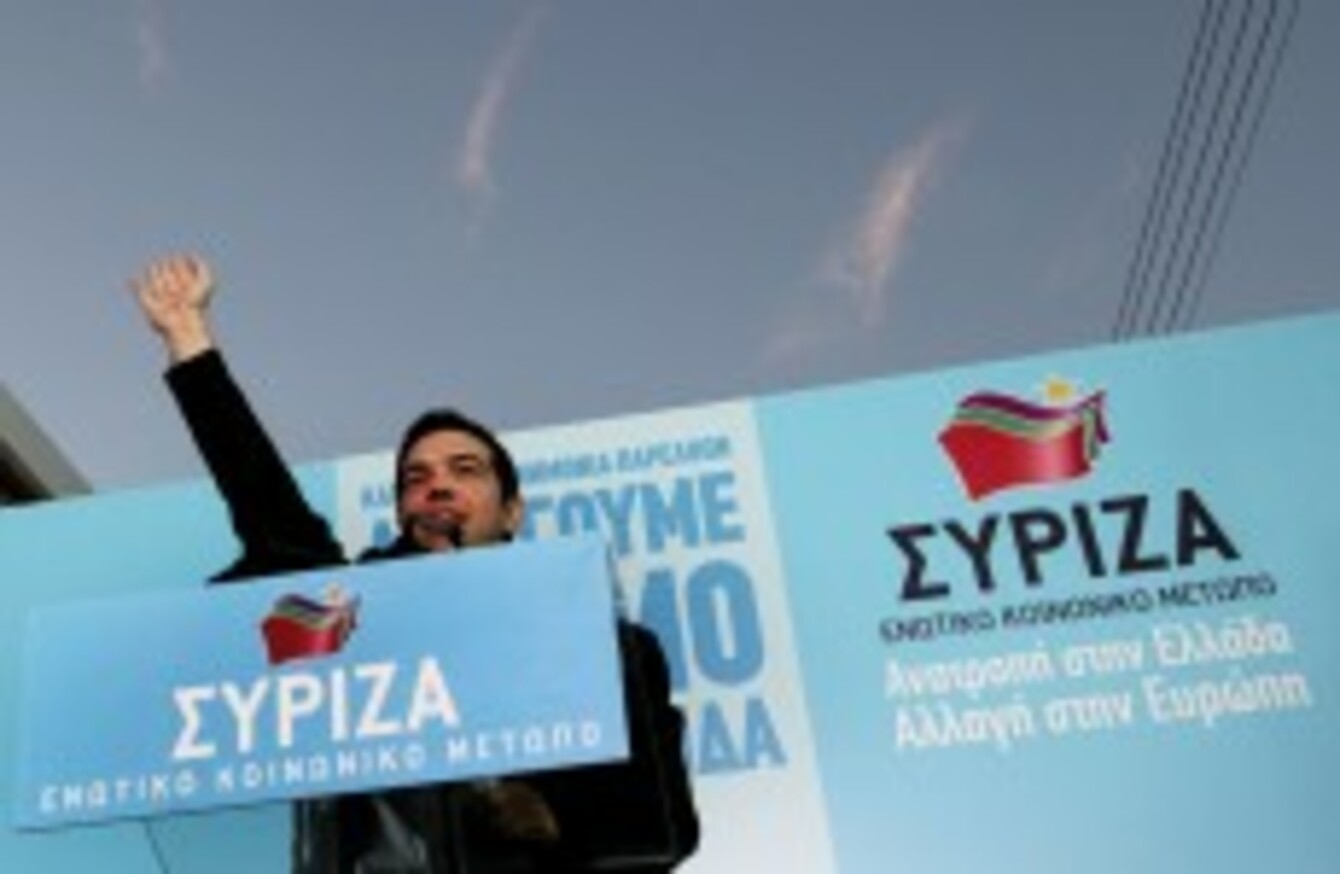 Alexis Tsipras during a pre-election rally
Image: Petros Giannakouris/AP/Press Association Images
Alexis Tsipras during a pre-election rally
Image: Petros Giannakouris/AP/Press Association Images
GREECE VOTES ON Sunday for the second time in as many months in an election being watched around the world which could determine if Athens sticks to painful austerity or crashes out of the eurozone.
Some 9.8 million eligible voters will be asked to choose between pro-bailout parties offering to "renegotiate" the country's EU-IMF rescue deal, and a radical leftist party that wants to tear up the agreement and start from scratch.
Alexis Tsipras, the 37-year-old leader of leftist Syriza, has pledged to make the bailout "history" if he completes a historic run that has so far seen his fledgling party more than triple its results from the previous election in 2009.
"The bailout deal is already in the past. It will be history for good on Monday," he said at the close of his election campaign this week.
Syriza has been running neck-and-neck with the conservative New Democracy in the latest polls but no party is expected to garner a ruling majority and the days to come are likely to be dominated by convulsed coalition talks.
As his campaign winds up, New Democracy chief Antonis Samaras said he was confident he would be able to put together a coalition government.
"We will stay in the euro. We do not play around with Europe," he said.
Meanwhile the country is running out of money, with enough reserves to last only until July and the release of fresh instalments from the European Union and International Monetary Fund credit line suspended until after the elections.
Banking sources also say the rate of withdrawals is up ahead of the election.
Euro exit?
Syriza argue that a Greek euro exit would start a eurozone chain reaction and will never be allowed to happen – in defiance of warnings from European leaders that abandoning the bailout deal will ultimately force Greece out.
But even French President Francois Hollande, who favours growth over cuts and whose election was hailed as a ray of hope by crisis-weary Greeks, warned that Athens needed to stick to its bailout commitments to stay in the euro.
Hollande told Greece's Mega Channel television that if it appears from the vote that Greece will not respect the bailout deal "there will be countries in the eurozone which would prefer to end Greece's presence in the eurozone."
"I am in favour of Greece remaining in the eurozone, but Greeks should know that this requires there be a relationship of trust," Hollande said.