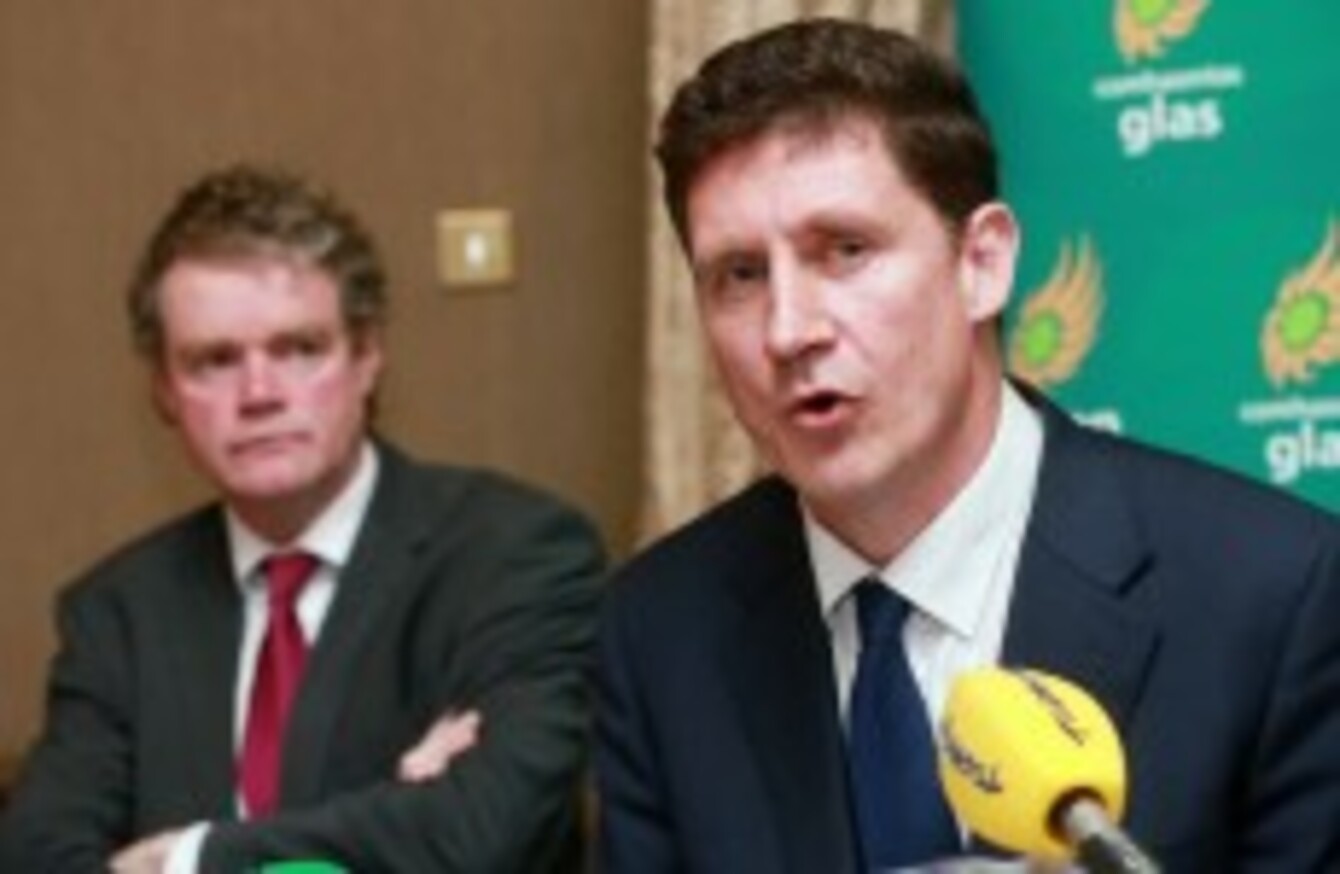 Eamon Ryan at today's launch
Image: Laura Hutton/Photocall Ireland
Eamon Ryan at today's launch
Image: Laura Hutton/Photocall Ireland
GREEN PARTY LEADER Eamon Ryan has said he only signed up to a new water facility on the assumption that Labour would veto it following the General Election in 2011.
Speaking at the launch of his party's European election manifesto in Dublin this afternoon, Ryan said it is "bizarre" that Labour party has become "fixated on privatisation" since it entered power.
"In the Troika agreement there was an agreement that we would look at the option of divestment from energy assets, but there was no commitment to it. And we actually signed that in the clear understanding in our own minds that 'That's OK, the Labour party will be in government next time, they're not going to do it.' Because I was opposed to it, it doesn't make sense. They were not compelled to do it and they pushed it through," Ryan stated.
It was not in the Troika agreement, it was a private deal between Labour and Fine Gael and [when they came] into government, they changed the terms of reference regarding the establishment of water companies, something we had started but had not said it would have to be a single utility company. So this was their own doing, their own direction – it was not directed by the Troika.
Ryan, who is running as an MEP candidate in Dublin, noted that the government appeared to be lacking in direction, saying the country needed "politics that looks to the future but delivers in the here and now".
"We need a new, fairer economy that lifts us out of crisis but avoids boom and bust. This Government has no plan for the future. They seem stuck with the same old politics that is letting the people down."
He said that Fine Gael and Labour appeared to be stuck in "a bad marriage".
"They've been together how many times now in my lifetime?"
Ryan said the Green's stimulus plan would see job creation through "investment in clean technologies, digital rights and using our natural resources wisely".
No other party has this plan. The rules of the new economy will be crafted in Brussels. We want to work with our colleagues in Europe to create an economy that is built to last with sustainable jobs for our people.
The Greens lost all of their TDs in the last general election.
Grace O'Sullivan, the party's MEP candidate in  Ireland South, said that the government was "not listening to the people", adding that she was hearing a lot of disillusionment while canvassing.
The former Greenpeace activist said she would bring her "fighting spirit to Brussels … to work for a politics of the common good, not just for the few".
'A genuine alternative'
Candidate for Midlands-North West, Mark Dearey, called for the establishment of a public bank with a specific remit to lend to the indigenous SME and agricultural sectors in order to "end the credit constriction that is choking job creation across the country"
#Open journalism No news is bad news Support The Journal

Your contributions will help us continue to deliver the stories that are important to you

Support us now
Ross Brown, who is running for the party in Northern Ireland, said the EU is "undemocratic" as it stands, adding that deals are done "behind closed doors" to "benefit narrow corporate agendas and not the ordinary person".
"There is an urgent need for reform of the European Union, and greater transparency and honesty if it is to have legitimacy. While we recognise the need to support and work collaboratively with all businesses to help our economy thrive, we want a politics that doesn't just work for the agenda of those with power, money and access."
"We want to see a genuine alternative for our political system, and one that works in the interests of all of us," Brown added.
The Green's manifesto cites their six key policy areas as stimulus, equality, democracy, environment, digital rights and protection of diversity.
This is the first year that the European Greens are fielding candidates in every constituency across the European Union.