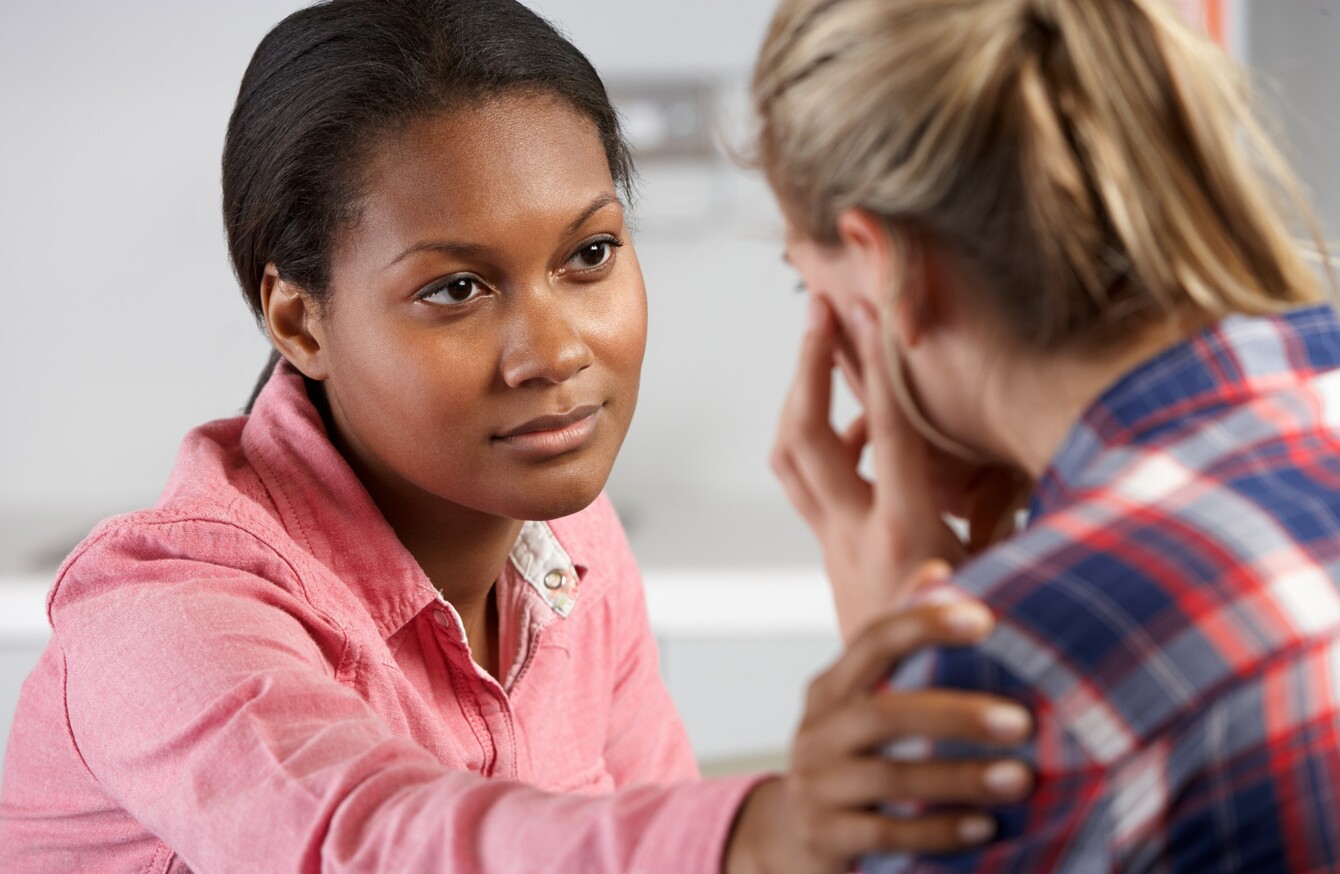 Image: Shutterstock/Monkey Business Images
Image: Shutterstock/Monkey Business Images
DISCUSSION AROUND MENTAL health in Ireland has opened up in recent times and gradually the stigma surrounding it is breaking down.
Leading psychiatrists of Ireland think the progress is great but many aspects still have stigma attached and some mental illnesses are not receiving enough attention.
Consultant psychiatrist, Dr Anne Jeffers said:
I think a lot is being done, but the message is not always clear.  Some groups can be quite anti-medication, or anti-psychiatry, I believe this is a form of stigma.
The Green Ribbon campaign is trying to break down this kind of stigmas and to get people talking about mental health.
As part of it, a number of unique and interesting events have been organised throughout the country.
Consultant psychiatrist and director of communication and public education at the college of Psychiatrists of Ireland, Dr John Hillery said:
There is a growing movement in all areas of Irish life, including among public figures, that supports openness and thus decreases stigma. More needs to be done as regards early education on resilience and minding mental health in schools.
Green Ribbon
May has been Green Ribbon Month, which is a campaign organised by See Change and other organisations as part of the National Stigma Reduction Partnership.
The aim of the campaign has been to get people talking openly about mental health, whether they're affected themselves, or know someone who may be.
Events have been happening around the country to get people to openly discuss the issue of mental health.
Today the College of Psychiatrists of Ireland (CPI) as part of the Green Ribbon Campaign, are holding a Walk and Talk with psychiatrists around Merrion Square in Dublin at 1.30pm.
Dr Hillery said at a simple level he wants people who attend the event to "have an enjoyable informative outing that gives the message that mental illness can be overcome".
A more lofty aim is to manifest the fact that psychiatrists and other mental health professionals and patients are working together to ensure that mental illness can be overcome and that admitting to having mental distress is to be encouraged as interventions are available and not to be feared.
Along with the walk at Merrion Square, there will also be several talks from professional psychiatrists and See Change representatives at certain points along the route.
Consultant psychiatrist Anne Jeffers, who is one of the speakers, will be talking about stress and the effects it can have on people in the workplace and in daily life.
I will start at the site of the old World War II air raid shelter and speak of how our understanding of modern day stress has come from people's experiences during times of war.
I want people to understand how psychiatrists have a good understanding of everyday stress, and the value for individuals in building up resilience or mental fitness, for benefits to both physical and mental health.
Is enough being done
Several of the psychiatrists involved in the walk and talk spoke to TheJournal.ie about the current state of mental health in the country and the importance of such events in changing public perception. Dr Jeffers said:
We need to have more honest debate around mental illness, and not just about mental health. I think a lot is being done, but the message is not always clear.
She continued:
There needs to be a greater coordination of primary care, specialist care and voluntary groups in providing supports. Between charities and statutory funding a lot is spent on mental health problems, and yet we have serious shortfalls in the supports offered to individuals and their families.
Dr Erica Coughlan is a trainee psychiatrist and said:
There are plenty of celebrities who talk openly about mental health difficulties and encourage discussion, which is great, but there are very few people talking about the most serious mental illnesses such as schizophrenia – which up to 1 in 100 people suffer with.
She said the importance of events such as the walk and talk is to show people the personal side of psychiatry:
There are a lot of myths out there about psychiatrists and we need to move away from the 'headshrink' persona so that if people ever do need us, they're not afraid to come and see us to get some help.
How to help someone or show support
As part of the campaign people can wear a green ribbon to show their support for the cause. All three of the psychiatrists shared some advice on how to help someone who may be suffering from mental health problems, or if you are yourself. Dr Coughlan said:
Look out for your friends. Don't be afraid to poke your nose in if you feel someone is becoming withdrawn or avoiding their usual activities. Sometimes it's the first sign of a developing illness. Plenty of our patients were caught in time and referred for help by nosy friends
Dr Jeffers said:
Talking is good, and ensuring the person is talking to the right person is important. Not everyone needs to talk to a psychiatrist, for some a friend is enough, for others a trained counsellor is needed, and for others a trained mental health professional is needed.
"Whether you need counselling or medication is not a reflection on the severity of a problem, it just means the problems are different and need different solutions. Each individual is unique, and their problem is unique at a particular time in their lives."
Dr Hillery said:
Early intervention is best and don't suffer in silence. Having chronic mental health problems even of a minor nature is deleterious to quality of life and long term health and makes every day an effort which is unnecessary when there is help available.
He recommended that you
Try to live healthily with exercise, appropriate diet, avoid self -medication with alcohol or other substances; avoid isolation but rest and sleep when needed. Talk to a friend, look up sites with advice on mentally healthy living and talk to your GP.
The recurring theme in what they all agreed on was to talk to someone, whether it is a friend or professional. Opening up is one of the most useful things you can do.
The campaign
The Green Ribbon mental health awareness campaign has been very successful so far.
Speaking about it, See Change campaign coordinator, Hazel Whelan said:
We're overwhelmed with the reaction to the campaign this year. We've already distributed over 425,000 ribbons, which is a record high for us so early in the campaign.  More and more people seem to be interested in raising awareness about mental health.
Several events have happened around the country for this campaign.
Earlier in the week, the College of Psychiatrists of Ireland had a Twitter Q&A and users really got involved.
Dr Mike Scully and Dr John Hillery took control of the GreenRibbon Twitter account for two hours to answer people's questions who used the #ASKPSYCH
Yesterday was the flagship day of the campaign with their National Time to Talk Day.
They asked people to use the #TimetoTalk and wear their green ribbon, as a way to encourage a nationwide conversation about mental health.
After last year's Green Ribbon campaign, a survey was conducted of 1000 people. 75% said they felt more comfortable talking about mental health which is up from 71% in 2014