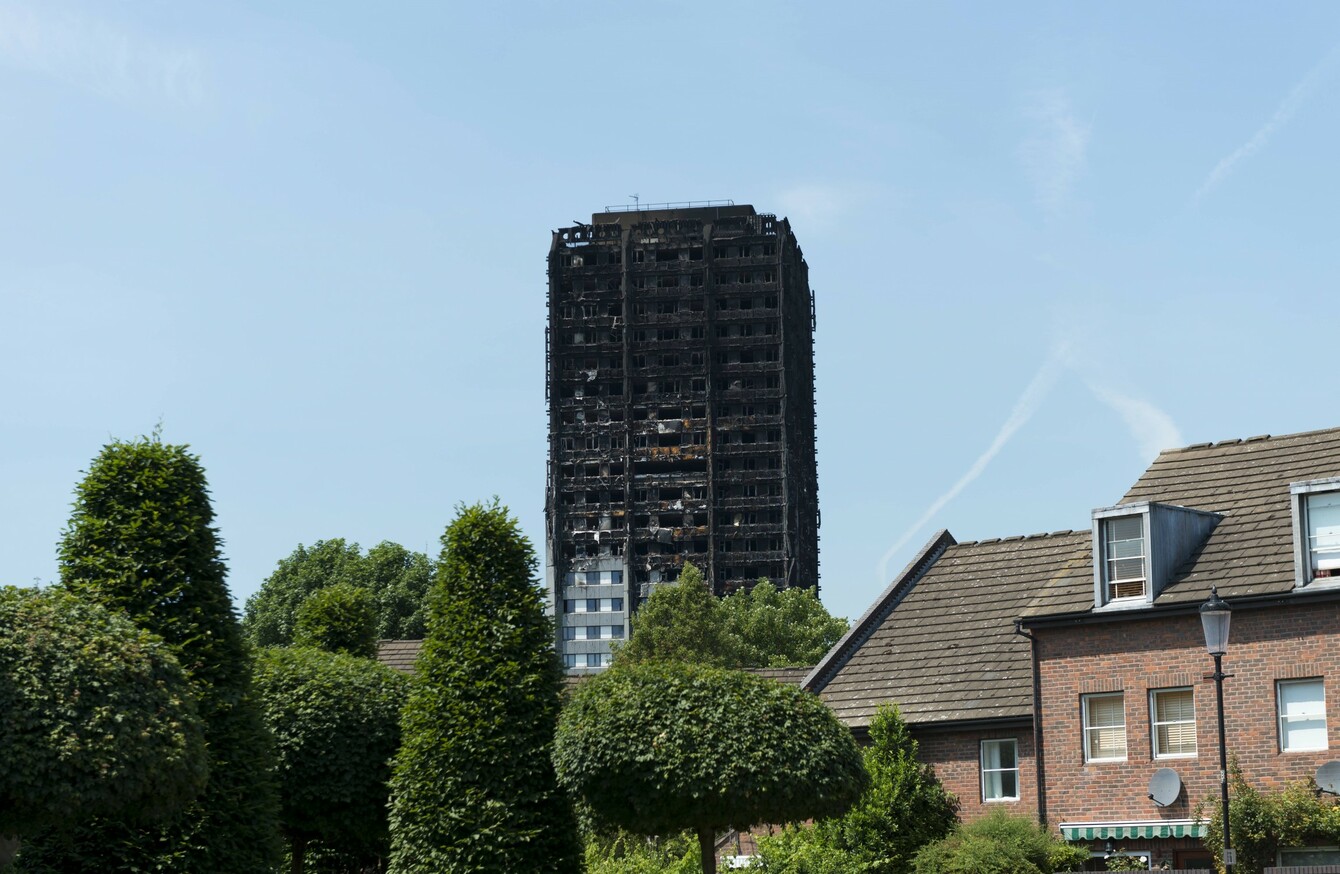 Image: Ik Aldama
Image: Ik Aldama
Updated at 4.50pm.
SEVEN RESIDENTIAL HIGH rise buildings in four UK local authority areas are covered in combustible cladding, safety tests have found.
The findings come as tests are being carried out on about 600 high rises in England that are thought to be using similar cladding to the burnt-out Grenfell Tower, Downing Street said today.
Tower blocks across Britain are being examined following the London fire, which has left 79 people dead or missing.
Councils have been told to provide details to the government about the cladding they used in the tower blocks by Monday.
Once received, the Department for Communities and Local Government are running tests on it.
More results are due to be made public within the next 48 hours.
Speaking in the House of Commons today, Prime Minister Theresa May confirmed that the relevant local authorities and fire services had been informed of those blocks failing the tests.
However, she did not specify what action would be taken.
A spokesperson from Downing Street said: "So far, three samples have been found to be combustible."
We are in touch with all the local authorities to encourage them to urgently send us the samples and then we will carry out the checks that we need to see where we are with that.
Obviously nobody will be living in buildings that are unsafe. They will be rehoused if they need to be and landlords will be asked to provide alternative accommodation where that's possible.
May said: "We cannot and will not ask people to live in unsafe homes."
She said that 164 "suitable properties" have been found for survivors that were left homeless after the blaze, and that they were in the process of being checked before residents can move it.
The new properties include a block of 68 flats in Kensington and Chelsea.
The panels have been widely blamed for the rapid spread of the fire which consumed the 24-storey public housing block, leaving 79 people presumed dead.
Downing Street declined to specify whether the cladding on the tower block was combustible or not, citing an ongoing investigation.
Immigration reassurances 
Over £700,000 had been paid out to survivors of the blaze and May said she wanted to reassure the residents that none of that money would have to be repaid.
Each family whose home was destroyed was receiving a £5,000 downpayment.
She said that resources will be made available to all survivors of the fire, irrespective of their immigration status.
I would like to reassure people that we will not use this tragic incident as a reason to carry out immigration checks on those involved or on those providing information to identify victims or those assisting with the criminal investigation.
We will make sure that all victims, irrespective of their immigration status, will be able to access the services they need, including healthcare and accommodation.
Resignation 
This announcement comes after the chief executive of the council of The Royal Borough of Kensington and Chelsea (RBKC) resigned amid criticism of the handling of last week's fire at Grenfell Tower.
Speaking in the House of Commons today, May said that the council "couldn't cope" with the aftermath of the fire.
She said that it "was right" chief executive Nicholas Holgate had stepped down.
In a statement last night, Nicholas Holgate said that his resignation had been sought by Secretary of State for Communities and Local Government Sajid Javid.
Holgate said that he had wished to stay on, but felt it was best to stand down. The council had been criticised for failing to react to warnings about fire safety concerns at the building, where a blaze claimed at least 79 lives. Last week, angry protesters stormed local authority headquarters demanding justice for victims and survivors.
Residents had long complained about fire safety risks at Grenfell Tower, but said the concerns of the multi-ethnic, largely working-class inhabitants had been brushed off by local authorities.
Holgate said:
Serving the families so desperately affected by the heart-breaking tragedy at Grenfell Tower remains the highest priority of the Council. Despite my wish to have continued, in very challenging circumstances, to lead on the executive responsibilities of the Council, I have decided that it is better to step down from my role, once an appropriate successor has been appointed.
"There is a huge amount still to do for the victims of the fire, requiring the full attention of this Council and many others. If I stayed in post, my presence would be a distraction.
"Whilst the public inquiry and other investigations will get to the truth of the causes of this tragedy and the management of its aftermath, I strongly believe that Councillors and officers have always endeavoured to have the interests of our residents at heart and will continue to do so."
Last night, Theresa May apologised for her government's lack of response to the fire.
"That was a failure of the state, local and national, to help people when they needed it most. As prime minister I apologise for that failure," she told the House of Commons.
The government has announced that 68 flats had been bought for survivors in an upmarket housing development on Kensington High Street.
A pledge has also been made to rehouse all the survivors either in their local borough or in neighbouring ones.

Dublin
Here in Dublin, meanwhile, the city council rejected a report on yesterday's RTÉ Drivetime programme that suggested a similar tragedy could occur in the city.
"The Chief Executive of Dublin City Council totally rejects the impression created by the report that the operational capacity of Dublin Fire Brigade is seriously inadequate both in terms of manpower and vehicles/equipment. The fact that this is not the case has been confirmed by an independent external review of the brigade. The Chief Executive also rejects the suggestion in the programme that fire prevention staffing levels in Dublin Fire Brigade are inadequate.
If anything the Grenfell Tower disaster has highlighted yet again the importance of building control especially for high risk buildings. In this regard it is unfortunate that the programme made no reference to recent reforms in the building control regime which will strengthen the certification process.
"While there can be no grounds for complacency and there is significant scope for improvement and reform in Dublin Fire Brigade the cause of fire safety in Dublin is not served by grossly misrepresenting the actual position in relation to the operational capacity of Dublin Fire Brigade or its fire prevention service."
With reporting from Paul Hosford and AFP.