Image: Sasko Lazarov/Photocall Ireland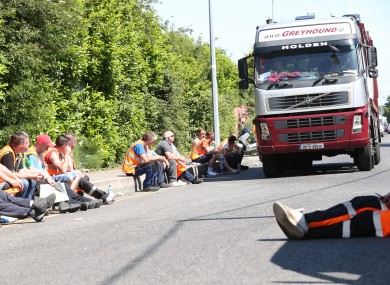 Image: Sasko Lazarov/Photocall Ireland
GREYHOUND IS CLAIMING that agency workers brought in to work during the current dispute are 25% more productive than the regular collection staff.
The claim comes as SIPTU repeats that Greyhound staff have been 'locked out' of their jobs for the past three weeks after they were told they must accept pay cuts of up to 35%.
Greyhound rejects that collection staff have been 'locked out' of their jobs, adding in a statement that agency staff brought in during the dispute have been more efficient:
Greyhound also rejects comments made by Mr. O'Connor about the use of agency crews. Maintaining continuity of service for our customers has been foremost in our minds over the past three weeks. The fact is that productivity has increased by 25% through the deployment of agency staff , with routes being completed on time, every time.
Greyhound claim that the staff were not 'locked out' but refused to work after they rejected a Labour Court recommendation that pay should be reduced to bring it in line with industry standards.
Speaking on RTÉ's Morning Ireland today,  SIPTU President Jack O'Connor says that there was a Labour Court recommendation but it did not relate to pay.
"The Labour Court made a recommendation alight, but it did not make a recommendation on pay cuts, it made recommendations on productivity," he said.
The company, without going back to the court, moved pre-emptively on 17 June to put a gun to the head of our workers to tell them that unless they were prepared to accept a 35% cut in their pay that they wouldn't allow them to work, that's a lock-out.
O'Connor says that he wrote to the minister yesterday evening and received a prompt reply which did not reject the establishment of a task force to look at the overall issue of refuse collection in Ireland.
"We are pretty unique in Europe in the way we organise our refuge collection service," said O'Connor. "There are in fact only one or two countries that do it this way. They do it in this way Kosovo and I think they do it this way in Poland. In every other country its organised competition for the market, not competition in the market."
O'Connor also rejected the claims from Greyhound that the agency staff are performing better than the collection staff.
"One has to be suspicious. Without being too direct about it, the company chose to lock-out our workers and replace them with agency workers instead of going back to the Labour Court as part of the collective agreement that is in place.
Speaking directly to presenter Audrey Carville:
What would you think if RTÉ told you in the morning that you were going to be paid 35% less and didn't allow you to start your job unless you accepted that, and then replaced you with an agency worker? RTÉ would inevitably tell the public that the agency worker was doing a better job. What would you expect them to say?