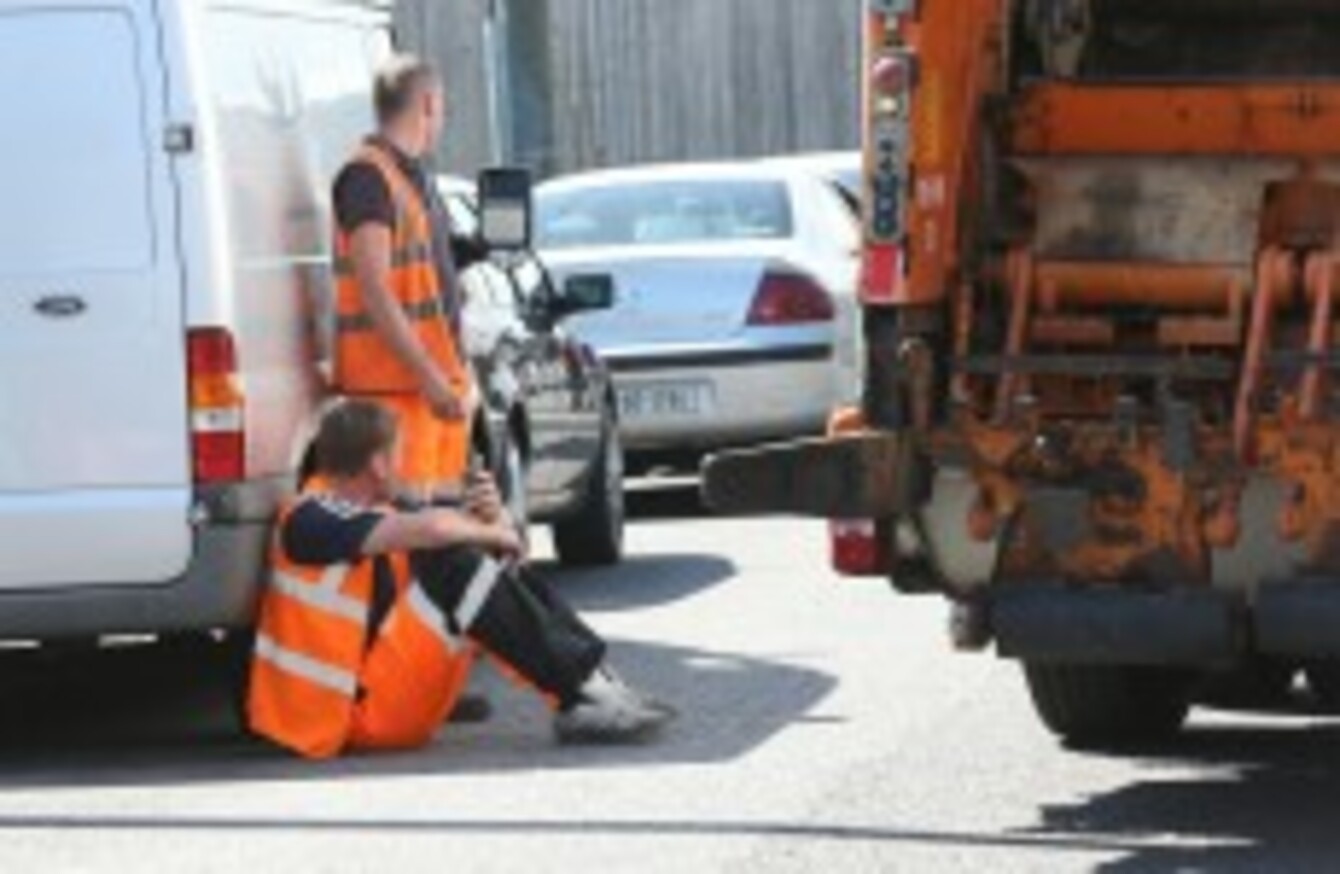 Image: Sasko Lazarov/Photocall Ireland
Image: Sasko Lazarov/Photocall Ireland
Updated 10.30am
SIPTU MEMBERS WHO claim they have been 'locked out' of their jobs at Greyhound Recycling will march to City Hall today.
SIPTU members who are locked out of their work at the company's plant in Clondalkin will march to Dublin City Hall this afternoon.
The union has pickets at two Greyhound plants in Dublin as part of an ongoing dispute over wage cuts.
The event will begin with a rally at Liberty Hall at 3.30 p.m., followed by the workers and their supporters marching to City Hall for the start of the Dublin City Council meeting at 5.30 p.m.
The workers have been locked out at the waste disposal company since 17 June.
Management at the company are attempting to force workers to accept wage cuts of up to 35% and have employed relief staff to carry out waste collections during the dispute.
SIPTU Dublin District Council Chairman, Jack McGinley, has called on trade unionists and the general public to show their support for the workers by participating in the march on Monday.
"This dispute goes to the very heart of the struggle for workers rights. What these low paid workers are facing is an attempt by management to severely cut their incomes in order to increase profits. The company is using its hold over an essential service in an attempt to wring every last penny out of a dedicated workforce."
He added: "It is essential that trade unionists and the citizens of Dublin show support for these workers in this struggle for dignity and the right to earn a living for their families."
Last Wednesday, the High Court lifted three interim injunction orders granted to Greyhound. The decision meant that management could not interfere with official union pickets or prevent workers from describing its actions as a lockout.
Greyhound Household has a contract to collect household waste for Dublin City Council. They say that services have not been interfered with.
"Greyhound welcomes the court undertaking by the collection crews not to interfere with entry and exit from our depots and are happy the High Court injunction is no longer necessary.​ We would again like to reassure our customers that normal service is being maintained."
Dublin City Council meeting
Greyhound Household said today it is calling on Dublin City Councillors at their meeting to urge striking Greyhound workers to:
Abide by the collective bargaining agreement
Return to work under protest
And agree to further, binding, Labour Court talks.
​ The company is also calling on the striking workers "to desist from impeding or obstructing staff coming in and out of our depots and to honour the undertaking they gave to the High Court".
The company alleges that "serious health and safety issues" have arisen by picketing workers suddenly blocking vehicles entering and leaving the depots.
It also alleges there has been "a campaign of intimidation and abuse of staff entering and leaving work" since the company agreed to lift a High Court injunction.
Greyhound is consulting with its legal representatives and will seek further protection from the courts if necessary.
Greyhound says it has maintained a consistent level of service throughout the strike period by using fully licenced and qualified agency crews that it already employs from time to time to cover holidays and sick leave.
It says these staff have led to "a significant improvement in service levels" and the company "is committed to continue to deliver a high level of quality and consistent service to all of our customers".
It also stated that under the Labour Court cost savings​ plan, the collection crews operating in Dublin City will still be paid 10% above industry average rates.
Dublin City Council
At its meeting tonight, Dublin City Council will discuss an emergency motion calling for a review of employment practices at waste collection companies.
Labour Party Councillors, Brendan Carr and Alison Gilliland, have called on the Chief Executive of Dublin City Council to carry out the review.
Cllr Carr said:
The objective of this would be to allow city councillors to form an opinion on the suitability of the service as it is currently structured. It also seeks to address the immediate problems which may result in the non-collection of waste around the city. We are asking the Chief Executive to immediately enter into discussions with the trade unions to try and agree an arrangement whereby the domestic waste collection service is brought back under the direct labour of the local authorities.
An addendum to the motion calls on Greyhound to stop using agency workers immediately and to return to the negotiating table, and for Greyhound customers to be able to dispose their waste free of charge at any of the DOC facilities until the current dispute is resolved.
- Additional reporting Aoife Barry