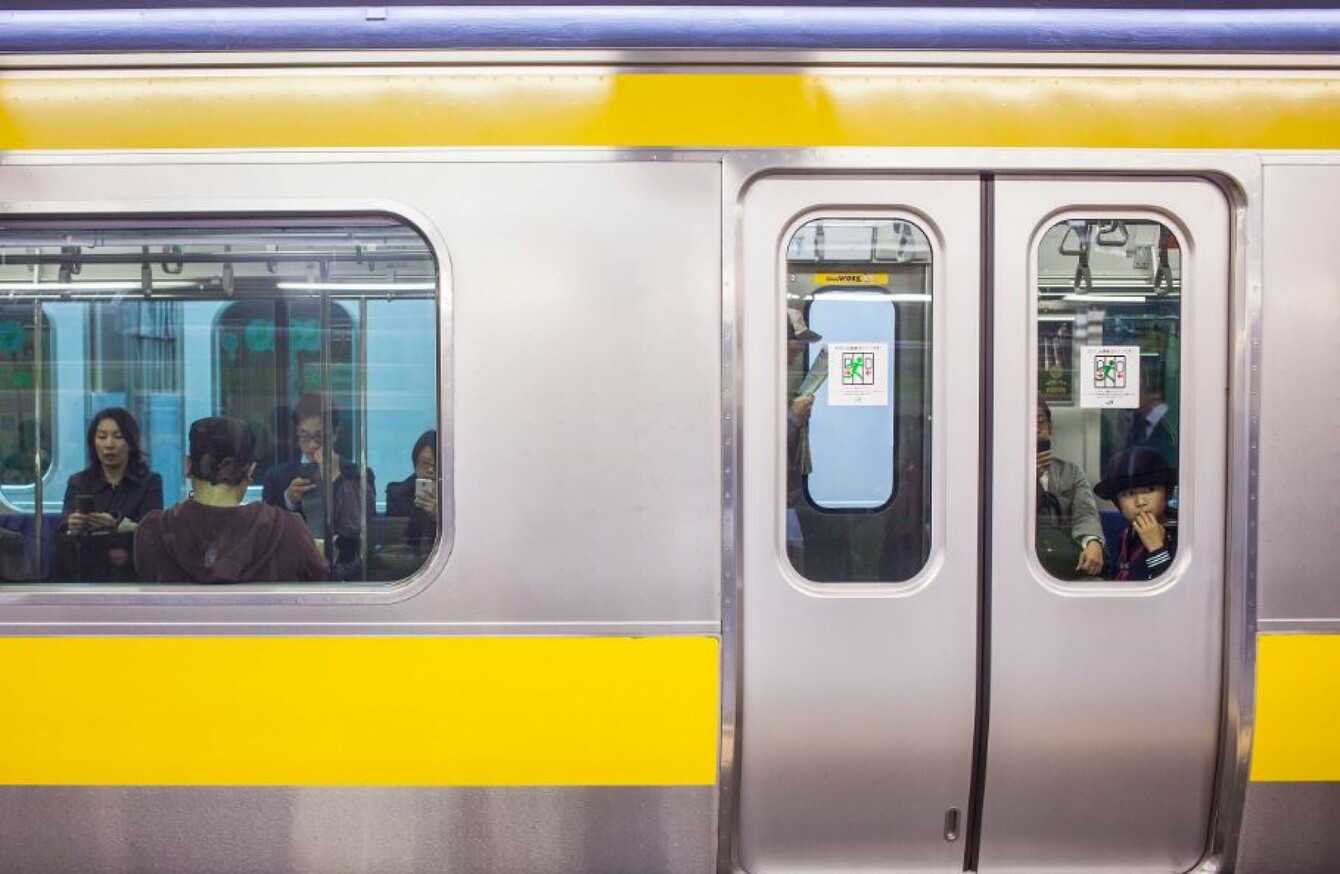 File photo of a train in Tokyo
Image: VWPics/SIPA USA/PA Images
File photo of a train in Tokyo
Image: VWPics/SIPA USA/PA Images
IN JAPAN, WHERE train travel can often be a perilous experience for women, an insurance company is reporting a sudden run on a policy that protects men falsely accused of groping.
The spike in takers for the 6,400 yen (about €51) "false groping accusation benefit" plan was triggered by a spate of incidents where men suspected of molesting female commuters fled the scene along the railway tracks, the Tokyo-based firm told AFP.
Japan has made efforts to tackle the problem of rush-hour sex pests with posters on trains and television campaigns, while railway operators provide women-only carriages for the busiest times of day.
However the plan, devised by the Small Amount and Short Term Insurance company in 2015, covers legal costs for policyholders who find themselves on the wrong end of such a charge.
Several hundred contracts 
It was initially set up as a fringe benefit under which fees for any legal consultation, including domestic or traffic accidents, were covered, Japan's Mainichi newspaper reported. But the firm's helpline service — which alerts lawyers practising in the vicinity of the alleged groping incident — has proved a hit with customers.
Contracts for the policy, which hitherto totalled less than 50 a month, have soared to several hundred in the past month, the company said.
"It is impossible to know whether one will be caught up in a groping incident," company president Shoji Sugimoto told the Mainichi. "We are here to provide help to people who feel anxious about the issue."
Around 1,800 arrests are made yearly under public nuisance laws, but in 2006 a professor at the National Defence Medical College appealed his conviction all the way to the Supreme Court and had his conviction — and 22-month prison sentence — overturned.