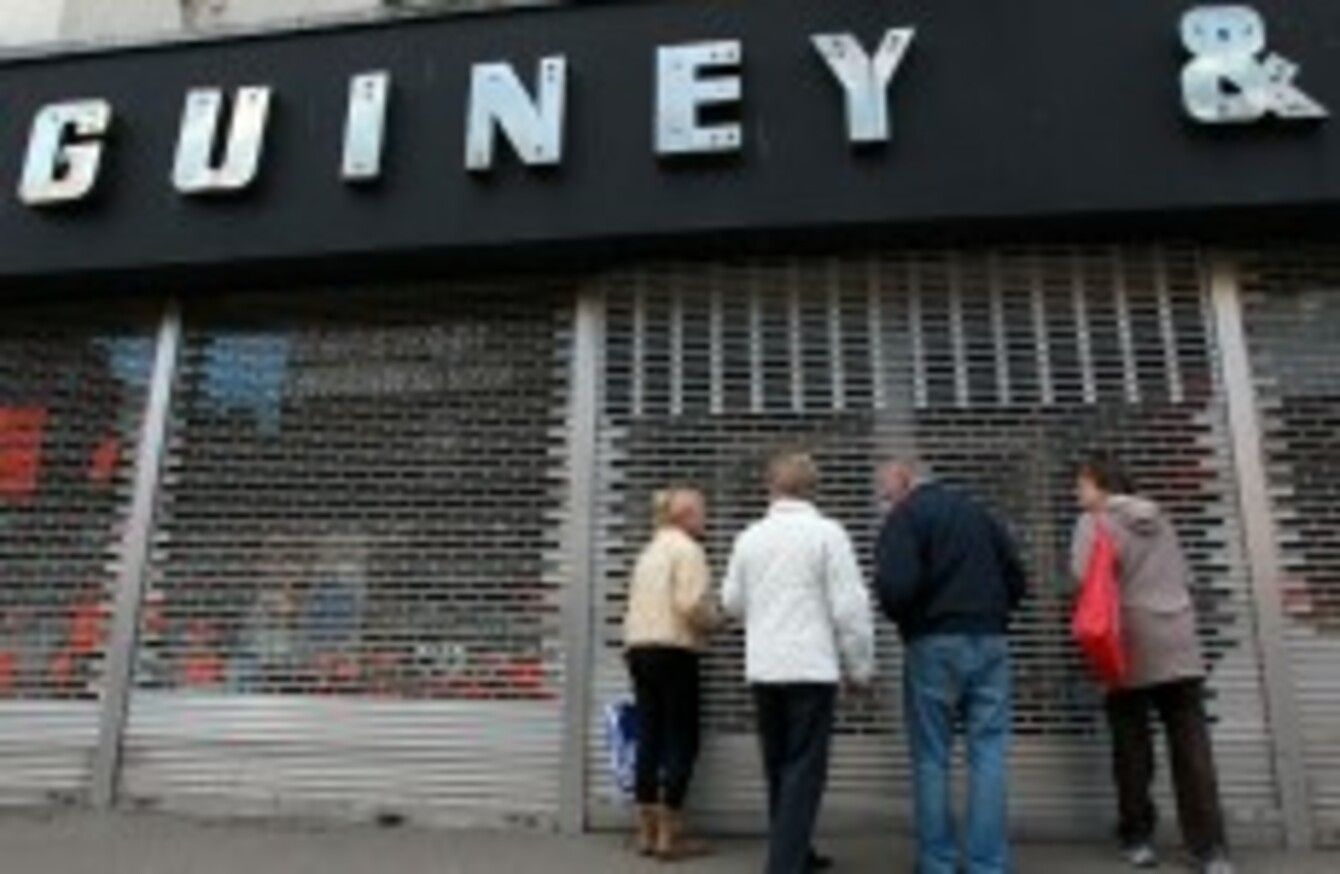 Image: Sam Boal/Photocall Ireland
Image: Sam Boal/Photocall Ireland
WORKERS WHO LOST their jobs when Guiney & Co closed its doors in Dublin city centre in September remain in the dark over their pensions – despite some of the workers being close to retiring age.
Former employees of the well-known Dublin department store have been told that the new owners of Clerys –  sister store to Guiney & Co – will not be taking on the liabilities of the old company pension scheme, which is now going to be wound up.
A new pension scheme will instead be put in place for Clerys workers, who are remaining with the company – but the picture is not so clear for the Guineys workers who all lost their jobs when the company was bought by a private equity firm in September.
"Some of these people are only three or four years away from retirement so they're worried about their pensions from the company they worked for for so long," said Michael Egan of Mandate trade union. Many of the workers were long-serving employees who had served between 25 and 30 years with Guineys on Talbot Street.
The strict rules around winding up a defined benefits pension scheme mean former employees already receiving a pension from Guineys will be looked after first so that their future payments aren't threatened.
The remaining pot of money after the pensioners have been taken care of will be divided up by the scheme and allocated to the workers who lost their jobs, who will have to use it to invest in a new defined contribution pension scheme.
Workers fear that they could be left with as little as 40 per cent of what their pensions are worth once the scheme is fully wound up. It will be early next year before the employees find out exactly what they will get.
Michael Egan said the workers were hoping to get as much of their pensions as they possibly can.
"Obviously they would like to receive as close to 100 per cent of their pensions as possible but realistically we don't think we're going to achieve that," he told TheJournal.ie.
"Basically we're trying to make sure that they get as much as possible with whatever pot of money they're given to invest. With investing no-one knows what's going to happen".
"Utterly betrayed"
Staff held a protest outside Clerys in October saying they felt "utterly betrayed" by the demise of their pension scheme and and the way their jobs had all been lost in the deal.  The group handed in a letter to Gordon Brothers, the new owners of Clerys, saying:
We feel utterly betrayed and implore Gordon Brothers to treat us in a moral and proper  matter. The failure of Gordon Brothers to recognise our loyalty to Clerys is deplorable and we seek that they recognise this by rewarding us in a proper manner for our long loyal service.
Guineys on Talbot Street was a sister shop to Clerys on nearby O'Connell Street for over seventy years. It was founded by Kerry businessman Denis Guiney, who went on to buy Clerys in 1941, and who marketed both department stores as affordable and reliable places to shop in the city.
The Clerys company had been in financial difficulties for many years as it failed to attract footfall to its O'Connell Street shop and was bought by US private equity firm Gordon Brothers on 17 September. However Guiney & Co was not part of the deal and was instead put into liquidation with the loss of ten jobs.
Workers from Guiney & Co and the Clerys Home Stores in Naas, Blanchardstown and Leopardstown who all lost their jobs in the deal are in the process of receiving redundancy payments as well as holiday money and any back pay they are owed.