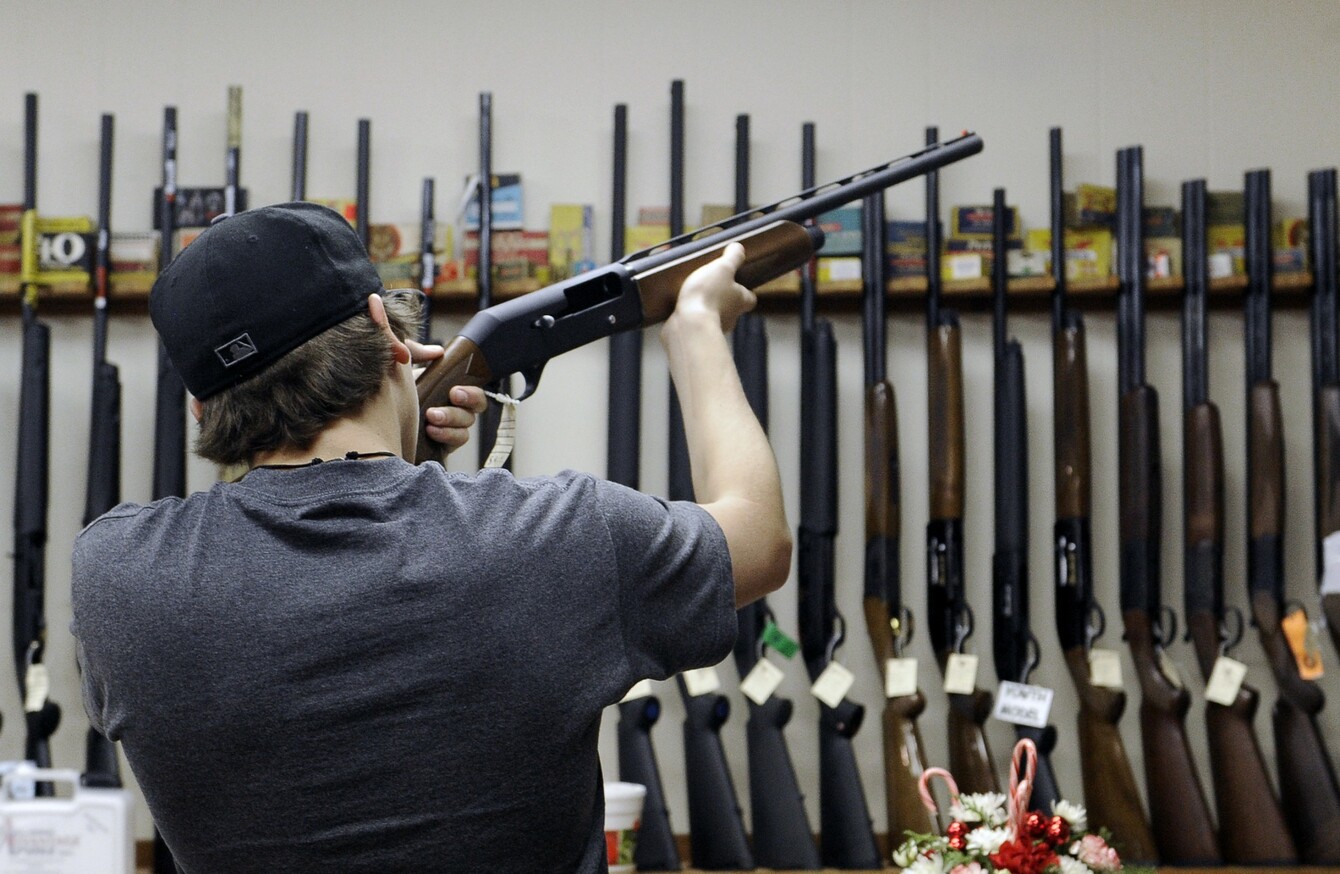 Image: AP/Press Association Images
Image: AP/Press Association Images
IN 2004, THE "sunset clause" on a ban on the sale of assault weapons came into effect.
This meant that the ban, signed into law by then-President Bill Clinton, expired and the weapons were legally available once more.
Since 1 January that year, 348,917 people have died by firearms in America. The population of Cork was 399,000 in 2011.
Earlier this week, the Republican-controlled US congress rejected four measures to tighten gun laws. They then held a sit-in on the floor of the lower house of the US Congress to demand votes on gun-control bills.
However, despite all the killings and protests and the outrage over mass shootings like Orlando and Sandy Hook, US politicians have rejected more than 100 gun-control measures since 2011.
Since the shooting of Arizona congresswoman Gabrielle Giffords in a Tucson shopping centre car park in 2011, each one of those measures has been defeated.
President Barack Obama, in what has become an exasperated refrain, slammed Republican inaction on the issue.
Obama said on Twitter that the Senate failed the American people and that gun violence requires more than a moment of silence.
White House spokesman Josh Earnest says the vote is a "a shameful display of cowardice". He told CNN on Tuesday that the Republican-led chamber's blocking of four gun control proposals on Monday does nothing to keep extremists from acquiring guns.
Earnest said lawmakers lament gun violence but "don't do anything about it."
Monday's proposals would have banned suspected terrorists, such as Orlando shooter Omar Mateen, from buying guns and expand background checks. Two others, offered by Republicans, would have been less restrictive.
Gun control
So, why can't anything get done? Democrats say public opinion is with them and will shift votes on the issue over time. The National Rifle Association (NRA) disputes that. In an interview, Chris W Cox, the NRA's chief lobbyist, said moderate Republican Senator Susan Collins' bill failed this week because the people were against it.
"What the vote showed was she doesn't have 60 votes, and the reason she doesn't have 60 is because it's an unconstitutional approach" lacking an effective appeal process for people denied guns.
The simple reason is that many Americans like guns and believe in their constitutional right to own them. On top of that, the gun lobby spends millions every year contributing to political campaigns.
That means that any attempts to make a change have been stubbornly resisted.
Change
However, this week could prove pivotal.
On Thursday, eight Senate Republicans — an unusually high number — backed an NRA-opposed compromise barring guns to some suspected terrorists.
It cleared a procedural vote 52-46 but fell short of the 60 votes it would need to survive a filibuster. Most Republicans opposed it, saying it lacked adequate protections for people erroneously on federal lists of terror suspects.
Three Republicans who supported Collins have tight re-election fights this year. One, New Hampshire Senator Kelly Ayotte, also voted this week for a more sweeping measure resembling one she'd opposed just seven months ago.
Democrats challenging the powerful NRA deep in an election-year is "a sea-change," says Arkadi Gerney, a gun policy expert at the liberal Centre for American Progress. While liberals are happy to attack the firearms lobby, party leaders have often spent election years avoiding the issue to protect Democratic candidates in swing states where pro-gun voters are numerous.
Besides the sheer number of casualties and recent years' spate of mass shootings, Democrats and Collins were partly enabled by Omar Mateen, the Orlando perpetrator killed by authorities. He was an American who'd pledged solidarity to the Islamic State extremist group and had once been on the government's terrorist watch list.
That let Democrats and Collins cast the issue as one of national security — an easier political lift than gun control. It also invited a bumper-sticker, commonsense appeal: No-fly, no buy, shorthand for barring terror suspects on the government's no-fly list from purchasing guns.
The more they change
However, much still hasn't changed. Democrats still offer bills that Republicans say are overly restrictive, and the GOP counters with proposals that Democrats call too weak.
This week's roll calls showed that Congress clearly lacks the votes to enact major new restrictions on who can purchase firearms or other curbs — and that each side remains happy to attack the other over it.
With AP reporting.