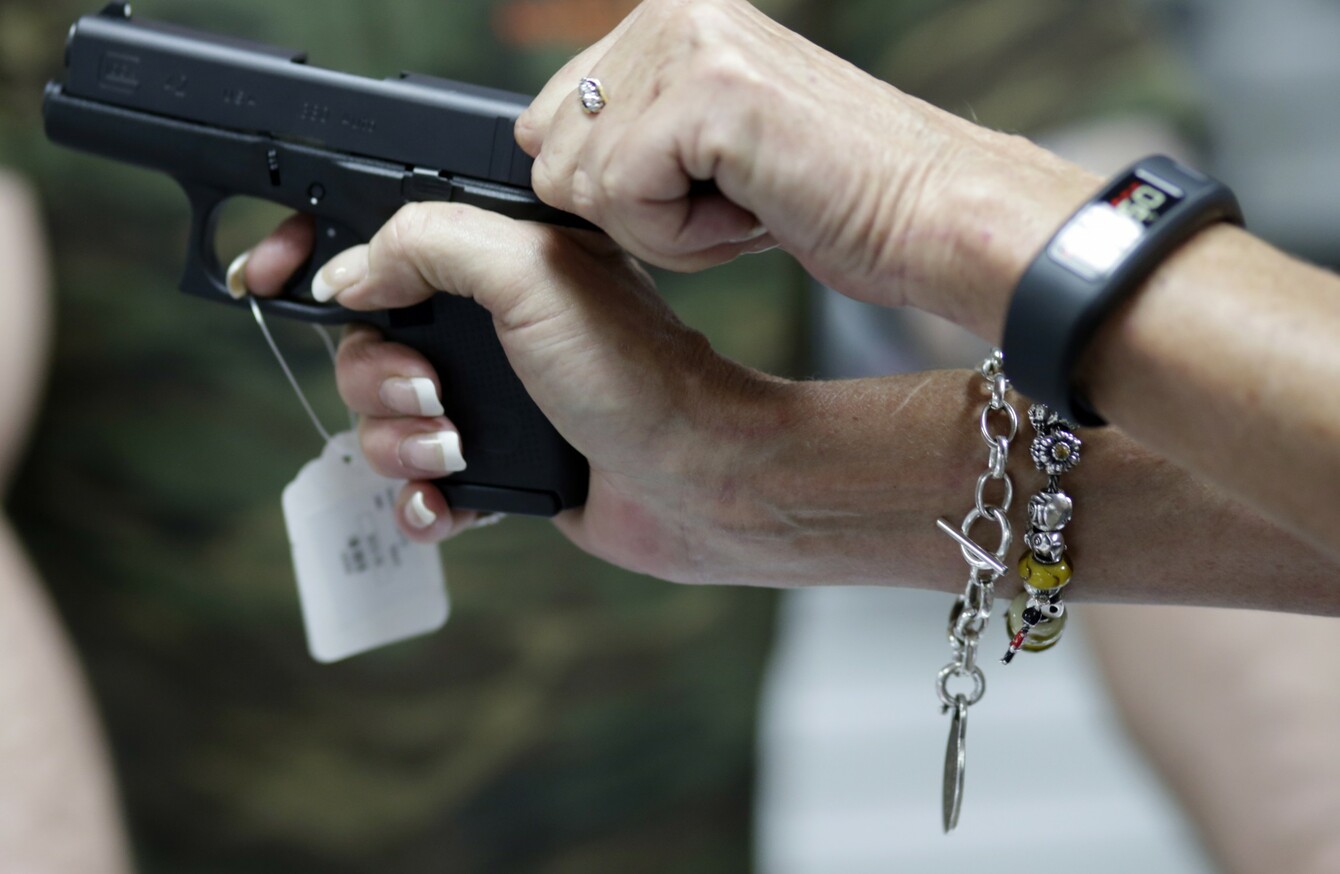 Image: Lynne Sladky
Image: Lynne Sladky
IN THE 72 hours up to 1pm on Friday, 92 people had been shot dead in America.
Nearly three times that number had been shot.
Seven made the news over here; two men shot by police and five shot because they were police.
A Guardian database says that police in the US have killed 566 people this year alone.
Last year, 130 US police officers died in the line of duty. 39 were shot.
Less than a month after the nightclub shooting in Orlando, the events of Dallas, St Paul and Baton Rouge have put American gun violence back in the headlines. Though it rarely ever leaves them.
In a country of 323 million people, America has 112.6 guns per 100 people. No other country has 100. Deaths by gun in America are one of the highest rates in the world.
And yet, nothing changes.
American politics rumbles on, politicians offer their "thoughts and prayers" and Americans continue to shoot each other.
But why hasn't America fixed its gun problem?
Violence
America was already soul searching by Thursday night. By the time snipers killed five police officers in Texas, its racial divides and its relationship with guns were being heavily debated once more.
And, while police brutality, racial division and gun ownership are clearly issues, one other fact is inescapable: America is just more violent a place than most other developed nations.
That is even with violence and gun violence falling.
Homicide rates in the OECD show that America had 6.1 per 100,000 during the 2000s, while Germany had ten times fewer. While no European or Asian cities are among a list of the top 50 most dangerous in the world, America has five (New Orleans, Detroit, St Louis, Baltimore and Oakland).
The reasons for this violence are myriad – abject poverty,  racial divides and gang culture – but unlike most other countries, that violence is linked to easy access to guns.  However, America is as safe, statistically as any other industrialised nation – they just express their violence differently.
In the UK, you have 1/100 chance of being involved in a violent crime, but a 1/10,000 chance of being involved in a violent crime involving a weapon.
In the US, you have a 1/250 chance of being involved in a violent crime, but a greater than 1/10,000 chance of being involved in a crime involving a gun, not just a weapon.
Beyond that, there are questions over police training methods or if it's even possible to police a society where a massive number of people are entitled to carry deadly weapons.
In the midst of the Dallas shootings, a man was identified as a suspect, having been shown walking through the protest in camo gear with a rifle.
Former US Congresswoman Gabrielle Giffords, who was shot in 2011 while giving a speech in a supermarket car park, said the Dallas shooting was "another sad reminder that our nation remains in the grips of a gun violence crisis that touches every community and everyone – those who wear the uniform, and those who do not.
This is not the America we strive for.
"We have to do better, and we can."
Money
While there is a want to "do better", the arms trade is worth almost $400 billion worldwide and $6 billion of that is from American gun owners according to business research firm Hoovers. A further $5.1 billion is earned in taxes on gun-related transactions.
The industry employs 209,000 people, with 131,000 being federally licensed gun-sellers.
So it's a major industry which will obviously fight any major legislative changes which would be to its detriment.
Added to that, gun rights groups spend around 17 times what gun control groups spend on lobbying.
That is not to mention the money spent by the National Rifle Association (NRA). The NRA is funded by the firearms industry and represents gun owners.
The New York Times estimated the group had spent $14 million to oust Barack Obama in 2012. That is despite Obama continually receiving a poor grade from anti-gun group the Brady Campaign To Prevent Gun Violence.
Obama's administration hasn't seriously tackled gun ownership or sales in eight years, despite control congress for two of those years.
After the Orlando shooting, White House Press Secretary Josh Earnest said that Republicans ran scared of the NRA.
They won't do anything about it because they're scared of the NRA.
The Constitution
A well regulated militia being necessary to the security of a free State, the right of the People to keep and bear arms shall not be infringed.
The Second Amendment to the United States Constitution was ratified in 1789 at a time when fear of a tyrannical government in a 13-year-old American state was rife.
It doesn't mention the right to own guns for personal protection, to hunt or for sport. The amendment's meaning has generated fierce debate over the years. Some argue that the Amendment, ratified by Thomas Jefferson, never envisaged mass gun ownership, while others say that the wording is clear – Americans are entitled to own guns, no ifs, ands or buts.
The Australian example
In 1996, a gunman killed 35 people in the Port Arthur massacre in Australia.
Australia, which had experienced 10 such shootings in the decade leading up to Port Arthur acted swiftly – heavily restricting access to guns and buying back 643,000 guns at a cost of around AU$350 million.
Gun rights advocates in the US argue that this system won't work, that Australia also confiscates guns and this would breach the US' Second Amendment.
However, a University of Sydney study this year, in the 20th anniversary of Port Arthur showed just the opposite: the laws work.
"Opponents of public health measures to reduce the availability of firearms often claim that 'killers just find another way.'
"Our findings show the opposite: there is no evidence of murderers moving to other methods, and the same is true of suicide," said co-author Philip Alpers.
But American politicians have been slow – glacially so – to react. But not because the idea that people shouldn't be able to buy guns as easy as they buy fruit hasn't been suggested.
Congress has blocked 100 gun control measures since 2011 and the appetite to address American gun violence from a legislative level isn't there.
Guns are responsible for some 90 deaths each day in the United States, but serious legislative efforts to enact gun control are only raised after particularly horrific shootings.
This week, Congress will debate measures aimed at stopping people suspected of terrorism from buying guns, but wholesale legislative change is unlikely.