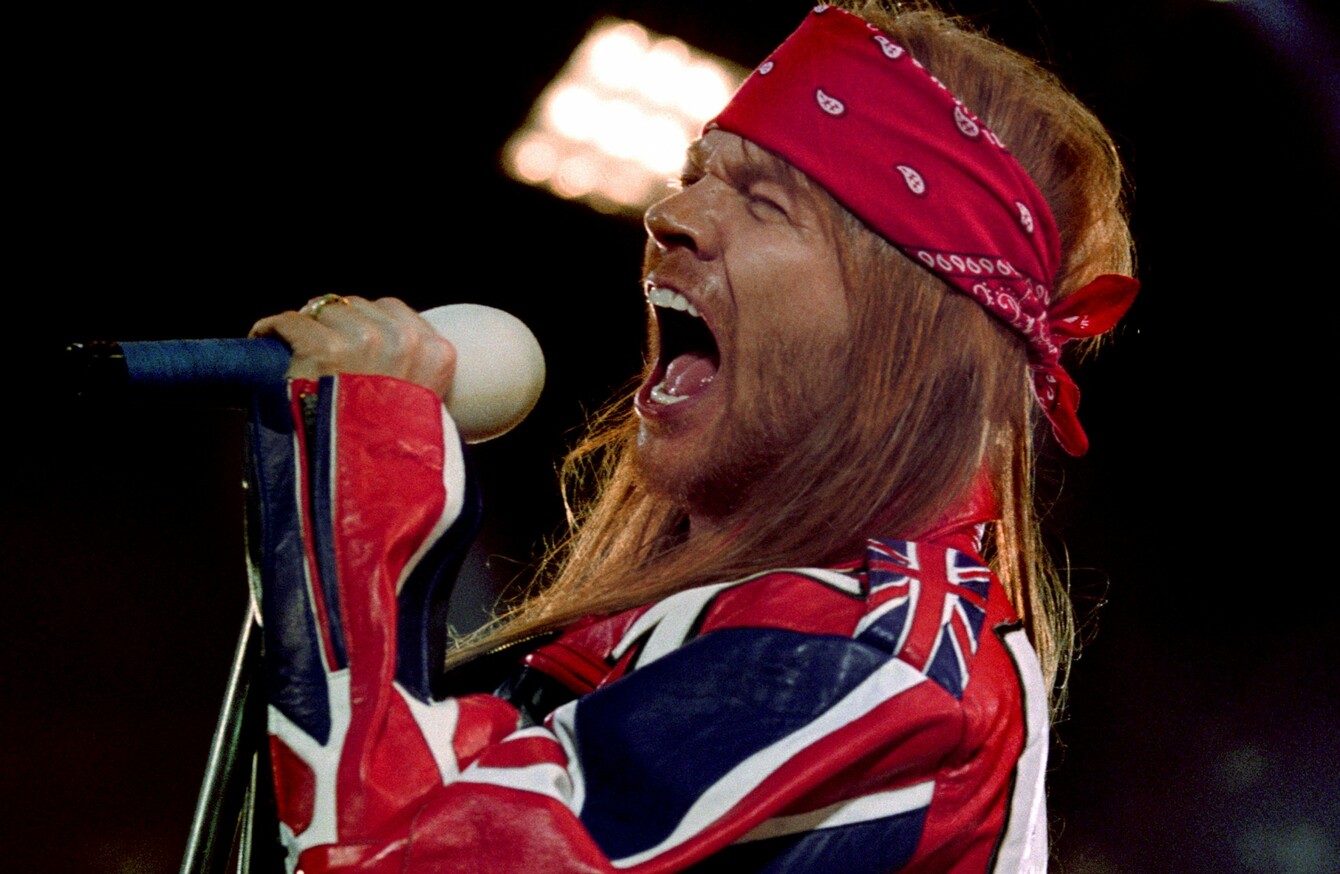 Axl Rose, 1992.
Image: PA Archive/PA Images
Axl Rose, 1992.
Image: PA Archive/PA Images
OVER 400 GARDAÍ will be on duty at the Guns N' Roses Slane gig as security measures are beefed up in wake of the tragic terrorist attack in Manchester this week.
A total of 22 people were killed in a bomb attack at an Ariana Grande concert on Monday evening. Over 60 people were also hospitalised, many with life-threatening injuries.
With the Slane holding up to 80,000 people, the gardaí and MCD promoters said there are "extensive arrangements" in place regarding safety, security and the traffic management plan for the concert.
400 gardaí
The 400 members on duty include specialist units, who will be supported by an additional 1,200 fully licensed security teams and stewards.
Doctors and medical teams will also be on hand at the on-site hospital. There will also be an additional five first aid posts.
In a statement the gardaí said: "The Event Control Management Team overseeing this event have over 25 years experience within their fields of expertise. Please co-operate fully with gardaí and stewards and follow any loudspeaker announcements as this will help ensure the safety and enjoyment for all concerned."
There is an extensive list of items that are not permitted at the event. These include:
All the above items will be confiscated and will not be returned, advise the gardaí.
While pocket-sized cameras are permitted for personal use only, cameras with detachable telephoto lenses will not be allowed through arena entrances.
If you fancy a drink and a bite to eat, best do it before entering the arena, as food, alcohol, glass containers and cans are banned.
They also ask concert goers to note there is a four drink per person limit on all on site bars and ID will be "rigorously" checked.
It's been 25 years since Guns N' Roses performed at Slane – but they're back with their 'Not In This Lifetime' European tour.
The band did return to play at the Point in 2010, but it didn't go too well, with fans left disappointed when Axl Rose stormed off the stage.
Source: RTÉ - IRELAND'S NATIONAL PUBLIC SERVICE MEDIA/YouTube
However, the 1992 concert went down in history as one of the best Slane gigs.
For the first time ever, it's understood that Lord Mountcharles is to miss the event due to illness.
As it was before the time of the mobile phone cameras, there is little quality footage of the event. But this number they did in Wembley shortly before the Irish concert captures the mood at their gigs in the 90s.
Source: Nacho Rose/YouTube
If you want to refresh their memory or get some singing practice in, here's a playlist based on their recent Dubai set list. Enjoy!