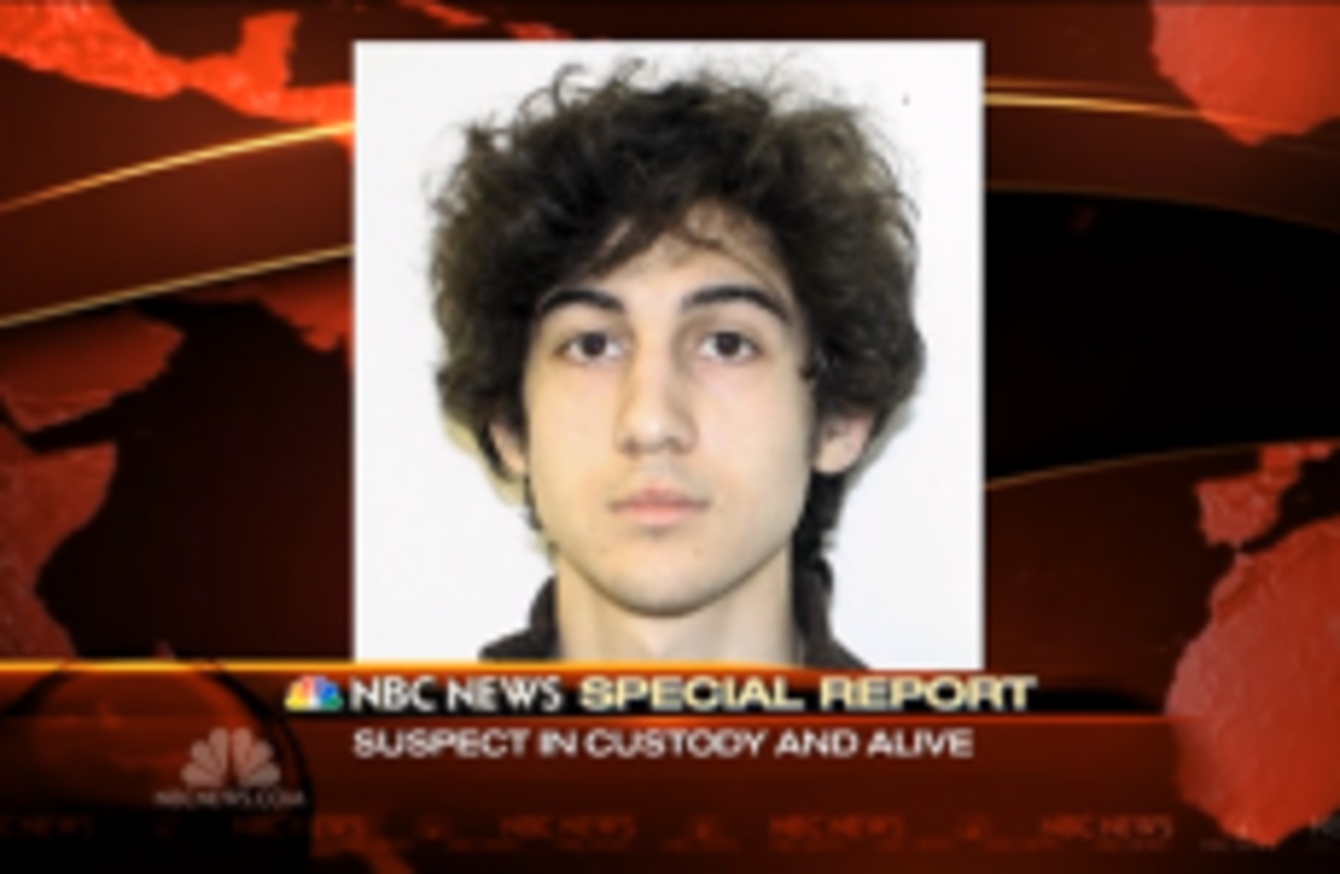 Dzhokhar Tsarnaev
Image: Screengrab via NBC News
Dzhokhar Tsarnaev
Image: Screengrab via NBC News
Updated 2am
BOSTON POLICE HAVE taken the second suspect in the marathon bombings into custody following a dramatic siege in which the teenager was hiding out in a boat in a backyard of a residential area.
The police department tweeted in the immediate aftermath: "Suspect in custody. Officers sweeping the area. Stand by for further info."
The condition of the suspect, believed to be 19-year-old Dzhokhar Tsarnaev, is not currently known but it is reported he suffered a gunshot wound.
Shortly after the capture, Boston Police Department followed up with this tweet:
Dzhokhar and his brother Tamerlan Tsarnaev are suspected of being behind the bombings at the finish line of the Boston marathon last Monday.
Tamerlan was shot dead in an exchange of fire with police early yesterday while Dzhokhar, 19, has been on the run for much of the past 24 hours.
Earlier police had cordoned off the Franklin Street area of Watertown, a suburb of Boston, after gunfire was heard and law enforcement was reported to have surrounded the suspect.
Multiple media outlets report that the suspect was in a boat pictured here, located in the backyard of a property at 67 Franklin Street in Watertown:
The alert was raised after a burst of gunfire erupted in Watertown and police squads raced to the area. The suspect was said to be hiding out in the boat in a garden behind a property in the Franklin Street area of Watertown.
NBC News reported that there was a fire on the boat in which the suspect was hiding out and a police negotiator was on the scene.
The same network also reported that the suspect was "covered in blood" and had been injured from the shootout last night in which his brother was killed.
Just half-an-hour before the gunshots were heard in the Franklin Street area, police had lifted a citywide shutdown that had been in place for most of the day as they attempted to track down Dzhokhar Tsarnaev.
The teenager and his older brother are the main suspects in the marathon bombings last Monday which killed three and injured at least 170 people.