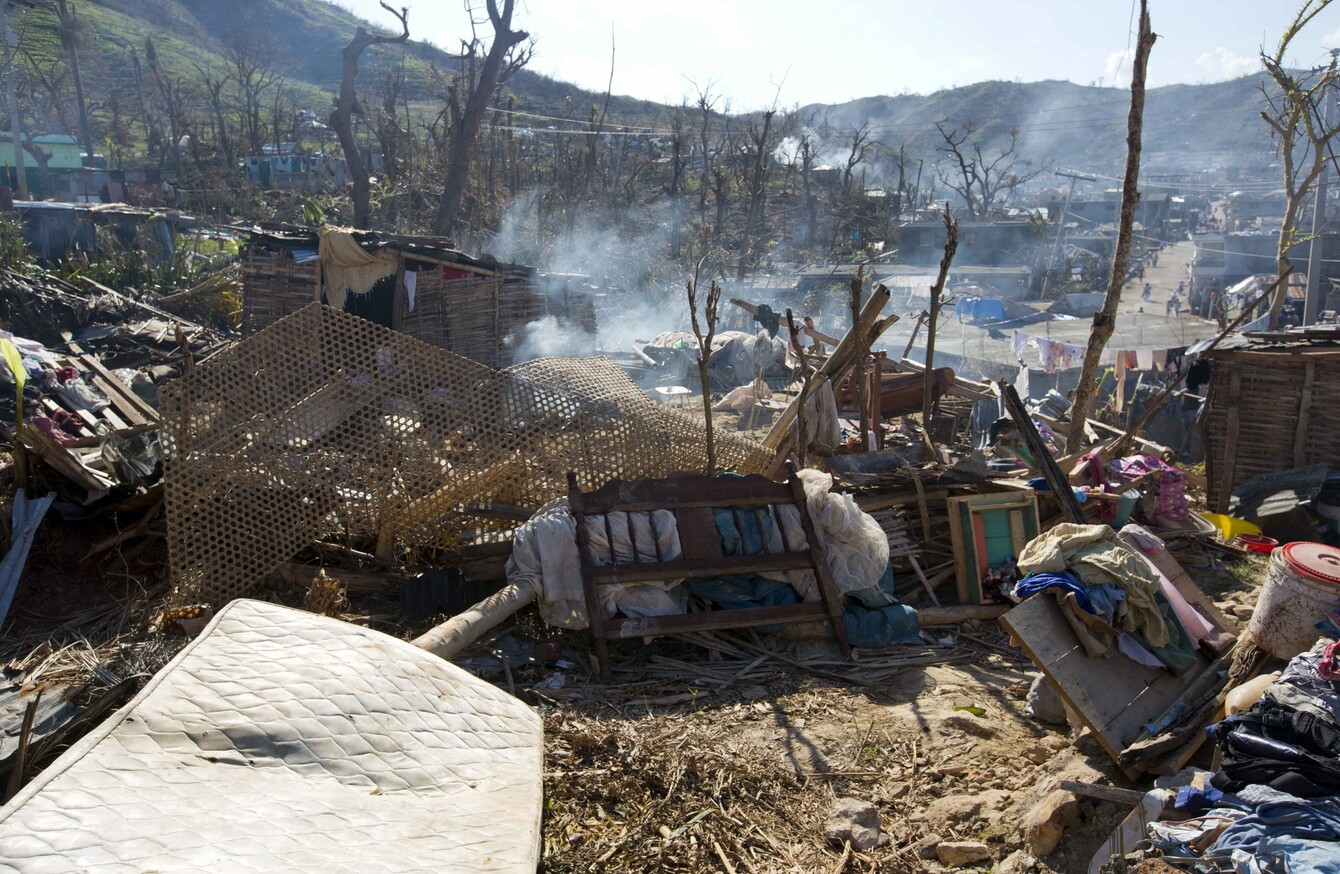 Image: Dieu Nalio Chery
Image: Dieu Nalio Chery
NEW TIN ROOFS gleaming in the Caribbean sun and the sudden appearance of UN and US charity teams driving along now-cleared roads showed that southern Haiti was on Tuesday finally getting some of the aid it desperately needs.
But a week after Hurricane Matthew tore through the country, many remote areas communities were still left to their own devices.
Families with destroyed homes and shattered livelihoods waited and prayed for help. Food and clean water were scarce to nonexistent.
"We haven't seen anybody at all," said Jean Nelson, a 68-year-old resident of Groteaux, half an hour from the major city of Les Cayes where many aid groups and relief stores were located.
For the past week coconuts from the stripped and fallen trees had been sustaining villagers, many too poor to afford sacks of rice that have doubled in price since the disaster.
"People are hungry. Why haven't people come to help?" Nelson asked.

Roofs and cellphones restored
But in Les Cayes and on the main road leading west from it, new roofs shined bright silver on most homes, a stark difference to previous days in which they had been open to the sky.
The price for the tin needed had risen 50% — from $3 a sheet to $4.60 — but many found the money to protect their families from the scorching sun, tropical showers and mosquitoes.
The cellphone network which had been cut by the storm was now also mostly up and running.
But farther along, devastation on an apocalyptic scale was only starting to be addressed in the beach villages, where tourists once enjoyed the white-pebble beaches and light-green sea.
A UN peacekeeping team of Brazilian soldiers was at work Tuesday with mechanical diggers to clear the road.
The landscape was one of cracked and broken trees and houses ripped open by the worst of the storm, which packed winds of 230 kilometres per hour.
US charities
The soldiers also filled in water hazards on the route that residents had been forced to use for drinking water despite the risk of disease.
"Our mission here is to clear the way to allow the passage of humanitarian convoys," one of the soldiers told AFP.
Haitian Red Cross vehicles, UN police units and other official four-wheel-drive vehicles formed part of the increasing traffic on the road.
#Open journalism No news is bad news Support The Journal

Your contributions will help us continue to deliver the stories that are important to you

Support us now
But so far the main aid handouts were by American Christian groups.
One of them, Samaritan Purse, gave out boxes of hygienic products — soap, shampoo, toilet paper — and white buckets with water-purifying chlorine pellets in them.
Desperate Haitians jostled, shoved and punched to get the boxes and buckets, despite Haitian police officers trying to keep order. Many were left empty-handed when the insufficient stock ran out.
"We're just trying to help the people most in need," said one worker at the site who declined to be identified because he was not an authorized spokesman.
He acknowledged a "security issue" with the distribution, but said that "at least the needed aid is getting out there."
"This is good, because we didn't have anything at all before," said one 23-year-old man, Jean Absolem, who had received one of the packages.
UN agencies including the World Health Organization and the World Food Program are poised to distribute their own, far bigger stocks of aid from Wednesday.
The WHO is sending a million cholera vaccine doses to Haiti to curb a spike in cases following the hurricane.