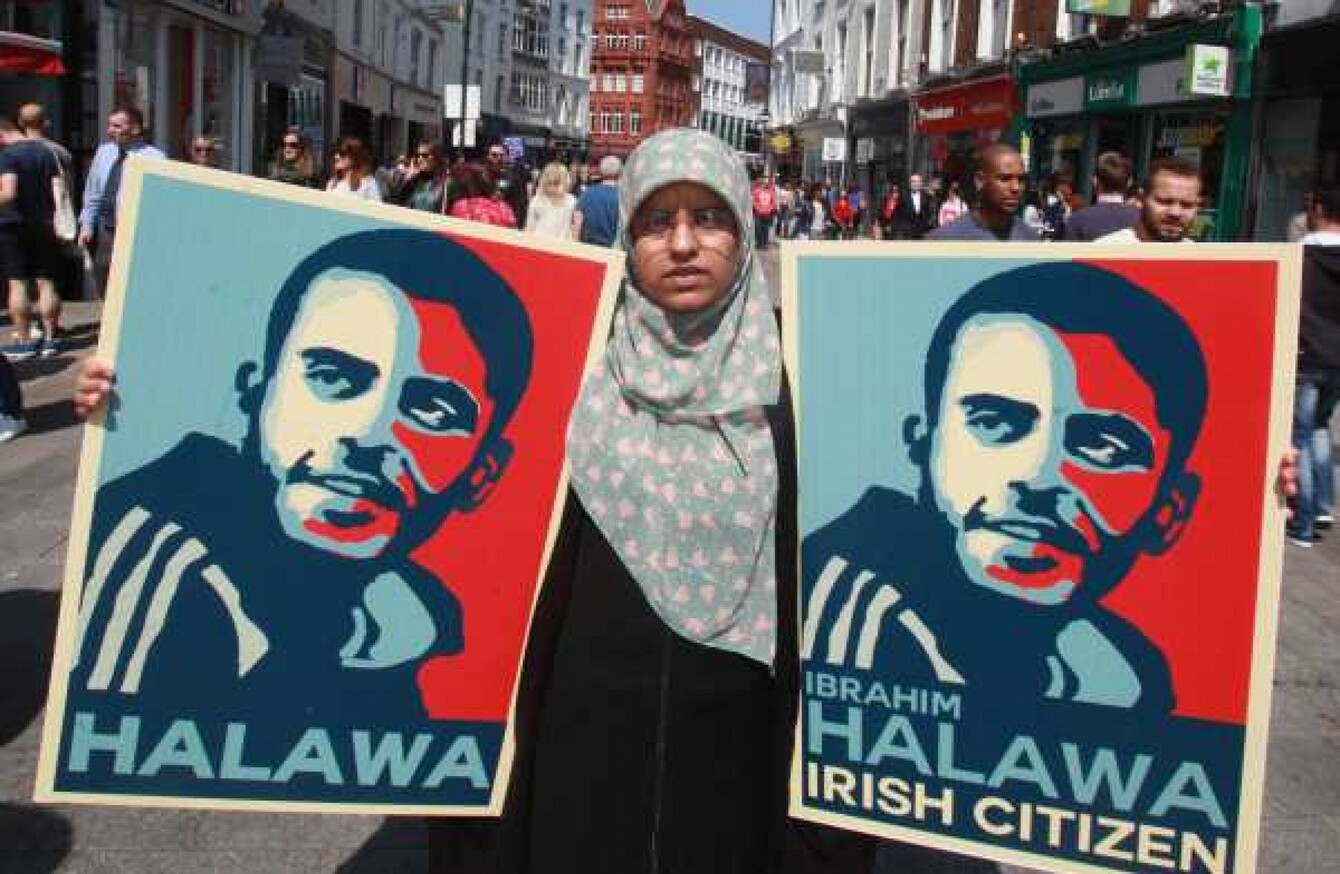 Fatima, (his sister) on Grafton Street to highlight Ibrahim's 1,000th day in prison
Image: Rollingnews.ie
Fatima, (his sister) on Grafton Street to highlight Ibrahim's 1,000th day in prison
Image: Rollingnews.ie
ENDA KENNY HAS raised the fate of Ibrahim Halawa with the president of Egypt.
The Dáil heard today that the Taoiseach  rang Egyptian president Abdel Fattah el-Sisi on Monday to push for the release of Halawa.
The Dáil passed an all-party motion this afternoon calling for the release of the 20-year-old Irishman, who has spent over 1,000 days in prison in Egypt.
The motion, noted that Halawa has been detained "without due process" since his arrest in 2013 as a 17-year-old.
It called his detention "an unacceptable infringement of his basic human rights".
In June his trial was postponed – for the 14th time – until 2 October, when he is likely to face a mass trial alongside 493 other defendants.
Halawa, from Firhouse in Dublin, was arrested by the Egyptian army in a Cairo mosque after allegedly taking part in a protest during the Muslim Brotherhood's "day of rage" in August 2013.
He faces a possible death sentence.
Presidential decree
Minister for Foreign Affairs Charlie Flanagan told the Dáil that Taoiseach Enda Kenny spoke to the president of Egypt on Monday and called on the Egyptian government to release Halawa under presidential decree 140.
"We will continue to work actively in support of these efforts," he said.
In fact, the Taoiseach conveyed this message directly to Egyptian President el-Sisi on Monday last when he once again called him on the case.
It's the third time the Taoiseach has spoke to President el-Sisi about Ibrahim Halawa, said Minister Flanagan:
In the course of that call, the Taoiseach set out, as we have done in previous contacts with the Egyptian authorities, the arguments for the immediate release of Ibrahim Halawa.
"The Egyptian President made it very clear that he understands that this is a significant matter of concern for the Irish Government."
The Egyptian government insists it has no power to intervene in a case before the courts – but, Minister Flanagan added:
The President made clear to the Taoiseach that he wishes to see this matter resolved in the context of a positive bilateral relationship between our two countries.
Egyptian Ambassador Soha Gendi is due before the Oireachtas Foreign Affairs Committee in the coming weeks to address the repeated delays in Halawa's trial.
A parliamentary delegation will be established to visit Egypt's parliament, and seek to visit Halawa.