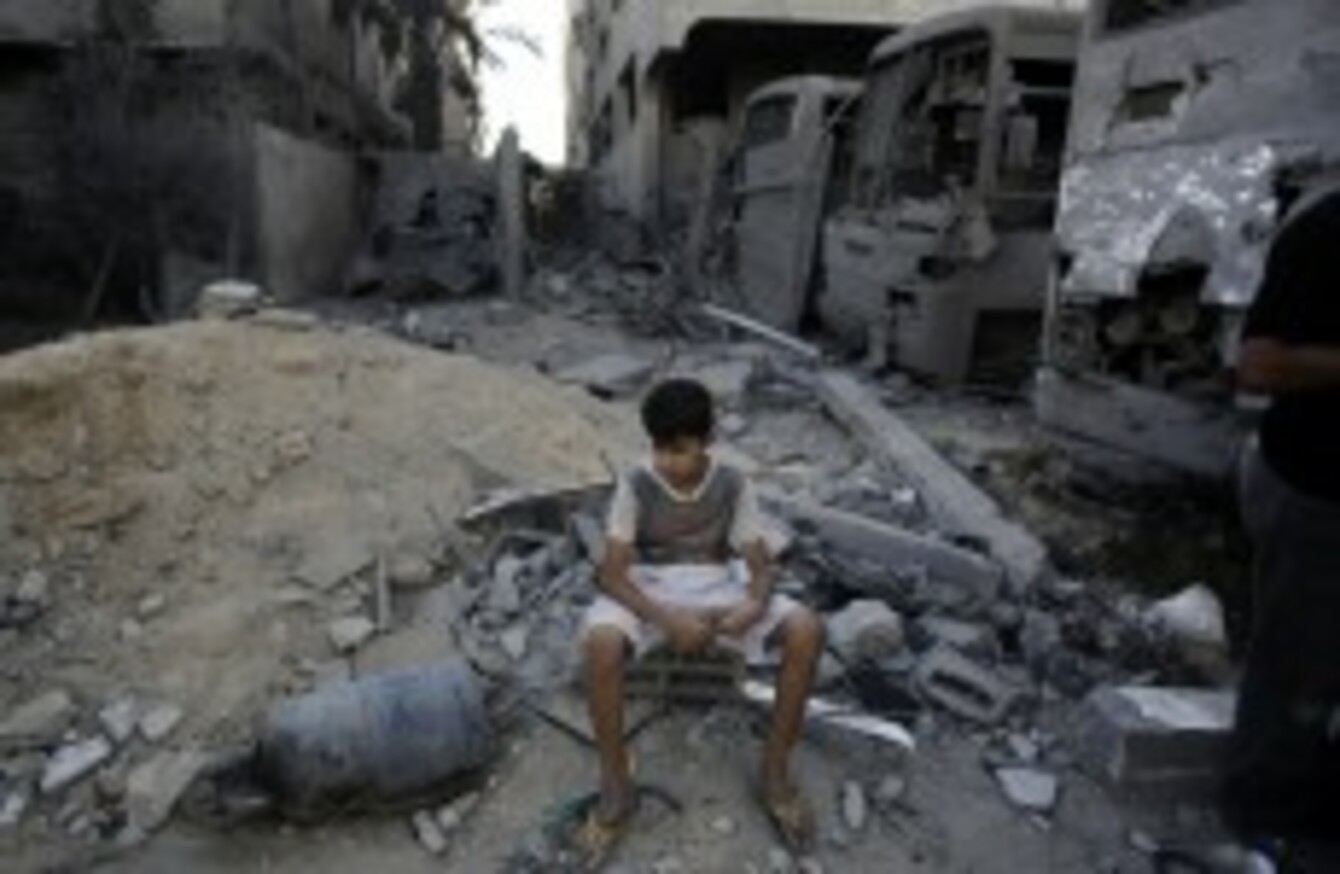 A Palestinian boy sits on rubble following air strikes in Gaza on Wednesay.
Image: AP/Press Association Images
A Palestinian boy sits on rubble following air strikes in Gaza on Wednesay.
Image: AP/Press Association Images
PALESTINIAN MILITANTS IN Gaza City executed 18 men today for allegedly helping Israel in its six-week assault on the territory, Hamas TV reported.
Six them were grabbed from among hundreds of worshippers leaving the city's largest mosque, by men in the uniform of Hamas's military wing, the Ezzedine al-Qassam Brigades, witnesses told AFP.
They were pushed to the ground. One of the masked men shouted: "This is the final moment of the Zionist enemy collaborators," then the gunmen sprayed them with bullets.
Earlier, another witness saw 11 people shot dead in a square near the remains of Gaza police headquarters, bombed by Israeli warplanes.
An 18th person was shot in front of bystanders in a separate incident nearby.
The Hamas-linked website Majd, said the 11 were killed after they "gave information to the Zionist enemy."
Yesterday, Majd said that three men had been put to death and seven arrested by Hamas's military wing for allegedly reconnoitring targets for Israeli strikes.
Israeli aircraft assassinated three leading Hamas commanders in a pre-dawn strike on Thursday and late Tuesday killed the wife and two children of Hamas military chief Mohammed Deif in a raid which levelled a six-storey building in Gaza City.
Another woman and child were killed in the same air strike.
Majd said Friday that "the resistance" – a term used to cover militant groups including Hamas, the de facto ruling power in Gaza – was reinforcing "the struggle on the ground against the enemy which practises assassinations."
Executions
The same website reported on August 6 that "a number" of alleged Palestinian collaborators had been killed, again without giving a date.
On July 13, witnesses in the southern city of Rafah reported seeing gunmen kill a man in the street in another incident which appeared to be the execution of a suspected collaborator.
Israel and Hamas have been at war since July 8 in a conflict that has killed close to 2,090 Palestinians and 67 on the Israeli side.
Under Palestinian law, collaborating with Israel, murder and drug trafficking are punishable by death.
In principle, Palestinian president Mahmud Abbas, who heads the Western-backed Palestinian Authority, is supposed to approve all executions.
Hamas, which swept parliamentary elections in 2006, has controlled the Gaza Strip since ousting Abbas loyalists from the territory the following year.
Although it handed the reins of power to a unity government in early June, it remains the de facto power in Gaza.