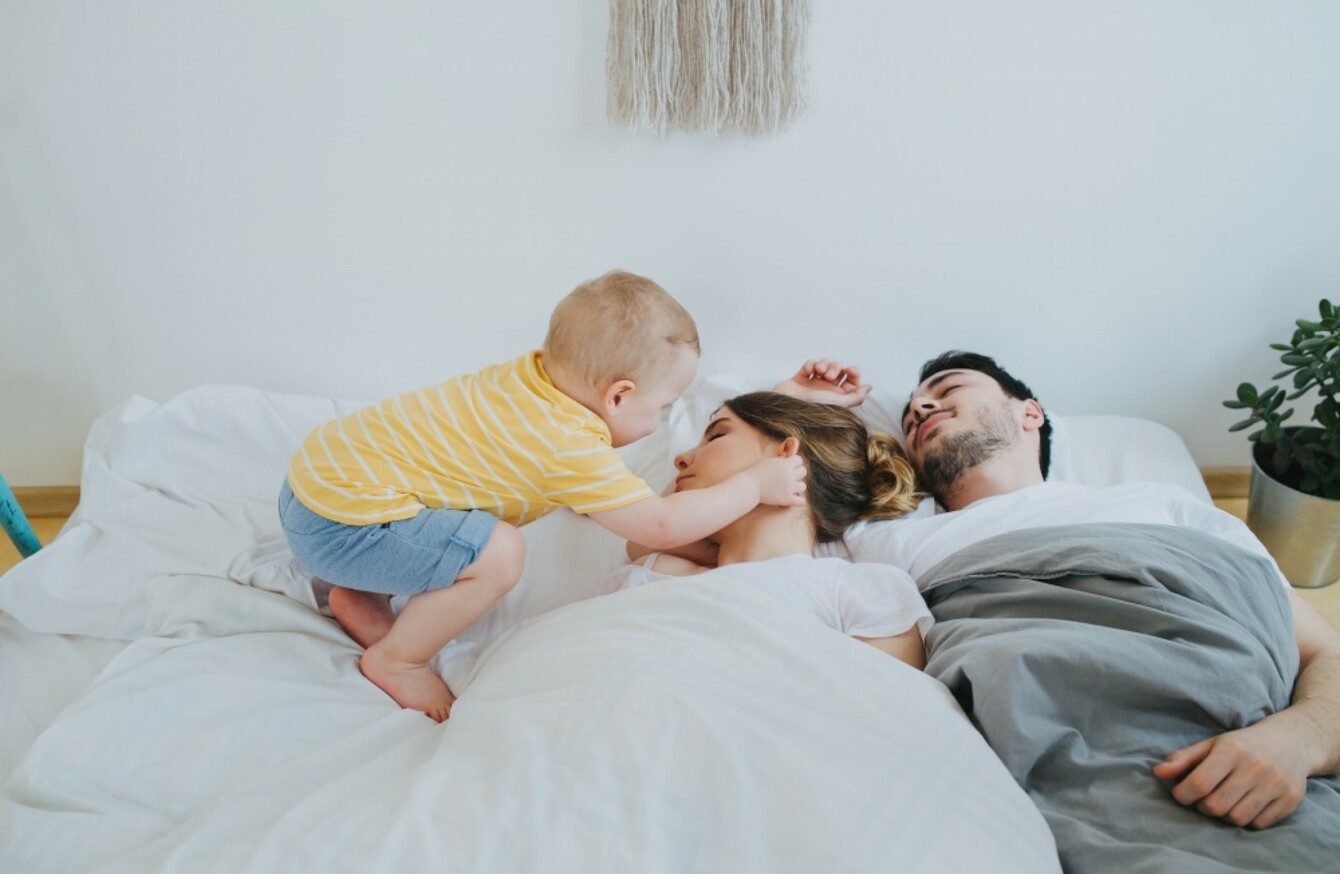 Image: Shutterstock
Image: Shutterstock
I'LL NEVER FORGET my bleary-eyed brother-in-law grabbing me by the shoulders at last orders, saying "Have another one, for me. I'm up with the kids in the morning. Enjoy your nights out while you still can."
Wise words. If only kids-free me had realised how lucky I was back then. Not just because of the nights out, but because of the sheer freedom of being hungover with no-one to worry about but yourself.
Whether it's after a massive wedding or a couple of beers and a boxset of a Saturday night, few parents actually plan to be hungover. You're just having the one! You're off to see the mates for a few much-needed sociables and grownup chats, what could go wrong?
Well, that's just it – all that unbridled adult conversation creates an intoxicating sense of abandonment. Forget tomorrow! It'll be grand. Right now, you're free!
The next morning…
Whether you have kids or not, you'll no doubt wake up with some or all of the following: a headache, a dry mouth, a funny tummy and a certainty that you'll never look at a glass of wine again.
But the wake-up call will likely be a lot more painful if you're lucky/unlucky enough to be a parent. Your child rouses you by either shrieking from the other room or hoisting your eyelids open with their fingernails.
The universal initial thought is "Something is terribly wrong." 
Getting through the day
Pre-kids, you could tuck yourself up on the couch, turn on a movie and wait for the horror to pass.
Post-kids, you simply have to grin and bear it. You're a parent and there are little humans that need entertaining/keeping alive. Short of setting the little ones up in front of a six-hour Peppa Pig marathon (not my recommended solution), you'll have to get creative.
Get out early, and walk somewhere if possible. Your hangover is only going to get worse as the day snails on so you might as well try and create the illusion of being active.
Being hungover at least once is bound to happen as an often-housebound new parent, but if you're suffered through a particularly bad one, you'll probably be more likely to exercise caution the next time. Allow me to share with you once such bad experience, from…
The Great Horror Hangover of 2013
It was my first night out since the firstborn's arrival. Three mums who don't get out much and all the red wine later; what had been packaged as a "quiet meal with the sisters" became a lock-in at the local.
Given Lara was about six months old, she'd been awake since 5am, and the husband was gunning to get back to bed. Therefore, I woke up to her being deposited on my face and drooling into my mouth. Not a good start.
I was cast adrift while holding my excitedly expectant bundle of odours. She'd just started on solids. And now she needed changing.  
What unfolded became the stuff of nightmares. The nappy switcheroo went smoothly enough, but not without some dry heaves on my part. 
Four hours later (but, in actuality, about 45 minutes later; time reverses when you're parenting hungover) I pleaded with Himself to get out of bed, but was met with "Sorry, feel really rough. Must be coming down with the flu. I'm actually sick, you see."
#Open journalism No news is bad news Support The Journal

Your contributions will help us continue to deliver the stories that are important to you

Support us now
The flush of panic was real; I had to kill eight hours solo? With that threatening nausea hanging over me? One thing I've learned since then is to be as prepared as possible, if I'm considering having even one more drink than intended…
The items you'll need to get through a hangover post-kids
Like I said, no one "plans" to be hungover. Instead, we skip out the door in a state of delusion, crowing we'll be home on the last train.
Be smart, and ensure you always have a few things in reserve in case you stumble through the door at 4am. They are, in order of importance…
1. Crisps: A salty snack will help you feel better, I promise. Crisps can also be used to bribe your children with, whatever works.
2. A decent breakfast: While it's not always possible to have sausages and/or rashers waiting for you in the fridge, it is more likely you'll have eggs in the press and potato waffles in the freezer. Fried eggs on waffles will provide the carb and protein hit you'll need before you face anything
3. Ice pops for later: They slowly and steadily rehydrate you, and might freshen up that awful taste in your mouth too.
4. Dioralyte and Alka-Seltzer: Speed up the healing process while you open another packet of crisps.
Congratulations, you've killed a few hours and now earned yourselves a movie marathon that will take you up to dinner (you're ordering pizza, remember?) then, you're on the home straight. 
All that's left is to vow never to parent hungover again. A vow I've made more than once.