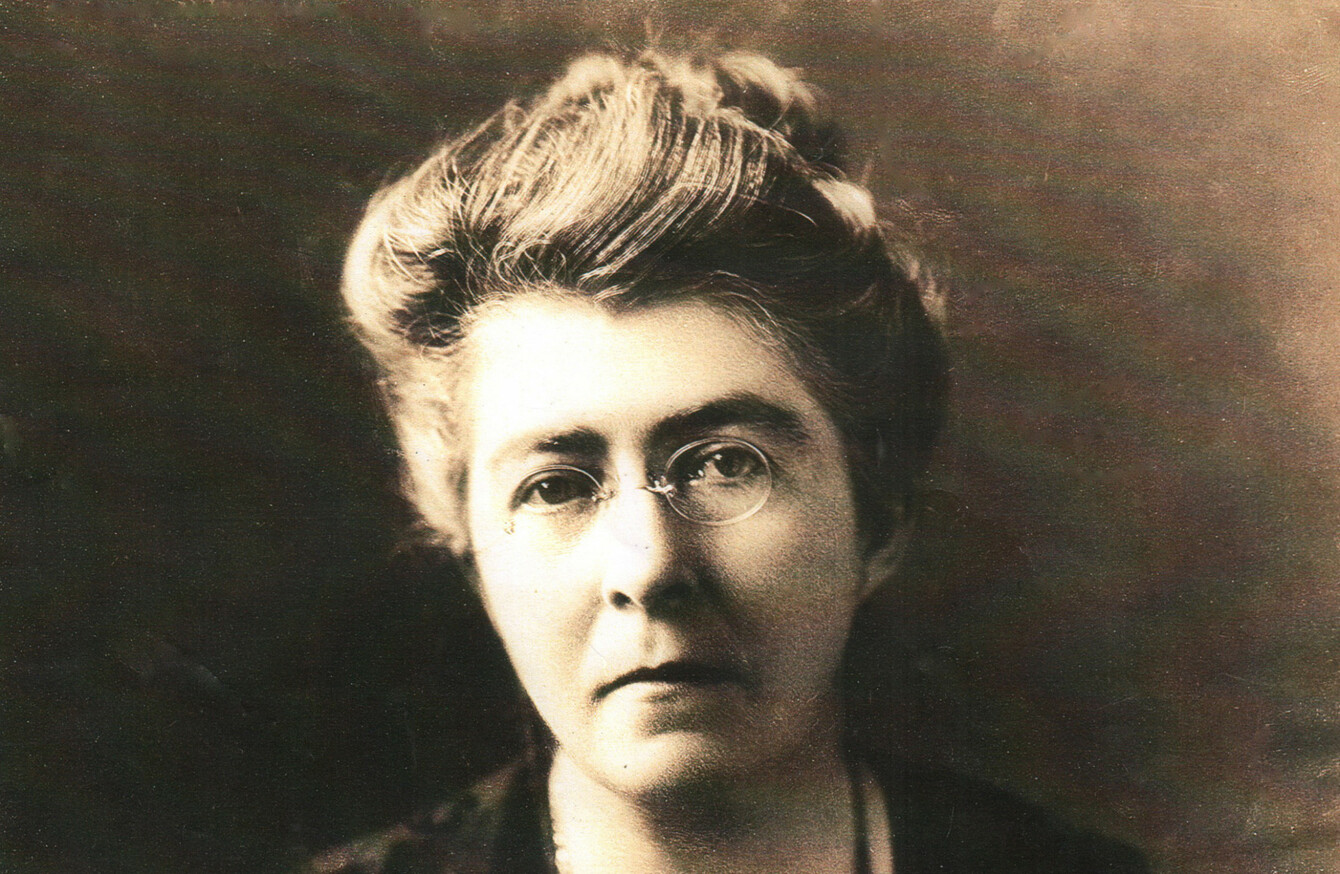 Image: Micheline Sheehy Skeffington
Image: Micheline Sheehy Skeffington
DUBLIN CITY COUNCIL has approved an application to erect a blue plaque in Dublin Castle to honour where Irish suffragette Hanna Sheehy Skeffington smashed windows in protest against women not having the right to vote.
Next Tuesday 6 February, which is the centenary of the legislation being passed that would give women the right to vote in and run in general elections, a ceremony will be held to mark the date, which Hanna's granddaughter will be taking part in.
"I will be smashing a window," Dr Micheline Sheehy Skeffington told TheJournal.ie.
"I'm going to dress up as a suffragette. I'm left-handed like my grandmother and I'm proud of that because when she went to smash the windows at Dublin Castle, the police came out and they automatically immobilised her right hand."
And she said she could get in a couple more panes before they led her away!
The plan is to remove the grill covering a smaller window near the side entrance to Dublin Castle and put a mock-up window with panes of glass in it. Micheline will then smash the pane of glass, and an actor dressed as a policeman will stop her.
On Thursday, a submission to erect a blue plaque to mark where Hanna smashed windows was approved by Dublin City Council – there are plans to unveil the plaque on 13 June this year – the date that she broke windows.
Who is Hanna Sheehy Skeffington?
Hanna Sheehy Skeffington was born in Cork in 1877; her family relocated to Tipperary when she was three years old. A prominent Irish suffragette and an ardent Irish republican, she carried messages and food to and from the GPO during the 1916 Rising.
As a student, Micheline says she was "amazed and disgusted" that women hadn't the right to vote, and was "keen to make a difference in Ireland".
So she started campaigning and get the Irish party to include the vote in the Home Rule Bill. She co-founded the Irish Women's Franchise League, which was a new radical proactive group who started making public speeches to raise awareness.
In 1912, a group of women decided they would emulate a protest that had been taking place across England, and smash windows at the Customs House.
But Hanna wanted to smash windows in Dublin Castle instead, "because that's the seat of British power and I want to have a go at them while I'm at it" according to her granddaughter.
She spent a month in Mountjoy prison after being convicted, followed by another month after refusing to pay a fine. Micheline said that people like her grandmother are needed to spark much-needed change.
"People like that are needed to stand out and do something which is both unpopular (in that nobody wants to do it) and also maybe get the condemnation of people."
She said her grandmother's actions prompted her to pursue her case against NUI Galway over gender discrimination.
People have to put their heads above the parapet in order to draw attention to something that's really important – and she did that.
She said that her grandmother would be "surprised at how long it's taken" for women to progress in politics.
"I think she would be quite scathing of people giving lip service and [it's only] now we're starting to talk about bringing in a quota for 30% of [political candidates to be women].
I think Hanna and my grandfather Frank would have been quite dismayed at just how slow it's been. Yes, we've had two wonderful female presidents and there are some good leaders there but it's not a lot at all at the moment.
"So yes I think they'd be happy to see independence to see women more independent in their lives, but until you do away with violence against women, until women are able to walk the streets [without fear] and feel safe in their homes, we haven't got equality, we can't see the world in the same way."