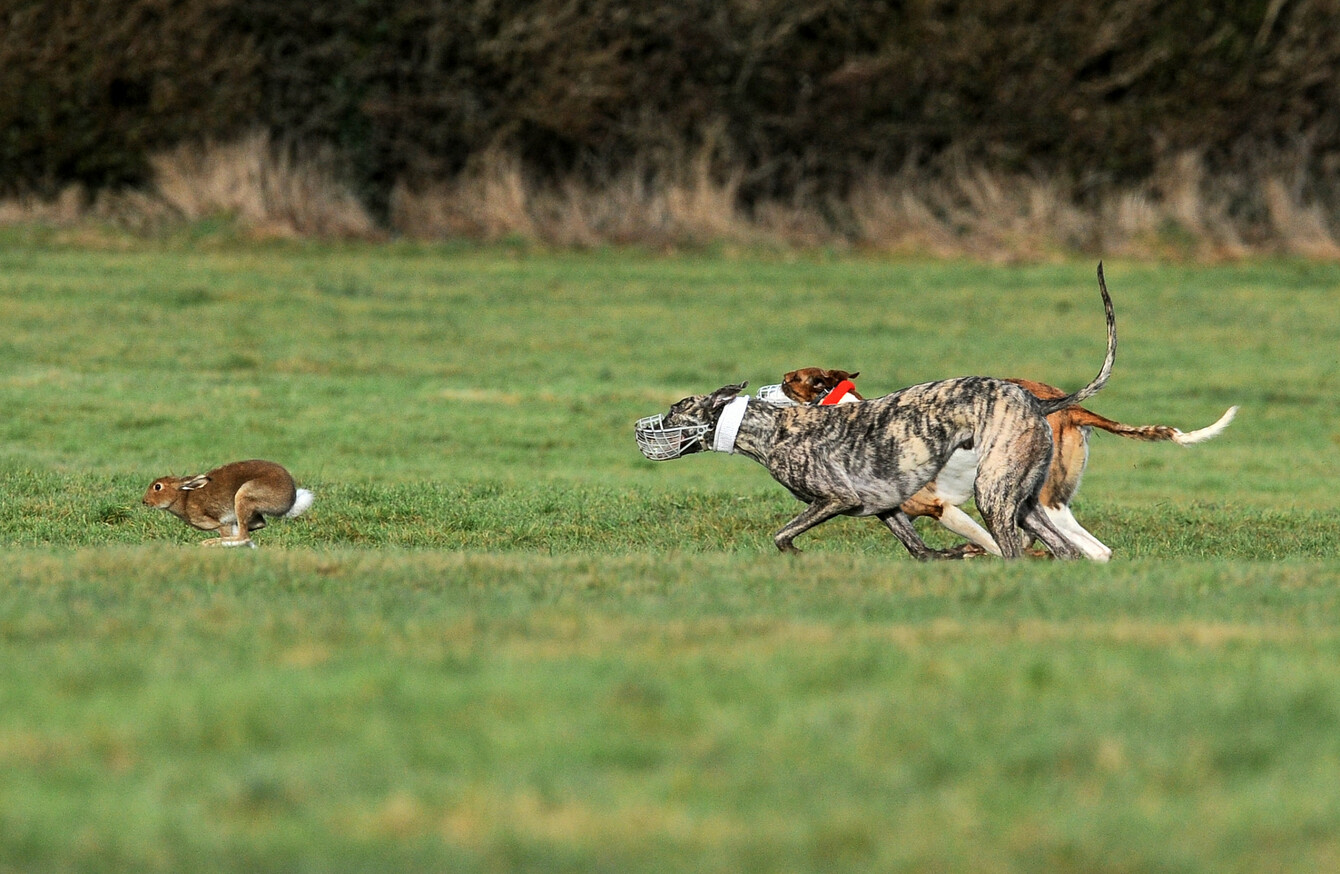 Image: James Horan via Rolling News
Image: James Horan via Rolling News
CALLS ARE BEING made to ban live hare coursing in Ireland after it was announced yesterday that wild animals are to be banned in circuses.
Yesterday, Minister for Agriculture Michael Creed signed regulations that will ban the use of wild animals in circuses. The measures will come into effect on 1 January 2018.
The Campaign for the Abolition of Cruel Sports (CACS) has said that it is taken aback at the "breathtaking hypocrisy" of the government's move against circuses while allowing hare coursing to continue.
"If anything, coursing is worse than circuses. That hares are terrorised for the amusement of gamblers and thrill seekers," John Fitzgerald from CACS said.
It is scandalous that these defenseless creatures should be in the possession of any coursing club.
"It's bad enough that healthy hares are forced to run the gauntlet of a contrived chase in a wired enclosure, and that a percentage of them every year succumb to injury resulting in death when they are mauled, pinned down, or forcibly struck by dogs," Fitzgerald said.
That is a the public farce of hare coursing, which stands condemned as a perversion of true sport.
In 2015, Sinn Féin representatives in North Kerry came in for criticism after being accused of promoting animal cruelty after wishing a hare coursing group "the best of luck".
The ad had been taken out in a programme for an event which featured the Listowel coursing club.
CACS has criticised the government for last year voting against the abolition of hare coursing in Ireland.
"They must accept a measure of responsibility for the plight of our iconic Irish hare, a mammal that survived the last Ice Age only to serve a live bait in this so-called sport," Fitzgerald said.
Circus ban
Announcing the circus ban yesterday, Creed said that "the use of wild animals for entertainment purposes in circuses can no longer be permitted".
"This is a progressive move, reflective of our commitment to animal welfare," he said.
#Open journalism No news is bad news Support The Journal

Your contributions will help us continue to deliver the stories that are important to you

Support us now
While circus owners and operators may have their regrets about this move, Creed said that he appreciated their concern and care for the animals that have been part of their lives.
However, he said the ability of a travelling circus to provide fully for all the needs of animals such as camels or tigers is no longer a tenable position.
"While the retirement of the small numbers of wild animals in circuses might seem like a loss, I am confident that this move will do more to secure the future of the circus community," Creed said.
The Circuses (Prohibition on Use of Wild Animals) Regulations 2017 are made under the Animal and Welfare Act 2013.