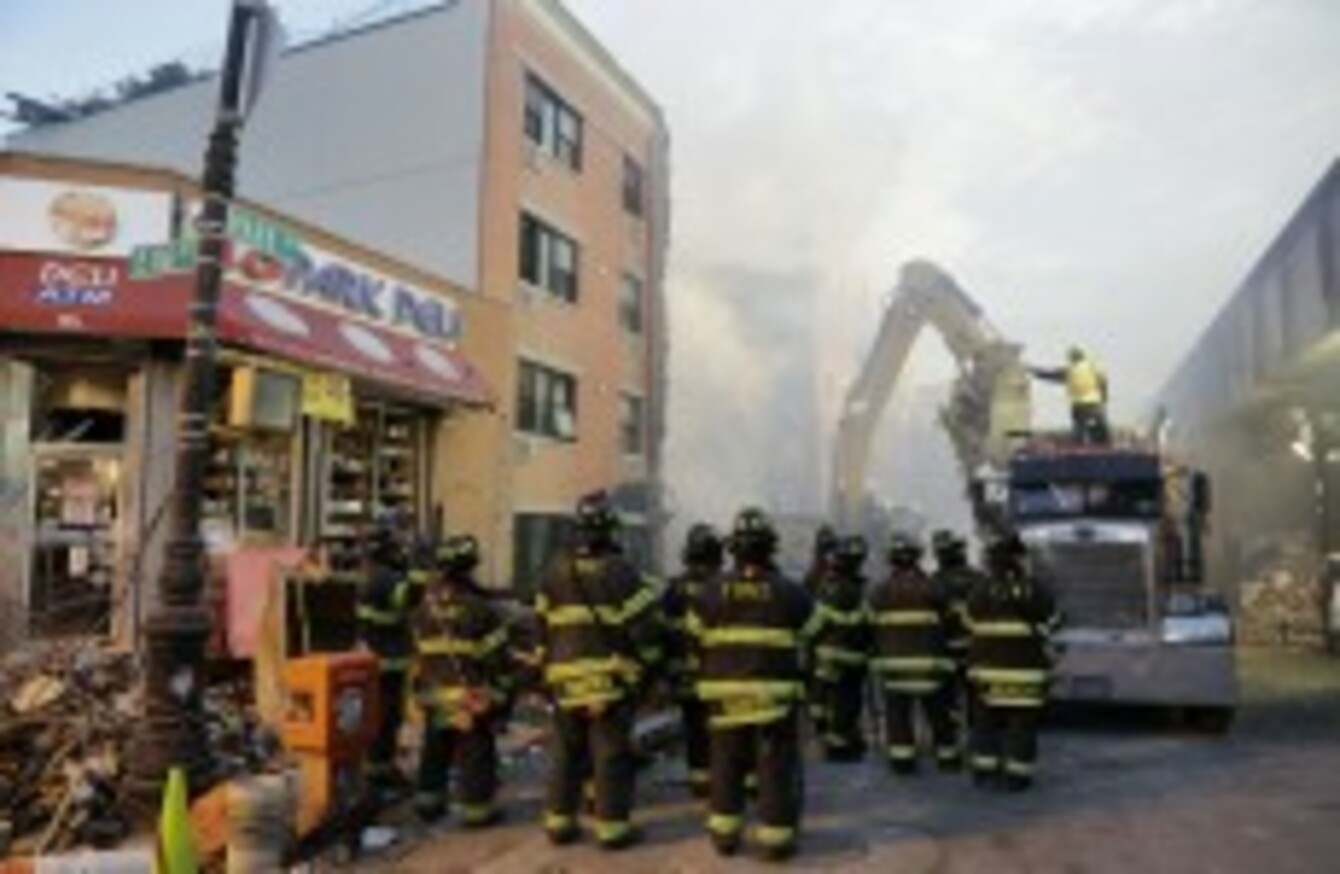 Image: Mark Lennihan/AP/PA
Image: Mark Lennihan/AP/PA
IRISH NEIGHBOURHOODS ARE at risk of gas explosions similar to the one that took down two buildings in New York this week, a contractors group has warned.
A number of people have now been confirmed dead and dozens were injured in the explosion with rescue workers still searching the rubble for survivors.
This week the Association of Plumbing and Heating Contractors of Ireland (APHCI) have said Irish neighbourhoods are "at risk of a Harlem style gas explosion", and chairman Sean Giffney said a similar tragedy "could be visited upon any Irish neighbourhood where gas is used".
"There is unfortunately widespread illegal and unregulated activity in the industry with thousands of illegal gas works going unchecked and unpunished," he said. "We believe it is only a matter of time before someone is seriously injured or dies from this widespread activity."
The association said that in recent years there has been a general fall-off in gas safety across the industry as poorly trained and illegal gas installers have left gas customers at risk. A survey conducted by the Consumer Association of Ireland suggested that over 10,000 boilers were illegally installed in Ireland in 2011 alone.
Do you smell gas?
Owen Wilson, head of safety with Bord Gáis Networks, said that in general terms, the public should be aware of the dangers of a gas leak and always call it in if they smell gas in their homes or in the street.
Last summer, a man was killed and extensive damage was done to a building in Killarney, Co Kerry in what is thought to have been a gas explosion, caused by a leak. In another incident in Dublin, an elderly woman sustained burns to her face in a gas explosion at her home. Investigations suggested this was caused by human error.
Wilson told TheJournal.ie that the most important things to do in the event of smelling gas are to "check gas appliances to make sure they haven't been left on, don't smoke, don't use a naked flame, don't plug in or switch anything electric on or off".
"You should also open up your doors and windows so that ventilates the building," he added.
The Bord Gáis emergency line received 65,000 calls a year and sends out crews to 20,000 potential leaks.
"If you call, we will send someone out within the hour and we have an average time of 27 minutes – that's without blue lights," Wilson explained.
Though figures for calls are not available for the last week, Wilson said there had been noticeable increases in reports of smelling gas in the past as a result of publicity around incidents like the explosion in New York.
However he said he's not panicking as Ireland has one of the most modern networks in Europe , having replaced all mains piping with polyethylene.
If you do smell gas in your home or in your area, you can call the Bord Gáis 24 hour emergency line on 1850 20 50 50, no matter who your gas provider is.