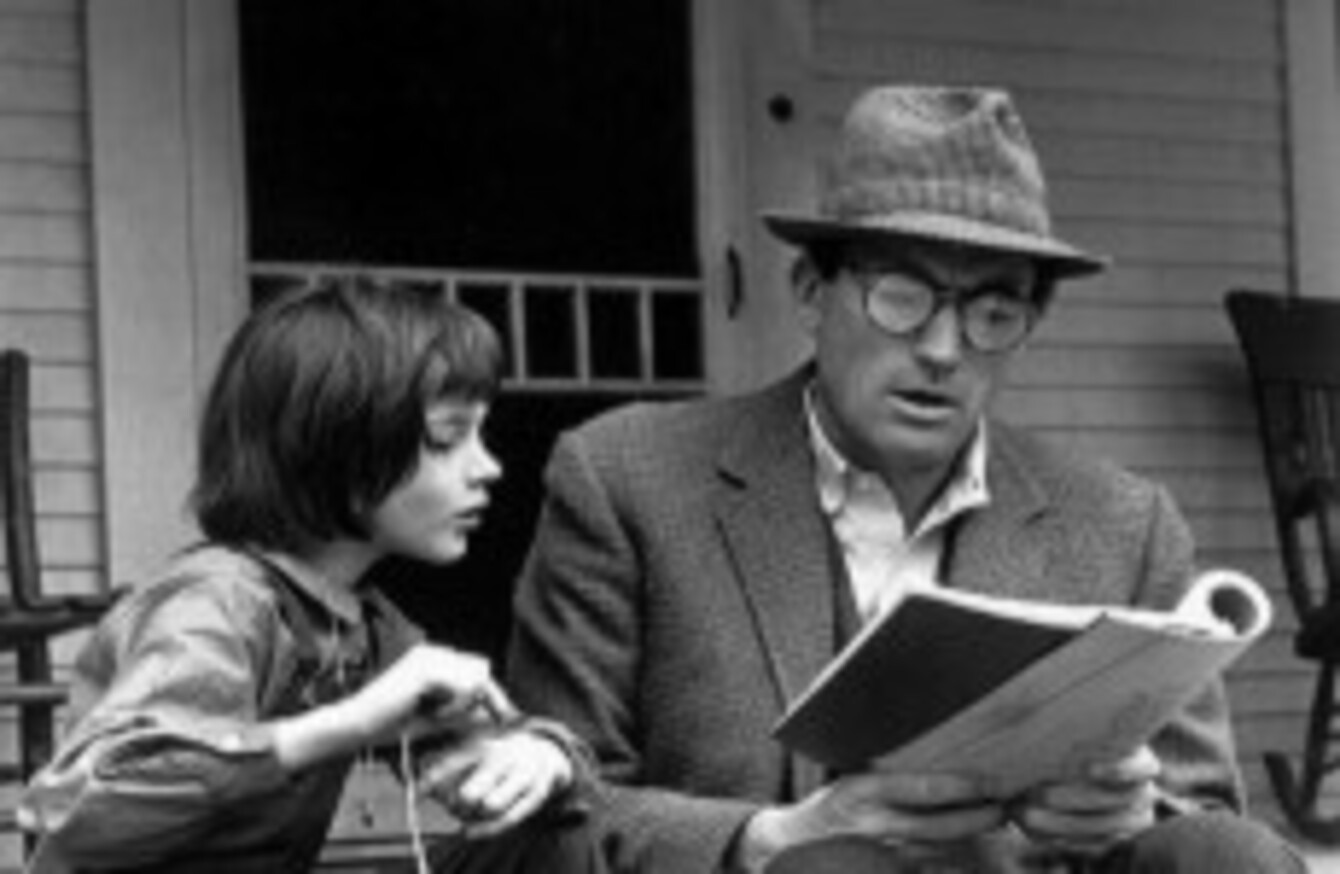 Actor Gregory Peck and 9-year-old Mary Badham study their lines during a break on the set of the film "To Kill a Mockingbird,"
Image: AP/Press Association Images
Actor Gregory Peck and 9-year-old Mary Badham study their lines during a break on the set of the film "To Kill a Mockingbird,"
Image: AP/Press Association Images
THE BLACK SPINE of To Kill A Mockingbird can be spotted on bookshelves across Ireland.
Behind the striking, minimalist cover you might find pencil marks, highlighted lines, dog-ears and water stains.
Unlike some other prescribed school books, To Kill A Mockingbird has managed to stay dear to those of us who studied it. Maybe it's because it caught our imaginations at a pivotal time; maybe the feisty Scout inspired us to be more fearless; perhaps we realised, for the first time, what racial segregation meant.
The legend of the book and its author Harper Lee add to its allure: One author, one book in a lifetime, one story that stood on its own.
Go Set A Watchman
But now comes a second Lee novel, a 'parent' book to its predecessor, Go Set A Watchman, published early next week.
It opens with an adult Scout Finch (now called by her real name, Jean Louise) on a train journey home to Maycomb, Alabama. 20 years have passed since the fateful days in the first book.
The Go Set A Watchman manuscript was supposedly found in 2011, but its discovery has been the subject of countless articles. Today, Lee lives in a nursing home, and questions remain about her approval of the publishing of the book.
#Open journalism No news is bad news Support The Journal

Your contributions will help us continue to deliver the stories that are important to you

Support us now
So far, the book's publisher, HarperCollins, says it has no reason not to believe the words of Tonja Carter, who is looking after Lee's estate.
The Guardian has published an exclusive extract from Go Set A Watchman today, so here are our thoughts on it so far.
Have a read and tell us in the comments what you think.
Paul Hosford
I thoroughly enjoyed the first chapter. Despite being written before Mockingbird, the consistency between adult and childhood Scout is remarkable.
The narrative in the first chapter is slightly rambling, but in a beautiful, open way that makes Mockingbird so enjoyable. On her way back to New York, Jean Louise battles with a train compartment while filling in the blanks of the years that have passed since the events of Mockingbird.
Honestly, the whole thing kind of makes you sad to think that Harper Lee was not a fluke or a one-hit wonder. She just chose not to write another book.
Órla Ryan
When I heard about 'Go Set a Watchman' I was excited, but filled with a slight dread. I love To Kill a Mockingbird – it's pretty much a perfect book in my opinion so I approached the news with some caution.
However, almost as soon as Reese read me the first chapter this morning I was transported back into the America South and, as Lee herself wrote it "joy rose".
How is Jean Louise? What has she done with her life? Lee's beautiful style of writing pulled me in, but there were some pangs of sadness – not least when we discover Jem's fate and the fact the brilliant Atticus is fading with old age. One thing's certain though, one chapter isn't enough.
Cianan Brennan
I thought the chapter was very much in same vein as the first book, which is remarkable when you consider the time difference. It was easy to read and the characters are real and likeable.
It makes Alabama sound absolutely beautiful (think movie Fried Green Tomatoes is set there too and it brought that kind of pastoral imagery to me).
Not a huge amount happens but the character of Scout seems to have grown as you might expect which is great. I'd very definitely like to read it now, which is as good a sign as you can have.
I'd be more inclined to take the book on its own merits than worry about the controversy. Everything is controversial these days, isn't it.
Aoife Barry
It's been so long since I read To Kill A Mockingbird that I feared I wouldn't be able to recognise the Maycomb County of old. But Lee's gift as a storyteller meant the novel felt like home (though I want to re-read To Kill A Mockingbird to reacquaint myself with the story before I dive into their later world).
Jean Louise's rough edges have been softened in the 20 years since we last met her, but she's still – thankfully – a furiously independent person. When you think that this book was written in the 1950s US, pre-civil rights, pre-second wave feminist movement, it's remarkable how 'modern' a character Scout (or Jean Louise) is. Lee brings us a fully-formed woman who knows herself – and knows what she doesn't know.
The journey into the Alabama countryside was beautifully captured, as were the quirks of the Finch family's home county. It's sad to see that Atticus's old age has crept up on him, but his steadfastness has remained. Hopefully the rest of the book will be as delightful.
Quinton O'Reilly
Looks like a very considered followup to To Kill A Mockingbird. The more I read, the more relieved I felt as I was worried the quality would falter since it's been so long since TKAM was originally released.
Great to see the humour that peppered the original remains intact and the dialogue is still playful yet fluid.
Really tempted to pre-order it now.