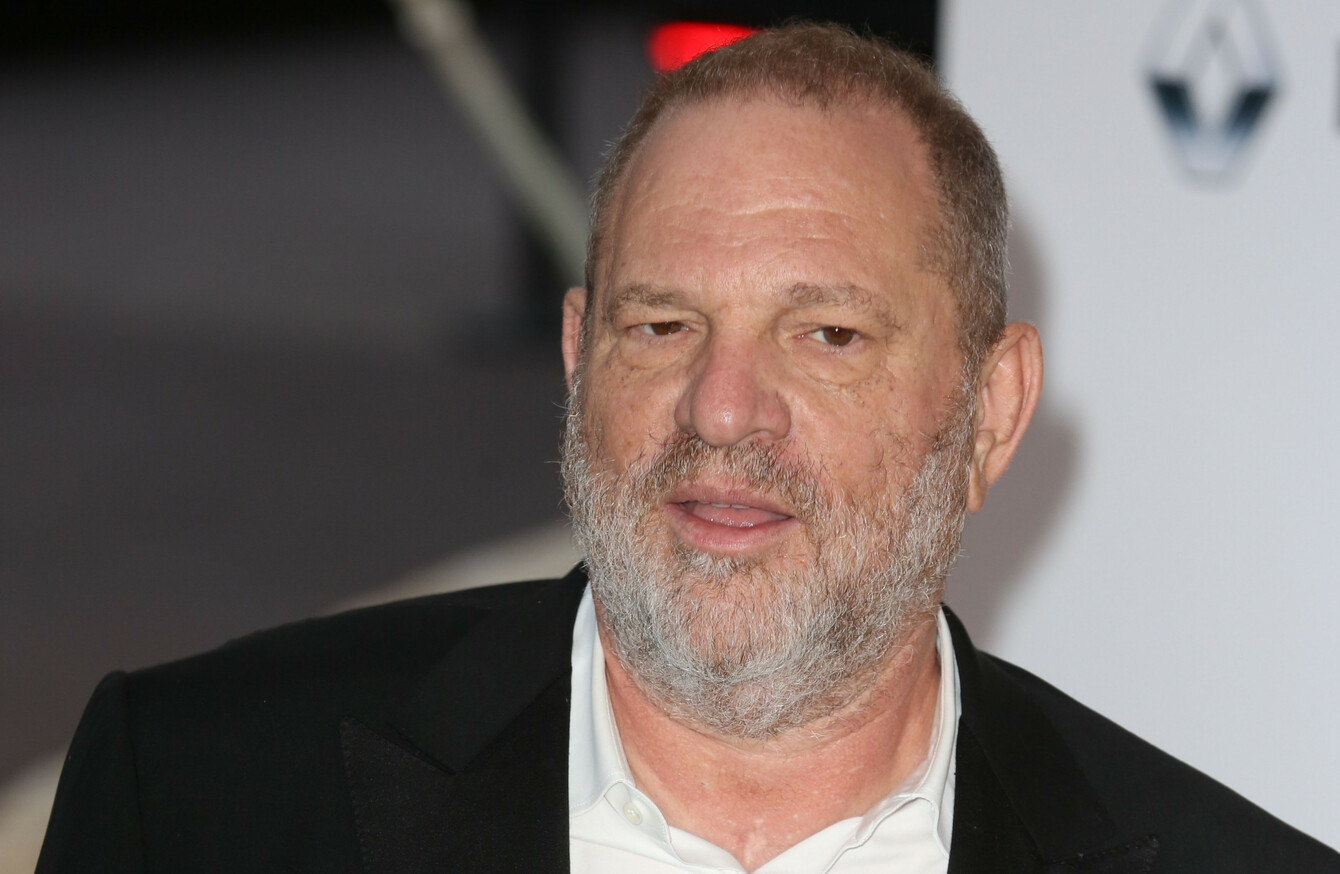 Image: Domine Jerome via PA Images
Image: Domine Jerome via PA Images
HOLLYWOOD PRODUCER HARVEY Weinstein has issued an apology and announced he was taking leave after the New York Times published a report accusing him of sexual harassment over several decades.
"I appreciate the way I've behaved with colleagues in the past has caused a lot of pain, and I sincerely apologise for it," the movie mogul said in a statement to the Times after its damning story was published.
Weinstein added that he had hired therapists and planned to take a leave of absence "to deal with this issue head on".
Lisa Bloom, one of Weinstein's lawyers who specialises in sexual harassment cases, separately said in a statement that her client "denies many of the accusations as patently false".
According to the Times, Weinstein's allegedly inappropriate behaviour goes back nearly three decades and he has reached private settlements with at least eight women.
His accusers, the Times said, include celebrities such as actresses Rose McGowan and Ashley Judd.
Judd recalled being invited to Weinstein's suite at a posh Beverly Hills hotel two decades ago expecting a breakfast meeting to discuss business.
Instead, the actress said, Weinstein appeared in a bathrobe and asked if she could give him a massage or watch him shower.
Two former assistants and an Italian model made similar accusations and allegedly reached settlements.
One of the assistants was allegedly badgered by Weinstein into giving him a massage while he was naked, leaving her "crying and very distraught" in the words of a colleague, Lauren O'Connor, the Times said.
'Toxic environment for women'
O'Connor said Weinstein, who co-founded Miramax and is co-chairman of The Weinstein Company, had created "a toxic environment for women" at his firm.
Many in the entertainment industry spoke out today in the wake of the Times report, expressing support for his alleged victims.
"The women who chose to speak about their experience of harassment by Harvey Weinstein deserve our awe," actress Lena Dunham said in a tweet. "It's not fun or easy, it's brave."
McGowan also published a series of tweets, jokingly saying in one of them that she wanted "to buy the movie rights".
In his statement, Weinstein said he had been working over the past year with Bloom and a team of therapists "to learn about myself and conquer my demons".
He added that he respected all women and was hoping for a second chance although he knew he had "work to do to earn it".
"I have goals that are now priorities," he said. "Trust me, this isn't an overnight process.
I've been trying to do this for 10 years and this is a wake-up call.
He appeared to justify his alleged misconduct saying he had come of age in the '60s and '70s "when all the rules about behaviour and workplaces were different".
That was the culture then … I have since learned it's not an excuse, in the office – or out of it. To anyone.
He said one year ago he began organising a $5 million foundation to provide scholarships to women directors at the University of Southern California.
"It will be named after my mom and I won't disappoint her," He said.
Weinstein is considered a powerhouse in Hollywood and many of his movies have picked up Oscars over the years, including Good Will Hunting and The Artist.
He formed the Miramax production house in the late 1970s with his brother and then sold it to Disney. The pair went on to create The Weinstein Company, producing such hits as The King's Speech, The Butler and The Imitation Game.